Today Diane celebrates her first blogiversary with a contest! Leave her a comment with the best compliment you've ever received to participate. Comments must be left by July 13, nood EDT.
Reading Update
Murder of a Botoxed Blonde by Denise Swanson. Yet another Scumble River mystery, featuring school psychologist and police consultant Skye Denison. Loved this quote from the book: "Chocolate is the catnip of the female world."
Moon Called and Blood Bound by Patricia Briggs. Werewolves and vampires and fae, oh my! Well-written and set in the Tri-Cities area of Washington, this is definitely a series I'll keep reading. The main character is VW mechanic Mercy Thompson, who is a "walker" (she can turn into a coyote, but isn't controlled by the moon). You really have to ignore the covers on these books – they feature an extremely tattooed Mercy, wearing revealing clothing. However, as far as I can tell from the books, Mercy has one tattoo (a pawprint on her stomach) and she spent about 2/3 of the first book in a t-shirt with a cocoa stain on the front…
Kitty and the Midnight Hour, Kitty Goes To Washington, and Kitty Takes a Holiday by Carrie Vaughn. I picked these up on vacation in part because they were used and were by a Coloradan (it's common for my souvenirs to be by local authors). I'm glad I did, because they were good – I'm already looking forward to the next one (out later this year). They feature werewolf talk radio host Kitty Norville, and the first and third books are set in Colorado.
Knitting Update
I finished my June Sockamania socks last night! (We got the pattern late, so we have until Saturday to finish June's socks.) Since I didn't finish May's socks, I was especially pleased to have these done.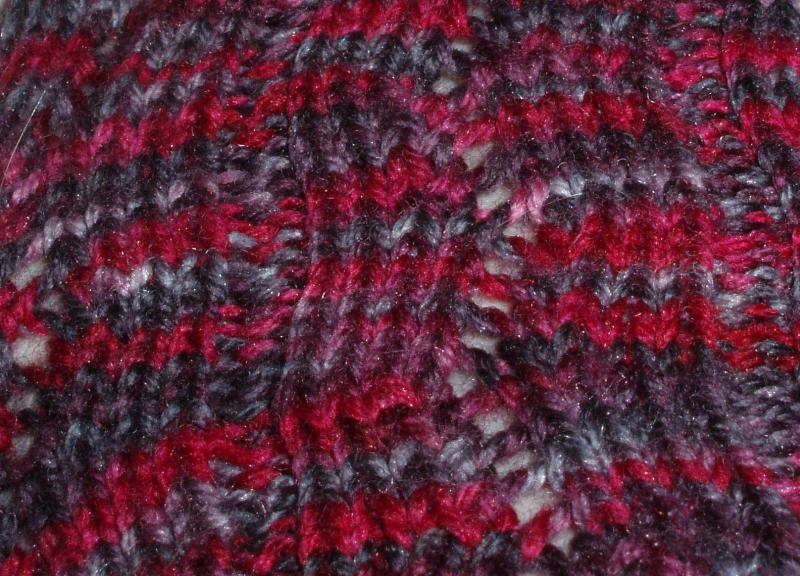 The yarn is Kraemer Jeannie that I dyed this spring. I like the color (very Project Spectrum), but I hated the yarn. Not only does it feel too soft and loosely twisted to wear well (even if it does have nylon in it), it was also extremely splitty – especially with my Inoxes. Turbos would've been perfect – too bad Addi doesn't make a 2.25mm Turbo… Anyway!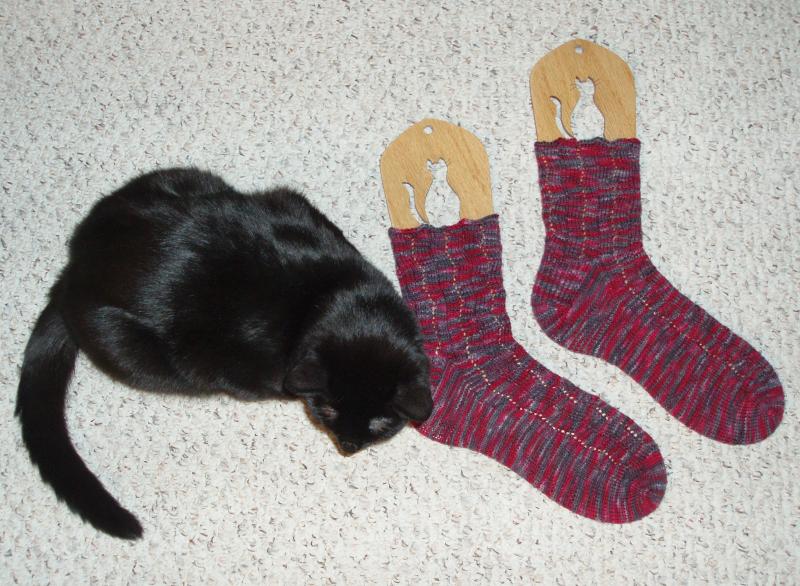 "Socks, socks, socks, socks. Ho hum." -Mayhem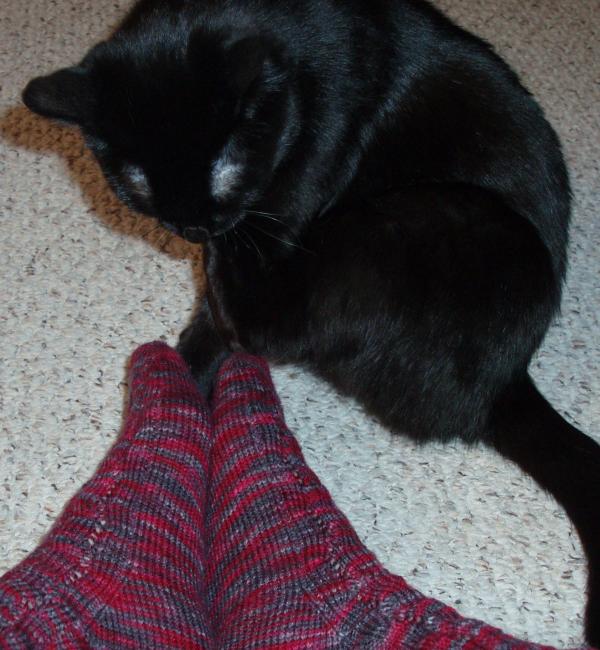 "Oh no! My toes are dirty! Please, no one look!" *mwmph* -Mayhem