Nishanna is having a contest for her birthday – leave her a joke, a funny haiku, or anything else to make her smile and you could win a skein of Schaefer Anne. Leave your comments by 11:59 pm EDT, May 21.
Ali is having a summer knitting goals contest – you could win copies of her tank pattern and some Blue Sky Organic Cotton to make it with. The contest runs through the end of May.
Hee hee – apparently I've traumatized poor KitKatKnit for life…
Ok, I've been getting some grief (*cough* Jeanne *cough*) about how long I can possibly drag out Shepherd's Harvest. She must think she's in Groundhog Day or something. Anyway, I'll give her a break today (no one wanted to see a baby pygmy goat/kid or baby llamas anyway) and turn to some thank yous.
Sallee sent Chaos a very interesting mouse, which I can't find to photograph. The front half is a regular brown furry mouse. The back half is a soft sparkly red ball with a little bell inside. Finally, there's a stubby mouse tail sticking out of the ball. Initially, the kitties weren't quite sure what to do with it, but they're definitely playing with it now. She also sent some cute stitchmarkers. Thanks, Sallee!
MamaTulip sent me the book Boo because of the cover, disavowing all knowledge of the contents. Thanks, MT! Janet and I set up a little swap between ourselves and she sent me these fabulous cards (I'm not sure I can bear to use them!) and some lovely Hempathy, which I'm looking forward to trying. Thank you, Janet!
"Maybe if I hug this yarn, Mom will let me keep it." -Mayhem
E and I set up a little cover cd swap and E included this gorgeous necklace in perfect Chris colors! Yum – thank you, E! RheLynn sent me a lovely artist's card that she painted. Thanks, RheLynn!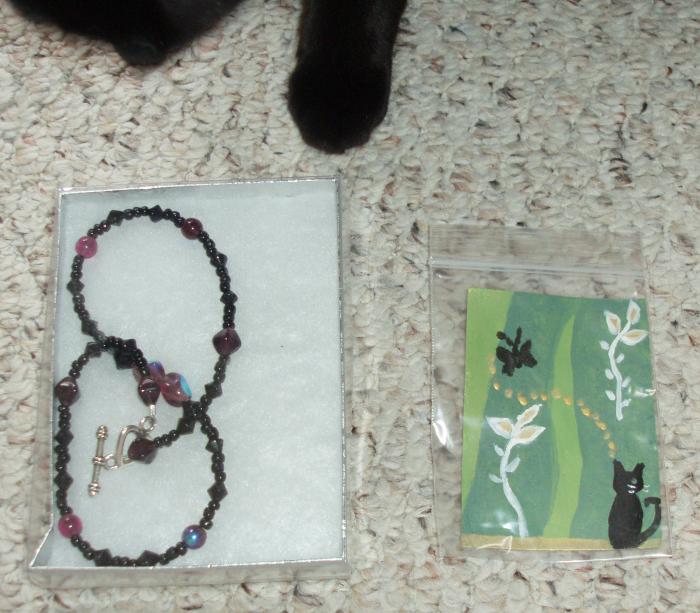 "Are you sure that isn't a cat toy?? Are you completely sure?" -Mayhem
And finally, Frarochvia surprised me with a package yesterday.
"Ok, almost got it…" -Chaos
"Hmm…" -Chaos
"Whatever, big kitty, give it up with the mysterious thing and let me see!" -Mayhem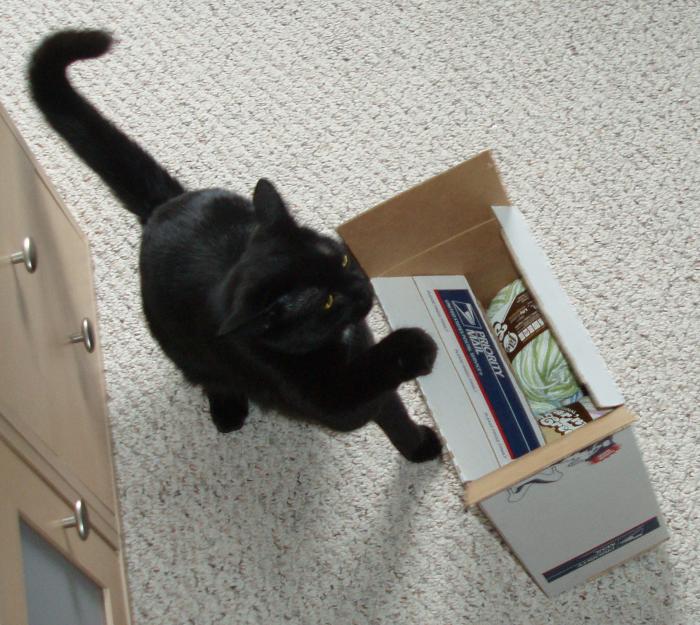 "Mmmm… tasty box!" -Mayhem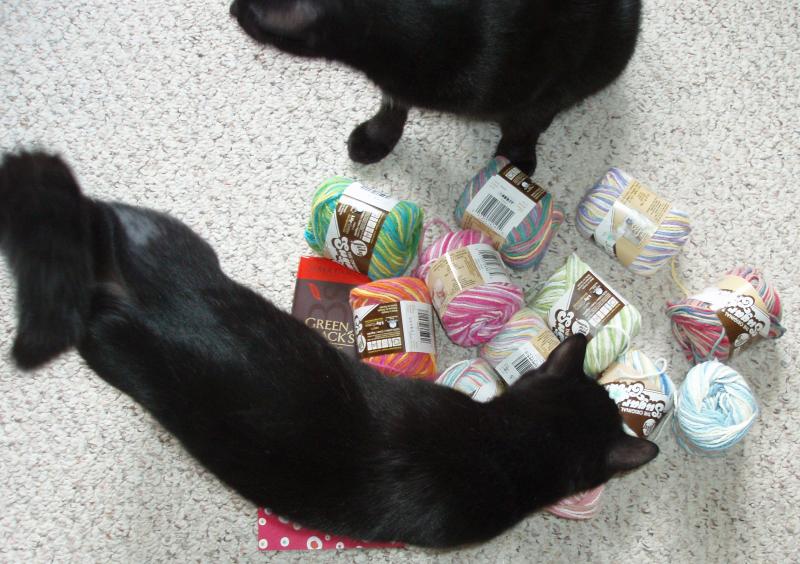 "Yarn and chocolate. It's always yarn and chocolate, isn't it, big kitty?" -Mayhem
"You're catching on, May." -Chaos