First, congratulations to random number 68, Lethea – you won the autographed copy of Anya Bast's Witch Fire! Thanks to everyone who participated. Sad that you didn't win this contest? Read on for another chance to win free books…
In an email exchange with dixygirl yesterday, I coined the term BABLE (Book Acquisition Beyond Life Expectancy, obviously riffed from SABLE, Stash Acquisition Beyond Life Expectancy), then promptly modified it to BABEL (Book Acquisition Beyond Expected Life)… although I quite like BABBLE (Book Acquisition Beyond Believed Life Expectancy), too. What do you think? (Beyond realizing that I'm obviously not knitting very much, eh, Marina?)
Anyway. Getting back on track, that email exchange gave me the idea for a contest. I have this ginormous stack of books that I've accumulated through various means: being at the library's withdrawn store or the thrift store without an inventory of my library, accidentally buying a duplicate, receiving a duplicate, or intentionally buying a duplicate because I liked the book and hoped to pass it on to someone.
Comment on this post before 7 pm CDT, Thursday, June 18, for your chance to win some of the books pictured below. I'll randomly select at least three winners (maybe more, depending on whim and response). Most of the books are used. Unsurprisingly, should you win, your books will likely include some amount of cat fur. 🙂
"My goodness. This new area rug is sort of lumpy." -Mayhem
*sniff sniff sniff* -Chaos
Categories of books include those by local authors (Strawberry Shortcake Murder, Unplugged), knitting related (A Deadly Yarn, How to Knit a Wild Bikini, At Knit's End: Meditations for Women Who Knit Too Much), Nathan Kamp cover (Hot Spell), miscellaneous abs (You Don't Know Jack, Dark Embrace), straight up romance (Summer Pleasures, I'm in No Mood for Love, Just Like Heaven), urban fantasy (Memory and Dream, The Devil You Know), mysteries (One for the Money, Murder by the Glass), darn good paranormal romance from a series but not the first book of said series (One Foot in the Grave, Passion Unleashed, Lover Unbound, Lover Revealed), not so great paranormal romance from a series but you need to read it anyway to continue with the series (Lover Enshrined), ok paranormal romance (Dogs and Goddesses), and paranormal romance I haven't read yet (Darkling, Moon's Fury, Immortals: The Darkening).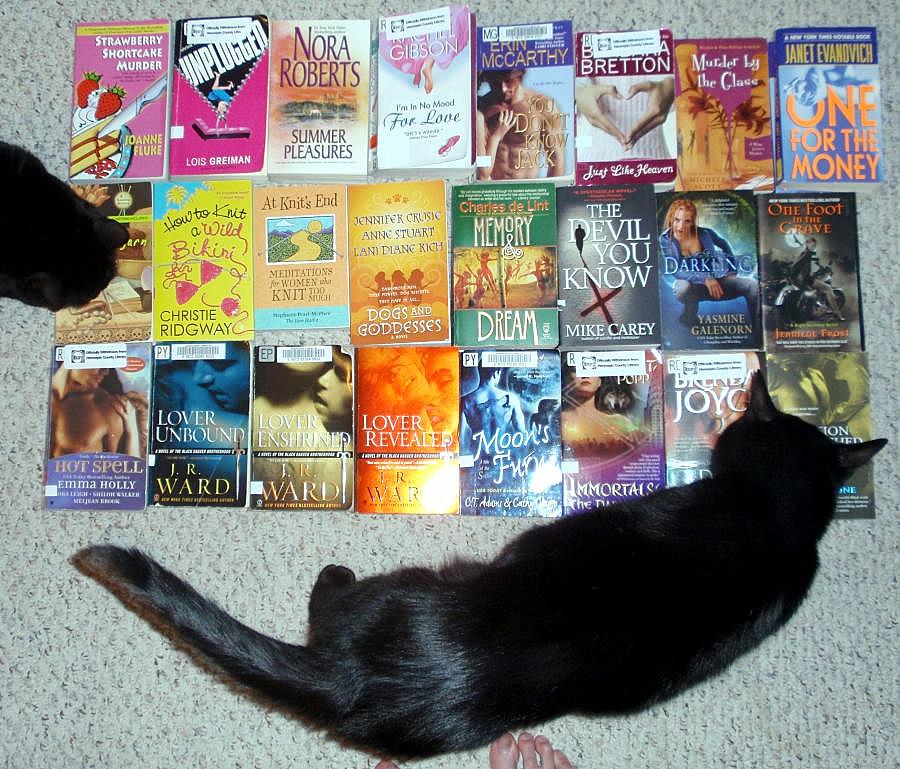 "Hey, there's yarn on this book! Will chewing the book cover be like chewing yarn?" -Mayhem
*sniff sniff sniff* -Chaos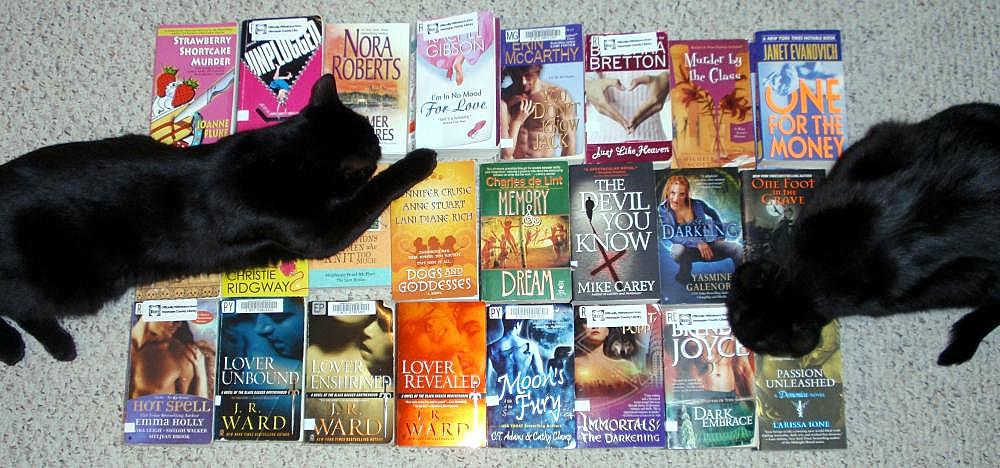 "Hmph. Chewing on book cover yarn is very unsatisfying. I shall lie here and sulk." -Mayhem
*sniff sniff sniff* -Chaos