Randonymity
Because of said summer cold, linkity's going to be a bit brief today – my brain is mush.
Bookity
Think, Make, Learn, Do
Cookity
Gluten Free
Crafty
Cool
Cool or Wha…?
Wha…?
LOL
Teh Cute
Reading Update

Colored Pencil Collage: Nature Drawing and Painting for Mixed Media by Kelly Hoernig. The title choice is interesting – the author does use colored pencils in her collage work, but not really more than any other element she used. Anyway. I think this is a good book for getting the feel of how to work collages in layers and (at a high level) how collage artists might use gesso, matte medium, ephemera, etc. However, this isn't a book I'll buy to have on hand for reference or inspiration, either. YMMV.

Art Journal Courage: Fearless Mixed Media Techniques for Journaling Bravely by Dina Wakley. Lot of skimming through this one – I did make notes on some of the supplies and techniques she used, but her style involves a lot of faces (not what I'm interested in including in my journal) and, apparently, using orange and fuchsia over and over and over.

Visual Chronicles: The No-Fear Guide to Creating Art Journals, Creative Manifestos and Altered Books by Karen Dinino & Linda Woods. Although the writing style is Very! Exuberant!, I did get a few good ideas from this one. There were also things I didn't connect with at all, like the whole Personal Palette concept. Please note that the authors have a fairly minimalist style in terms of art journaling.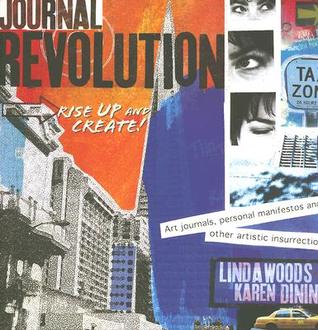 Journal Revolution: Rise Up and Create Art Journals, Personal Manifestos and Other Artistic Insurrections by Karen Dinino & Linda Woods. The writing style got to me a lot more in this one, especially with the strained "revolution" theme the authors were trying to use. All of that made it nearly impossible to sort out the few actually useful and interesting tidbits.
---
"Clean foot, clean foot, I'm going to have such a clean, clean foot!" -Mayhem