Many thanks to Becky Black for donating an ebook copy of her freshly released m/m science fiction romance, Mapping the Shadows, for a lucky commenter to win!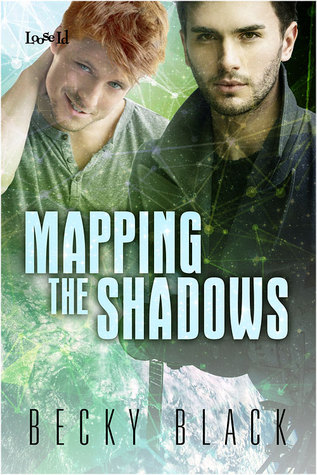 Ash Bowman is lost. Two years ago he and his cop partner, Evelyn, walked in on a murder in progress that left her dead and him maimed. He left the force and became a private investigator, but business is suffering because of his obsession with mapping the Core of the space station Fraxin Yari, where Evelyn's ghost haunts him as he prowls the dark corridors.

Journalist Gabe Whitfield is on a mission to learn the truth behind that same murder. He doesn't expect to stay on Frax after he finishes the job. But meeting Ash Bowman changes his plans. He came to the station a man without ties. He isn't going to leave the same way.

Despite initially mistrusting him, Ash can't resist his attraction to the fiery Gabe. Gabe responds, though knows he shouldn't when Ash is one of the subjects of his investigation. But they come to trust each other and join forces to find the answers Ash had almost forgotten he was still seeking. If they are to have any chance of happiness, Gabe must help Ash lay the ghosts calling him back again and again to the deep darkness of the Core.
Excerpt (scroll down and select "Excerpt" tab)
Becky talks about the history of Mapping the Shadows.
About Becky
A long time science fiction fan, Becky thinks there are few story ideas that can't be improved by the addition of the words "in space". If the story also includes two gorgeous men unable to keep their hands off each other then so much the better. She'd happily go into space herself, but being English would insist on there being a reliable supply of tea available.

She likes nothing more than trapping her characters in tricky no-win situations and watching them figure a way out. When not chasing her characters up trees and throwing rocks at them Becky can be found working in an office – where she's usually thinking about the next rock to throw.

You can find out more about Becky and her books at her blog, Twitter, Facebook, and Goodreads.
Contest Rules
To enter, leave a comment stating that you are entering the contest. Contest closes 7 pm CDT, Monday, July 6.
By entering the contest, you're confirming that you are at least 18 years old.
If you haven't commented before, your comment will not be visible until after I moderate it. Please do not leave a second comment because your first doesn't show up! The blog gnomes will decide your comments are spam and then only ritual dust bunny sacrifice will salvage your entry…
If your comment is actually an advertisement or if your CommentLuv link turns it into an advertisement, your comment will be deleted. (Most of you do not need to worry – this refers to some pretty clever comment spam.)
Winners will be selected by random number.
You must leave a valid email address in the "Email" portion of the comment form.
Please make sure that your spam filter allows email from stumblingoverchaos.com!
If a winner doesn't respond to my congratulations email within 48 hours, I will select another winner.
If you win, please respect the author's intellectual property and don't make copies of the ebook for anyone else.
This contest is open worldwide!
---
"…zzzzzzzzzzzzzzzzzzzzzzzzzzz…" -Chaos