Many thanks to Z Allora for donating three ebook copies of her forthcoming re-released m/m romance, Tied Together (The Dark Angels #2) (2nd ed), for three lucky commenters to win! Z. will release Tied Together on November 26.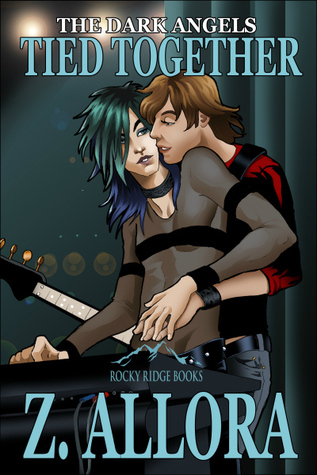 Josh has loved Robin since the day they met, although he never dared to follow his heart. After the two are kicked out of their house, a night of despair turns into a night of discovery, forever changing them both. One taste of his dream leaves Josh hungry for more, but Robin's fear of abandonment forces him to pull back, denying them both.

Their fortunes changed. Josh and Robin are now in the limelight with legendary megaband The Dark Angels, but Robin is still the scared little boy inside the rock star who isn't convinced he won't be left behind. He clings tightly to the word "brother" because stepbrothers can't leave, right?

There's only one way for Josh to prove to Robin, now and forever, that the love tying them together can never be broken.
About
Every one deserves a happy ending… (and I make sure they get one). I have written about hot rockers, sexy zombies, and Thailand club performers. My stories are about love, romance and are tied together with erotic sex. I utilize my time overseas and my travels to bring you to places you've yet to visit. I introduce you to cultures you've yet to explore. But with every word I write I hope to convey love is love. I look forward to hearing from you, my Pretties! Facebook. Blog. Website.
Contest Rules
To enter, leave a comment stating that you are entering the contest. Contest closes 7 pm CST, Monday, December 1.
By entering the contest, you're confirming that you are at least 18 years old.
If you haven't commented before, your comment will not be visible until after I moderate it. Please do not leave a second comment because your first doesn't show up! The blog gnomes will decide your comments are spam and then only ritual dust bunny sacrifice will salvage your entry…
If your comment is actually an advertisement or if your CommentLuv link turns it into an advertisement, your comment will be deleted. (Most of you do not need to worry – this refers to some pretty clever comment spam.)
Winners will be selected by random number.
You must leave a valid email address in the "Email" portion of the comment form.
Please make sure that your spam filter allows email from stumblingoverchaos.com!
If a winner doesn't respond to my congratulations email within 48 hours, I will select another winner.
If you win, please respect the author's intellectual property and don't make copies of the ebook for anyone else.
This contest is open worldwide!
---
"I am Chaos and I disapprove of this pos… oh wait, I disapprove of EVERYTHING." -Chaos