Many thanks to K-Lee Klein for donating an ebook copy of her forthcoming m/m romance, Unbreak My Heart, for a lucky commenter to win! Unbreak My Heart will be released by Amber Allure on August 25.
Brett Taylor has been doing just fine living in his little world of grief and pain for the past three years – thank you very much. Losing someone special is life changing, and Brett doesn't understand why everyone and their damn dog thinks they can get all up in his business about moving on. He's accepted his job going from musician to rancher without relying on anyone else's opinion, and he doesn't need some city kid coming into his life to break the habits he's been practicing – grief, isolation, and a whole lot of Jack Daniels.

JT Campbell was on a quest to escape his old life, and to figure out who he is and where he belonged as he moved from one meaningless job to the next. He wasn't looking to save anyone, let alone a secretive, hotter-than-hell rancher who wore his heart on his sleeve. He likes working for Brett, but it's been made perfectly clear that any relationship other than professional will never see the light of day.

But when JT's lust turns to love and he gives in to his desire to find out what makes Brett tick, will his patience and support result in Brett lowering the walls he's built-up enough so JT can unbreak his heart?
About K-Lee
K-Lee Klein has lived in one part of Western Canada or another for her entire life. She's a doting mother of three now-grown kids and has had characters and plots running around her head for as long as she can remember. Though she's fairly new at throwing her original fiction out into the web universe, she hopes to substitute her passion for writing beautiful, emotional men for her previous jobs as a hockey manager/coach, school band volunteer and overall chauffeur.

For now she lives with an overly-patient husband who totally does not get her thing for gay men, two spoiled but wonderful sons (who don't get it either), two also spoiled but beautiful cats, many phone calls with her daughter who has already left the nest, and an abundance of fabulous gay men, large and small, bouncing off the walls of her skull, competing for their turns to tell their stories.

You can find out more about K-Lee at her blog, Twitter, and Goodreads.
Contest Rules
To enter, leave a comment stating that you are entering the contest. Contest closes 7 pm CDT, Friday, August 23.
By entering the contest, you're confirming that you are at least 18 years old.
If you haven't commented before, your comment will not be visible until after I moderate it. Please do not leave a second comment because your first doesn't show up! The blog gnomes will decide your comments are spam and then only ritual dust bunny sacrifice will salvage your entry…
If your comment is actually an advertisement or if your CommentLuv link turns it into an advertisement, your comment will be deleted. (Most of you do not need to worry – this refers to some pretty clever comment spam.)
Winners will be selected by random number.
You must leave a valid email address in the "Email" portion of the comment form.
Please make sure that your spam filter allows email from stumblingoverchaos.com!
If a winner doesn't respond to my congratulations email within 48 hours, I will select another winner.
If you win, please respect the author's intellectual property and don't make copies of the ebook for anyone else.
This contest is open worldwide!
---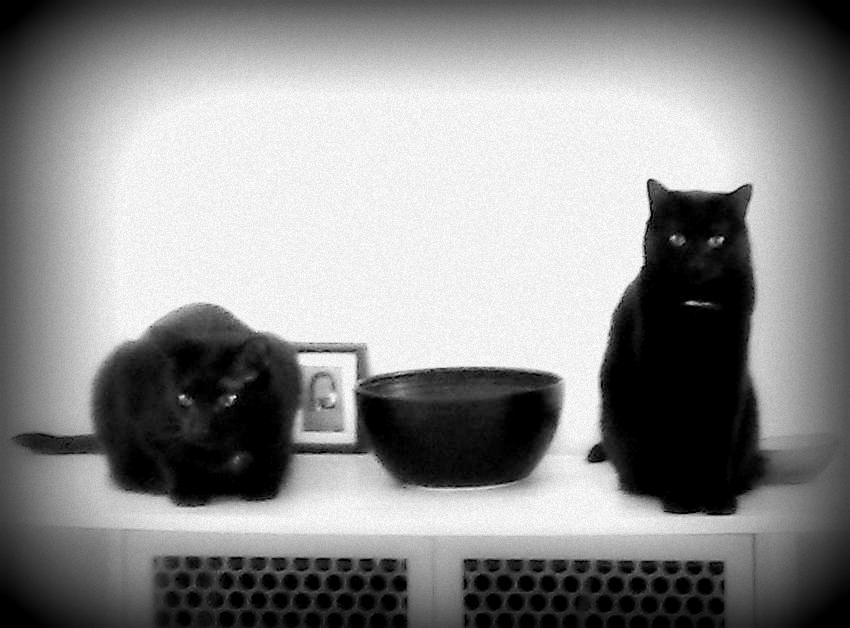 "No, I'm not going to make eye contact for your silly photo, Mom!" -Chaos
*judging* -Mayhem