Many thanks to Josephine Myles for donating an ebook copy of her recently released anthology, Blooming Marvellous, for a lucky commenter to win!
What do a graffiti artist, a nerdy virgin, a lunar cop, a handsome devil, a sexy boater, a disgraced aristocrat and a misbehaving valet all have in common? Bestselling gay romance author Josephine Myles, of course! In this collection of nine short stories you'll find all these characters coming together (quite literally sometimes).

The collection mingles contemporary erotica with a hint of a happy future with historical, paranormal and futuristic kinky romance. There are even a couple of stories that are sweet romance. One thing you can be sure of, though: the blokes in these stories will always get their man!

Buckle up for Jo's British sense of humour and fun, and don't be surprised if there's sex in the potting shed, because with Jo, anything can happen.

Warning: written in splendidly British English.

NB – All these stories have been previously published:
"Blooming Marvellous" – Tea and Crumpet anthology (UK MATT, 2011)
"River Rat" – Sexy Sailors anthology (Cleis Prress, 2012)
"The Devil Went Down to Swindon" – Mine anthology (Torquere Press, 2010)
"Passive Resistance" – Like That Spark anthology (Circlet Press, 2010)
"The Frog Prince" – The Handsome Prince anthology (Cleis Press, 2011)
"Dragon Dance" – Lashings of Sauce anthology (UK MAT, 2012)
Demon du Jour, Three Wishes and Tea for Two are all available on Jo's website.
About Jo
Eccentric Englishwoman, absent-minded mother, proud bisexual, shameless tea-addict, serial textile craft hobbyist, iconoclastic logophile and writer of homoerotic romance – Josephine Myles is all these things at once. She has held down more different jobs than any sane person ever should, and is fundamentally rebellious, preferring the overgrown yet enticing path rather than the wide and obvious one.

Jo once spent two years living on a slowly decaying narrowboat, and was determined that she would one day use the experience as fodder for a novel. It may have taken a few years, but she got there in the end. She usually does.

She lives in rural Somerset, in the West Country of England, with her husband and four year old daughter. Currently self-employed, she gave up a career teaching English Literature to look after her daughter, who has Down's Syndrome. When she isn't working, writing or spending time with friends and family, she bakes cakes and attempts to finish off some of the textile projects she has started, with varying degrees of success. She can occasionally be spotted wearing her creations, as no one else will.

In her short stories Jo is particularly interested in exploring how characters react in the heat of the moment, and what they reveal about their deepest desires and insecurities. She most enjoys writing contemporary tales about unconventional men overcoming their fears through love, but ventures into sci-fi and paranormal when her muse insists. He can be a right difficult bastard at times.
Contest Rules
To enter, leave a comment stating that you are entering the contest. Contest closes 7 pm CDT, Friday, August 2.
By entering the contest, you're confirming that you are at least 18 years old.
If you haven't commented before, your comment will not be visible until after I moderate it. Please do not leave a second comment because your first doesn't show up! The blog gnomes will decide your comments are spam and then only ritual dust bunny sacrifice will salvage your entry…
If your comment is actually an advertisement or if your CommentLuv link turns it into an advertisement, your comment will be deleted. (Most of you do not need to worry – this refers to some pretty clever comment spam.)
Winners will be selected by random number.
You must leave a valid email address in the "Email" portion of the comment form.
Please make sure that your spam filter allows email from stumblingoverchaos.com!
If a winner doesn't respond to my congratulations email within 48 hours, I will select another winner.
If you win, please respect the author's intellectual property and don't make copies of the ebook for anyone else.
This contest is open worldwide!
---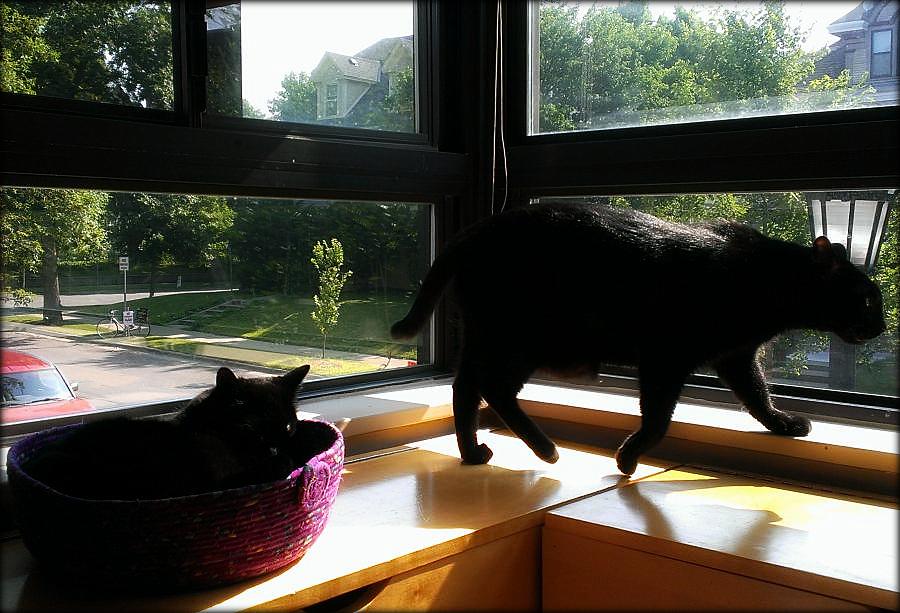 "…zzzzzzzzzzzzzzzzz…" -Mayhem
*prowling new territory* -Chaos