Many thanks to L.A. Witt for donating an ebook copy of her freshly released m/m noir romantic suspense, The Mayfield Speakeasy, for a lucky commenter to win!
Walter Mayfield has his hands full. He's trying to keep the peace between his brothers, but at least the cops don't bother him much about his illegal speakeasy. After all, the place is frequented by members of two volatile gangs, and as long as Walter can keep them from killing each other, the cops leave him alone.

That is, until Detective Joe Riordan comes through the door. But Joe ain't interested in what's being poured. He's got three dead bodies, and all three of them are connected to one of Walter's brothers.

Walter keeps the detective away from the speakeasy and cooperates as best he can with the investigation. Trouble is, he's taken a whole different kind of interest in the detective. An interest that's very mutual.

But no matter how much Joe and Walter like each other, the investigation threatens to disrupt the fragile peace in the Mayfield Speakeasy as well as tear apart the Mayfield family. And there's also still a murderer on the loose, and Joe and Walter need to catch him – or her – before another body turns up…
Excerpt (scroll down)
About L.A. Witt
L.A. Witt is an M/M erotica writer who, after three years in Okinawa, Japan, has recently relocated to Omaha, Nebraska, with her husband, two cats, and a three-headed clairvoyant parakeet named Fred. There is some speculation that this move was not actually because of her husband's military orders, but to help L.A. close in on her arch nemesis, erotica author Lauren Gallagher, who has also recently transferred to Omaha. So, don't anyone tell Lauren. She's not getting away this time…

You can find out more about L.A. at her website, blog, Twitter, and Facebook.
Contest Rules
To enter, leave a comment stating that you are entering the contest. Contest closes 7 pm CST, Tuesday, January 29.
By entering the contest, you're confirming that you are at least 18 years old.
If you haven't commented before, your comment will not be visible until after I moderate it. Please do not leave a second comment because your first doesn't show up! The blog gnomes will decide your comments are spam and then only ritual dust bunny sacrifice will salvage your entry…
If your comment is actually an advertisement or if your CommentLuv link turns it into an advertisement, your comment will be deleted. (Most of you do not need to worry – this refers to some pretty clever comment spam.)
Winners will be selected by random number.
You must leave a valid email address in the "Email" portion of the comment form.
Please make sure that your spam filter allows email from stumblingoverchaos.com!
If a winner doesn't respond to my congratulations email within 48 hours, I will select another winner.
If you win, please respect the author's intellectual property and don't make copies of the ebook for anyone else.
This contest is open worldwide!
---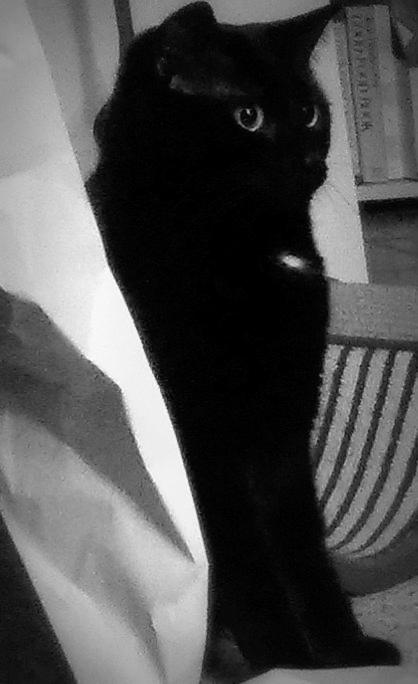 "My goodness, I hope the big kitty doesn't think he's fooling anyone with his 'hiding' place…" -Mayhem