It's time for the Reader's Choice Awards over at Urban Fantasy Land! Head on over before midnight on January 30 to vote.
Guess how many buttons are in Sarah's button box for your chance to win a copy of Knitting Socks with Handpainted Yarn. Leave your guesses by 5 pm EST, January 19.
---
Near the beginning of 2008, I joined LibraryThing and started to seriously track my reading for the first time. My goodness. I really had no idea. In 2008, I read 388 books. (If you're morbidly curious, you can look at the whole list.) I'd say at least a dozen of those were either quite short, or were anthologies in which I only read one or two stories. But still. No wonder my "to watch" piles of dvds and videotapes never gets any smaller!
How did I manage to read so many books? Well, I really do read fast. Always have. Then I took Efficient Reading in college and it turned me into a speed reader. Add to that the fun of slogging through technical and academic prose for my master's degrees – reading fiction is bliss after that whole academia thing.
I also read while I knit. I'll pause for some of you to say "Oh, I could never do that!" That's what I thought, too. Many, many thanks to my friend Lisa for convincing me otherwise. I've previously described the process of teaching myself to read while knitting. A good bookholder is critical; Limedragon has a great list of various bookholders and how they worked for knitting.
And then I realized… I have no bookish pictures for my reading post! Eeep! So allow me to present proof that I can toss nearly anything on my floor and get cat photos…
"Hmm. No 'nip. No pink feathers. This is lame." -Mayhem
"Mmmm… May doesn't realize that books can be very tasty, even without 'nip." -Chaos
"Hey! I'm hiding here!" -Chaos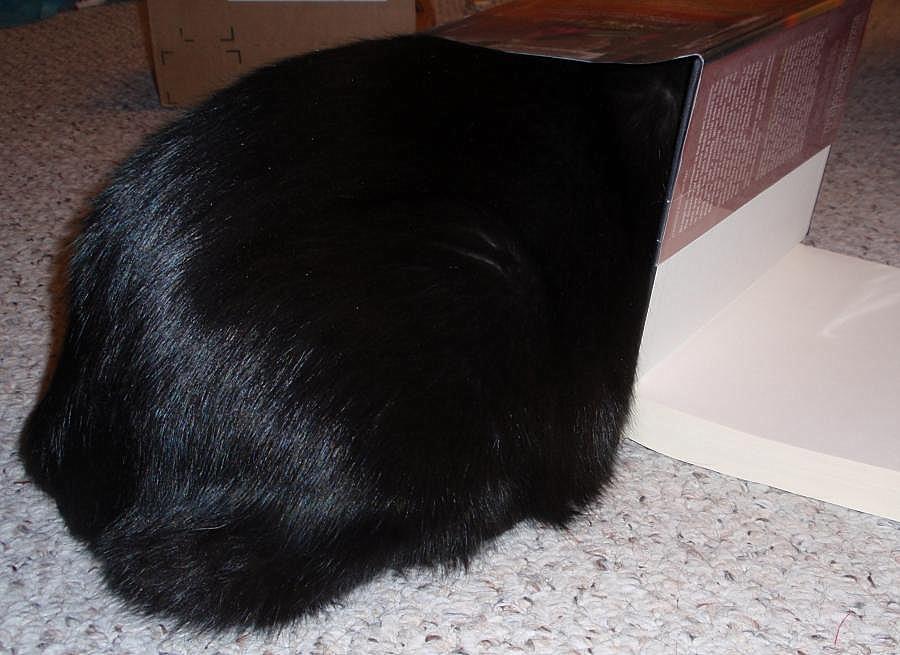 "I'm good at hiding. You so can't see me." -Chaos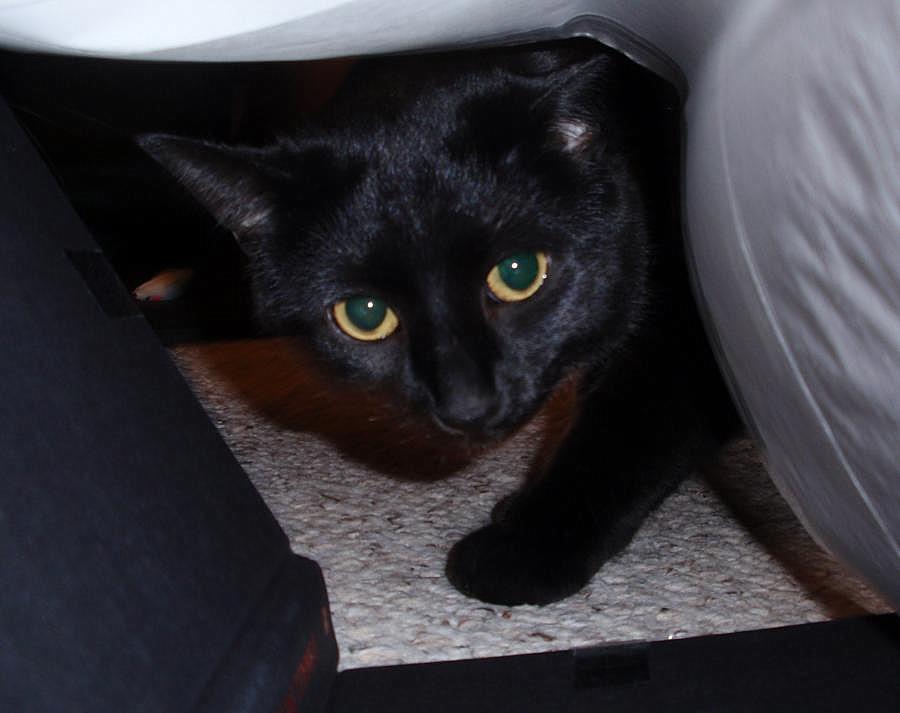 "Hmm. This looks like a trap." -Mayhem