---
---
Congrats to Josie, who won The Auspicious Troubles of Chance by Charlie Cochet ! The Auspicious Troubles of Chance is being released by Dreamspinner Press today.
Congrats to Heather K, who won The Blue Paradise by Theo Fenraven! The Blue Paradise is also being released by Dreamspinner Press today.
---
---
Many thanks to Amy Lane for donating an ebook copy two ebook copies of her forthcoming m/m romance, Sidecar, for a lucky commenter to win! Sidecar will be released by Dreamspinner Press on June 29. (Amy added a second copy after we hit 100 comments. Thanks, Amy!)
The year is 1987. The boys wear pink Izod shirts, the girls wear big hair, everyone has a stash box, and AIDS is just an ugly rumor rumbling like a thunderstorm from the cities. A teenage runaway wanders the side of the road, a heartbeat away from despair, and is rescued by a long-haired angel on a Harley.

But that's just the beginning of their story.

Josiah Daniels wanted peace and quiet and a simple life, and he had it until he rescued Casey from hunger, cold, and exhaustion. Then Joe's life is anything but simple as he and his new charge navigate a world that is changing more rapidly than the people in it. Joe wants to raise Casey to a happy and productive adulthood, and he does. But even as an adult, Casey can't conceive of a happy life without Joe. The trouble is getting Joe to accept that the boy he nurtured is suddenly the man who wants him.

Their relationship can either die or change with the world around them. As they make a home, negotiate the new rules of growing up, and swerve around the pitfalls of modern life, Casey learns that adulthood is more than sex, Joe learns that there is no compromise in happy ever after, and they;re both forced to realize that the one thing a man shouldn't be is alone.
Excerpt (scroll down)
Other Books
About Amy
Amy Lane knits, mothers four children, and writes like she's got a slave-driver with a whip and a cattle-prod standing behind her chair. She, her brood, and her beloved mate, Mack, live in a crumbling mortgage in Citrus Heights, California, which is riddled with spiders, cats, a really gassy dog, and more than its share of fancy and weirdness. Feel free to visit her at her blog and her website, where she will ride the buzz of receiving your e-mail until her head swells and she can no longer leave the house.
Contest Rules
To enter, leave a comment stating that you are entering the contest. Contest closes 7 pm CDT, Thursday June 28.
By entering the contest, you're confirming that you are at least 18 years old.
If you haven't commented before, your comment will not be visible until after I moderate it. Please do not leave a second comment because your first doesn't show up! The blog gnomes will decide your comments are spam and then only ritual dust bunny sacrifice will salvage your entry…
If your comment is actually an advertisement or if your CommentLuv link turns it into an advertisement, your comment will be deleted. (Most of you do not need to worry – this refers to some pretty clever comment spam.)
Winners will be selected by random number.
You must leave a valid email address in the "Email" portion of the comment form.
Please make sure that your spam filter allows email from stumblingoverchaos.com!
I am not able to reliably contact people with aol.com and netscape.com email addresses – please use a different email address if at all possible!
If a winner doesn't respond to my congratulations email within 48 hours, I will select another winner.
If you win, please respect the author's intellectual property and don't make copies of the ebook for anyone else.
This contest is open worldwide!
---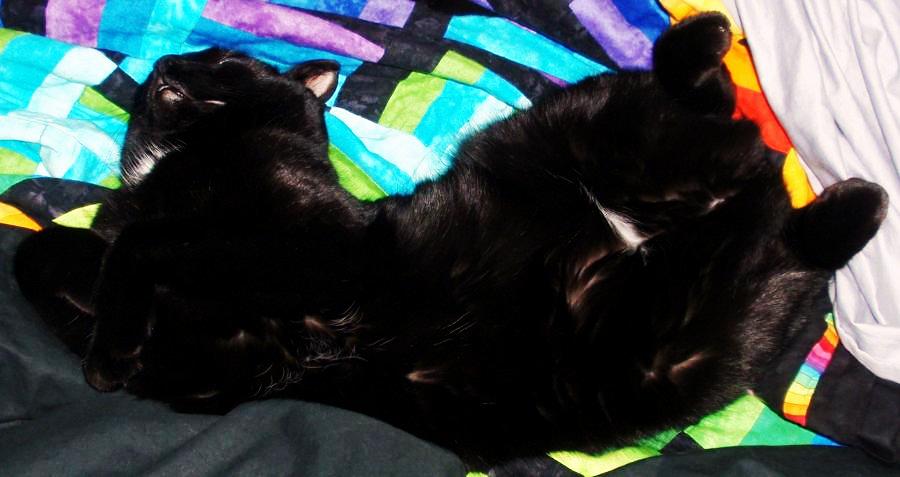 "…zzzzzzzzzzzzzzzzzzz…" -Mayhem