Many thanks to Devon Rhodes for donating an ebook copy of her forthcoming m/m romance, A Ring and a Promise, for a lucky commenter to win! A Ring and a Promise will be released on February 13 by Total-E-Bound.
Careers in military service are never easy on relationships – even less so when both lovers are in different branches…and both are men.

Naval Academy graduation now under their belts, Cary Barrientos knows the reality of the upcoming separation from his roommate of the past four years. Owen is more to him than just his best friend – he is the one person Cary can see spending his life with.

Owen Marsh knew that when he became Cary's lover, the day would come when he would have to walk away. Now that day has come, and he's having a hard time convincing himself that it's just sex between them. Even with DADT repealed, there is no way a Marine and a Navy flier can be together. He's just being realistic not expecting more.

When Cary switches their Academy rings, hoping Owen won't notice, he makes a vow – he will do whatever he has to do, including believing enough for the both of them, to make their unlikely relationship stand the test of time. But when his Marine is called up for duty overseas, can a piece of jewellery and a promise be enough to get them through?

Reader Advisory: This story has been previously released as part of the His Hero anthology by Total-E-Bound
Excerpt (scroll down and expand)
Other Books
About Devon
Devon started reading and writing at a young age and never looked back. After a creatively sapping career in the business world, she gratefully took some time off to be at home.

At 39 and holding, Devon finally figured out the best way to channel her midlife crisis was to morph from mild-mannered stay-at-home mom into erotic romance writer.

She lives in Oregon with her husband and two children, who are (mostly) understanding of all the time she spends on her laptop, aka the black hole.

For all the latest, visit her blog.
Contest Rules
To enter, leave a comment stating that you are entering the contest. Contest closes 7 pm CST, Monday, February 13.
By entering the contest, you're confirming that you are at least 18 years old.
If you haven't commented before, your comment will not be visible until after I moderate it. Please do not leave a second comment because your first doesn't show up! The blog gnomes will decide your comments are spam and then only ritual dust bunny sacrifice will salvage your entry…
If your comment is actually an advertisement or if your CommentLuv link turns it into an advertisement, your comment will be deleted. (Most of you do not need to worry – this refers to some pretty clever comment spam.)
Winners will be selected by random number.
You must leave a valid email address in the "Email" portion of the comment form.
Please make sure that your spam filter allows email from stumblingoverchaos.com!
If you have an email account with AOL or Netscape, I will not be able to send email to you.
If a winner doesn't respond to my congratulations email within 48 hours, I will select another winner.
If you win, please respect the author's intellectual property and don't make copies of the ebook for anyone else.
This contest is open worldwide!
---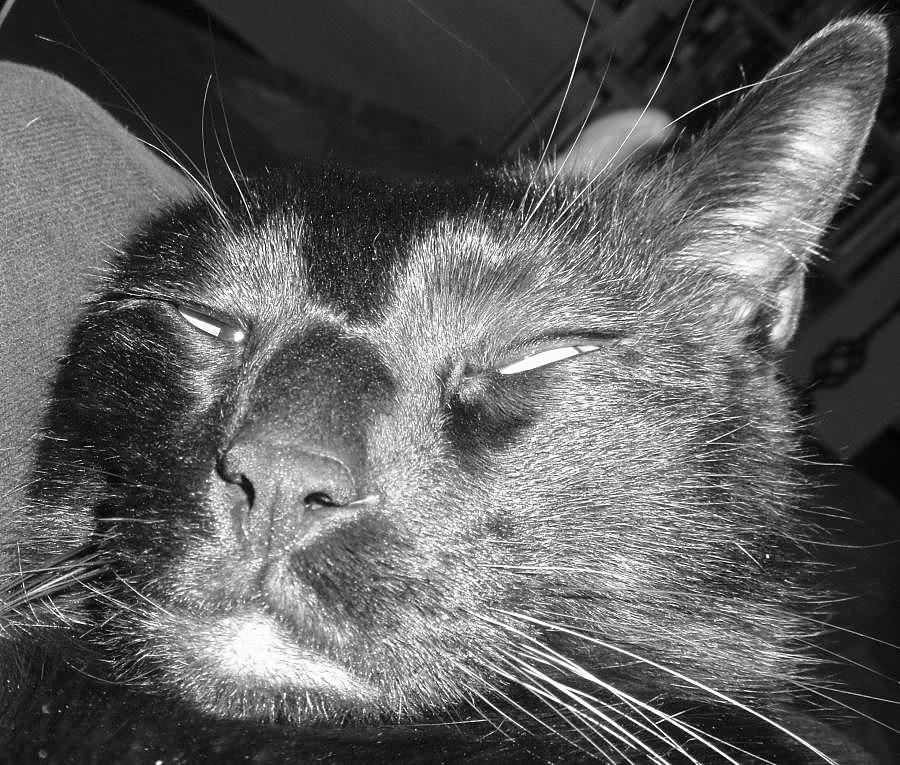 "….zzzzzzzzzzzzzzzzzzzzzzz…." -Chaos
I find it extremely creepy when he sleeps with his eyes partially open!