To donate to a good cause (to help defray a little girl's medical expenses) and for the chance to win a very nice sock yarn prize package in doing so, go read about Pennies for Bella and donate before December 5.
Well, since the photos of the things that I want to blog about are all on my main laptop, which I'm backing up in one of the slowest backup processes ever, I'll have to see what I can scrape up here…
Looking for non-gift card gift ideas? Or inexpensive electronic gifts you can make?
Obsidian Kitten has a great post of cool cat-themed items. Beware – I ended up buying a whack of holiday cards because of her post!
Here's an article with one writer's thoughts on why lolcats resonate with so many of us.
Hmm. The Gap is selling argyle-patterned Electra cruiser bikes for the holidays. Might go nicely with your Starbucks cabled mug (I couldn't find that mug in their online store, so have linked to a lovely example).
How megapixels are like cupcakes. Sort of.
What a cool bookcare… although I doubt how useful it actually is.
Check out Book View Cafe, which is an intriguing (and free) online publishing venture from such authors as Ursule K. Le Guin, Vonda N. McIntyre, Laura Anne Gilman, and more.
Take a peek into an authentic 19th-century vampire killing kit.
Reading Update
Mysteria by MaryJanice Davidson, Susan Grant, P.C. Cast, and Gena Showalter. This was a fun collection about the Colorado town of Mysteria (very near Denver), which "was 'accidentally' founded by a random act of demonic kindness."
Edge of the Moon (Moon Series, Book 2), Moon Swept (Witching Moon and Crimson Moon, Moon Series Books 3-4), and New Moon (Moon Series, Book 6) by Rebecca York. I'm not reading these werewolf books in perfect order, which gets a little confusing, since the series is about various brothers and cousins.
Demon Bound (The Guardians, Book 7) by Meljean Brook. A solid read – you'll enjoy it if you've enjoyed the rest of the series.
How to Marry a Millionaire Vampire, Vamps and the City, and Be Still My Vampire Heart (Love at Stake, Books 1-3) by Kerrelyn Sparks. How could I resist the cheesy titles?! If you like the light'n'fluffy tone of Erin McCarthy's Vegas Vampires series, give this series a try.
Espresso Shot (Coffeehouse Mystery #7) by Cleo Coyle. This cozy mystery series is set in a lovely Greenwich Village coffeehouse. Not paranormal at all, yet still recommended. 😉
---
A puzzle – where do speed bumps go for the winter? (Please note that this was from mid-October – we no longer have any leaves!)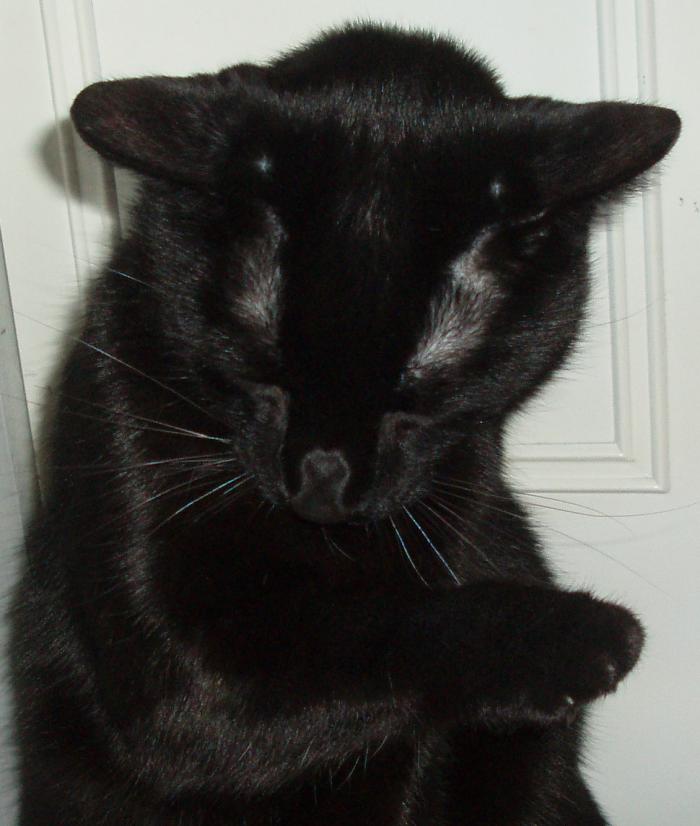 "Quick! I just saw those speedbumps headed thataway! Hee hee." -Chaos