---
---
Congrats to Judianna, who won my GRL swag! Congrats to lacrimsonfemme, who won last week's Riptide swag bag!
Congrats to Peggy, who won Wight Mischief by JL Merrow! Wight Mischief is being released by Samhain Publishing today.
---
---
Aleksandr Voinov has been published for twenty years, both in print and ebook. He has ten years' experience as a writing coach, book doctor, and writing teacher, and he works as a financial editor in the research department of a pan-European investment bank.
After co-authoring the M/M military cult classic Special Forces, Aleksandr embarked on a quest to write edgy, dark, sometimes literary M/M and gay fiction (much of which is romance/erotica) – the only way he can use his American Literature degree these days. He's been published with Heyne/Random House, Carina Press, Samhain Publishing, Loose Id, Dreamspinner, Storm Moon Press, and others.
You can find out more about Aleks and his books at his website, blog, Twitter, Facebook, Goodreads, and Goodreads group.
Aleks's newest release – Dark Soul Volume 1 from Riptide Publishing – is now available.
Stefano Marino is a made man, a happily married west coast mafia boss who travels east to await the death of a family patriarch. All the old hands have gathered – of course sharks will circle when there's blood in the water – but it's a new hand that draws Stefano's eye.

Silvio "the Barracuda" Spadaro is protetto and heir to retired consigliere Gianbattista Falchi, and a made man in his own right. Among his underworld family, being gay is a capital crime, but the hypersexual – and pansexual – young killer has never much cared for rules. The only orders he follows are Battista's, whether on the killing field or on his knees, eagerly submissive at Battista's feet.

But Silvio has needs Battista can't fill, and he's cast his black-eyed gaze on Stefano. A fake break-in, an even faker attack, and Silvio is exactly where he wants to be: strung up at Stefano's mercy, driving the older Mafioso toward urges he's spent his whole life repressing. Stefano resists, but when the Russian mob invades his territory and forces him to seek aid, Gianbattista's price brings Stefano face to face once more with Silvio – and his darkest desires.
Excerpt (scroll down and select tab)
The second volume in the episodic Dark Soul novel features the stories "Dark Whisper" and "Dark Night." Dark Soul Volume 2 can be pre-ordered.
The third volume in the episodic Dark Soul novel features the stories "Dark Lady #1," "Dark Lady #2," and "Dark Brother." You can also pre-order Dark Soul Volume 3.
Contest Rules
To enter for your chance to win a bag of Riptide Publishing swag, leave a comment below stating that you are entering the contest. Leave your comments by 7 pm CST, Monday, November 14.
By entering the contest, you're confirming that you are at least 18 years old.
If you haven't commented before, your comment will not be visible until after I moderate it. Please do not leave a second comment because your first doesn't show up! The blog gnomes will decide your comments are spam and then only luck and counterintuitive espionage will salvage your entry…
If your comment is actually an advertisement or if your CommentLuv link turns it into an advertisement, your comment will be deleted. (Most of you do not need to worry – this refers to some pretty clever comment spam.)
Winner will be selected by random number.
You must leave a valid email address in the "Email" portion of the comment form.
Please make sure that your spam filter allows email from stumblingoverchaos.com!
If a winner doesn't respond to my congratulations email within 48 hours, I will select another winner.
This contest is US only, due to shipping costs. Sorry.
---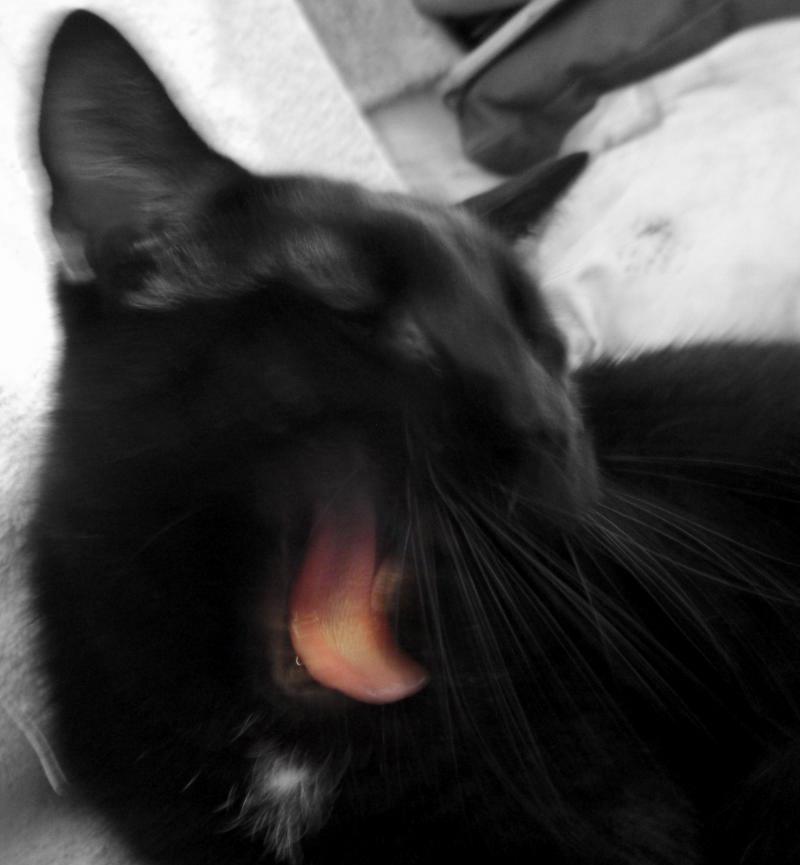 "LMTO!" -Chaos*
*Laughing My Tail Off