Hope everyone had a good weekend! I knitted (another bib almost done…), visited my dad and his wife for Father's Day, got caught up on bloglines, and read quite a bit. Here's my SRP update:
Widdershins by Charles de Lint, 560 pages. Some resolution to the events started in motion in The Onion Girl. De Lint always leaves me believing there is hope for the world.
Death Masks by Jim Butcher, 373 pages. Book 5 of the Dresden Files. Chicago PI and wizard-for-hire Harry Dresden searches for the Shroud of Turin and runs into an old flame. Enjoyable as always.
I have a question for you WordPress experts out there. A few people have reported that they're seeing my sidebar stuff on top of the posts. I moved most of the sidebar stuff to a separate page until I get that sorted out. Does anyone have any ideas about what the problem could be?!
Don't forget – to leave a comment, click on the number to the right of the post title!
For my Knit Sock Kit Swap buddy, my questionnaire responses are here.
Friday night we had some major storms moving through the Twin Cities. I tried to take pictures out the window, but I don't think I managed to capture the intensity of the storm. These pictures were taken around 5:30 pm, when the wind was gusting to 65 mph or so.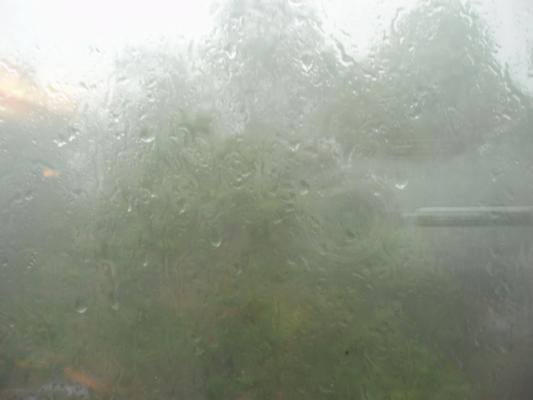 I'm making slow progress on the moderne log cabin crib blank from MDK. I'm about 1/3 done with square #7, although it's not easy to tell that from my progress picture below…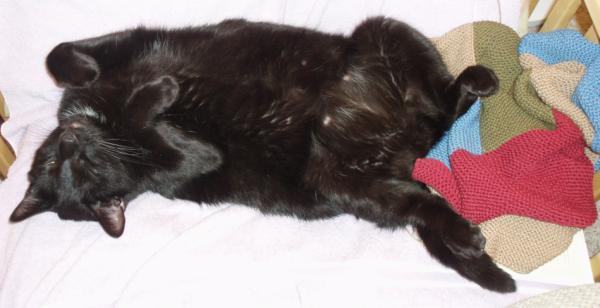 "Zzzzzzzzzzz… mmmmm… butt blanket… zzzzzzzzzz…"