Don't forget about Super International Pajama Day, coming up on February 3!
Many thanks to Jeanne and pao for assisting me with some blog woes over the weekend! The blog seems to be working fine again – whew! (I do admit to pestering Jeanne with the Yarn Harlot's famous words: "Blog broken. Make blog go?")
Also, in an effort to reduce comment spam, I've turned off commenting for posts more than 60 days old. Hopefully this doesn't inconvenience anyone. 🙂
Reading Update
Heart of Stone: The Negotiator Trilogy, Book 1 by C. E. Murphy. This is the start of a new series by Murphy, and it was a very good read. Legal Aid lawyer Margrit Knight discovers that there's more going on in NYC than she would ever have realized. This book has a dragon, a djinn, two selkies, a whack of gargoyles, and one vampire. (It's ok, CarrieK – it's definitely not a vampire novel. You'll be ok. I promise.)
Web Mage by Kelly McCullough. This is an interesting premise – imagine that there's also an mweb (magic web) in addition to the regular stuff on the internet… Sorceror and relative of the Fates Ravirn is just trying to get through the University of Minnesota's CompSci program, so how did his life get so complicated?
Holidays Are Murder: A Maggie Skerritt Mystery by Charlotte Douglas. I continue to enjoy this low-key series about Pelican Bay, Florida, police detective Maggie and her former (police) partner, Bill. Since this series is published by a division of Harlequin, you may find them in the romance section instead of mysteries…
Key of Light by Nora Robert. This first book in the Key Trilogy was pretty good. Three modern women must solve an ancient puzzle while an evil sorceror attempts to thwart their efforts.
Hex Marks the Spot: Bewitching Mystery, Book 3 by Madelyn Alt. Maggie learns about Amish hexes when a local Amish craftsmen is found murdered.
Knitting Update
My black Velvet Touch "Scrunchable Scarf" continues to grow – and continues to be too unexciting to photograph. It is extremely soft and I'm quite happy with it.
---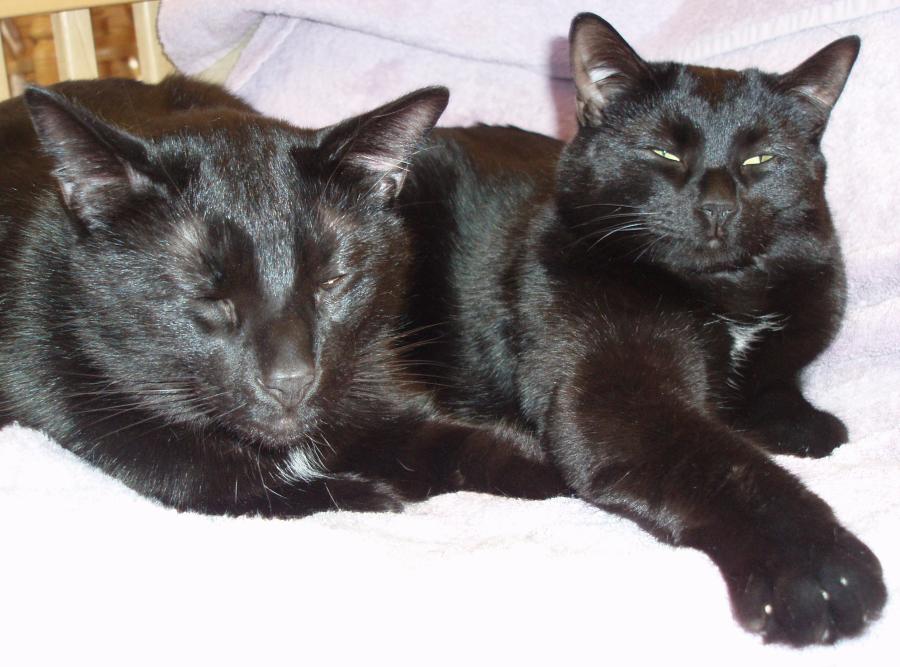 *zzzzzzzzzzzzzzzz…* -Chaos
"Wha……..?" -May