Local knitblogger Deb is thinking of opening an Etsy shop to sell her hand-dyed yarn. If you suggest a name for her store that she ends up using, you could win some of that same hand-dyed yarn. Leave your suggestions by June 4.
Had a good weekend up at the cabin with my brother and SIL and I even got a little bit of knitting done. Friday was 80F, sunny, and very buggy. It rained Friday night; Saturday was cloudy, breezy, and at least 25F cooler. Definitely fewer bugs. Sunday morning we awoke to lazily drifting snowflakes! Eeeeeeeek!!! No bugs, though.
I was one of numerous winners of Sachi's birthday contest for my amazingly brief revised lyrics to Happy Birthday. Sachi sent me some of her gorgeous handspun (with beads!), a skein of Cascade Sierra Quatro (which I haven't tried before), stitchmarkers, and some chocolate (not pictured). Thank you, Sachi!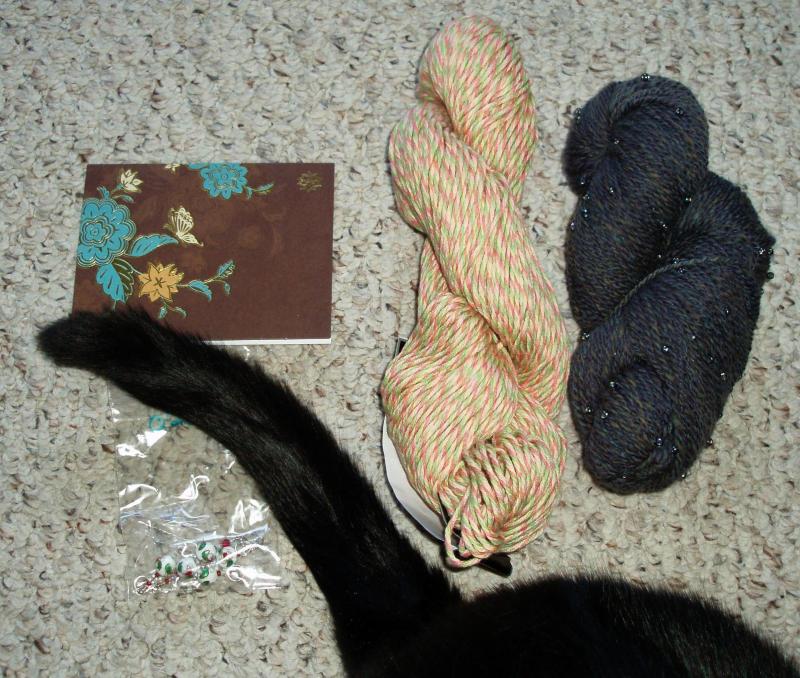 "Is Neatnik reading? I know she likes pictures of my butt." -Chaos
Local knitblogger Kelly sent Chaos and May some catnip mice that she made – you've already seen a couple of the pictures of how well the mice were received and you will see more, since one of the mice had Chaos cavorting like a kitten!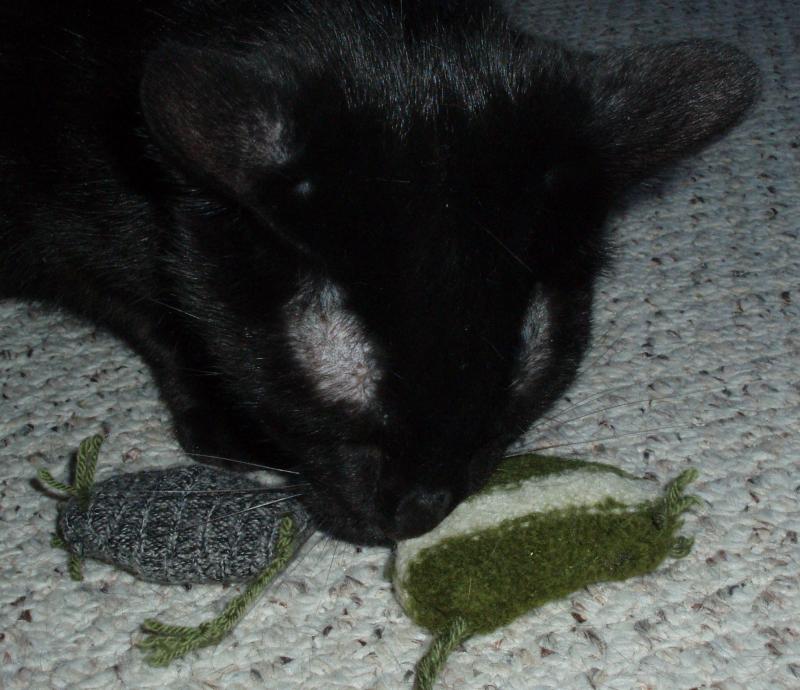 "Mmmm… stripey… Hey, wait a minute – I do not cavort. Whatever that means, I'm sure I don't do it." -Chaos
Check out what Kelly included for my refrigerator – thanks, Kelly!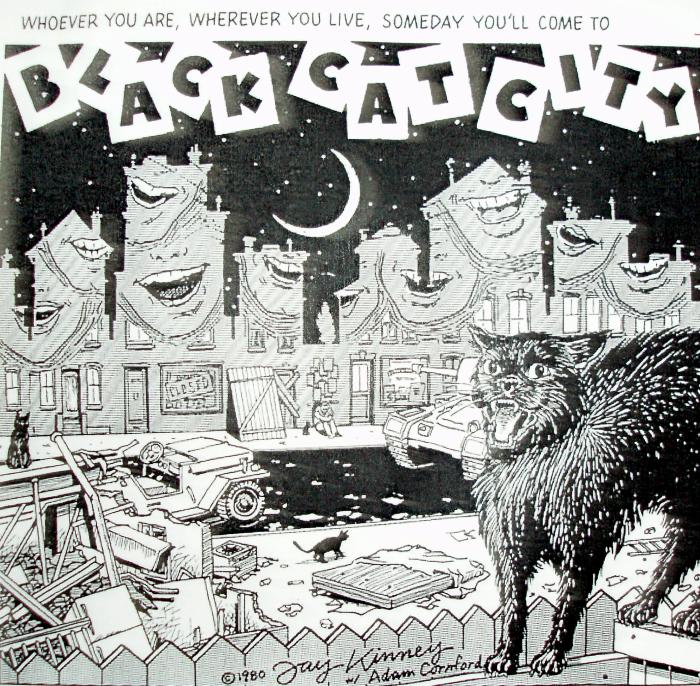 Yesterday my Coffee Swap package arrived from (tragically blogless) Laura, who knows how to do an awesome swap package. She baked gluten-free biscotti for me and they're very yummy! In the picture below, Chaos is trying to get into the bag of biscotti – no way, Chaos! Those are mine. Laura also sent me some Equal Exchange fair trade coffee, a wee bottle of wool wash, two balls of purple Jaggerspun wool silk and an Addi lace needle (with a note that she better see some lace on the blog soon…), dark chocolate truffles (not pictured…), black kitty statuettes, and stitchmarkers.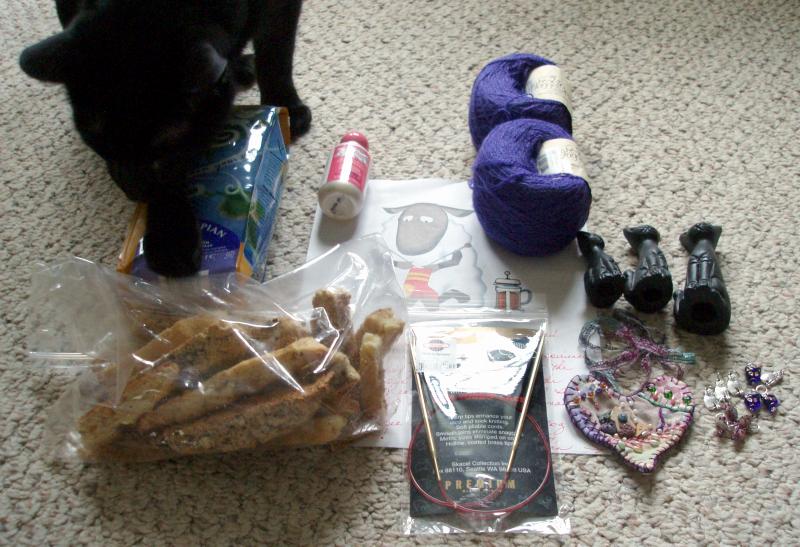 "I'm sure Laura meant to include a note that the biscotti were for me." -Chaos
The stitchmarkers came in a cute necklace style bag, which will be very handy for holding markers as I need them… and keeping them out of harm's (feline) way. There was one more blue kitty head marker that managed to evade the photo shoot.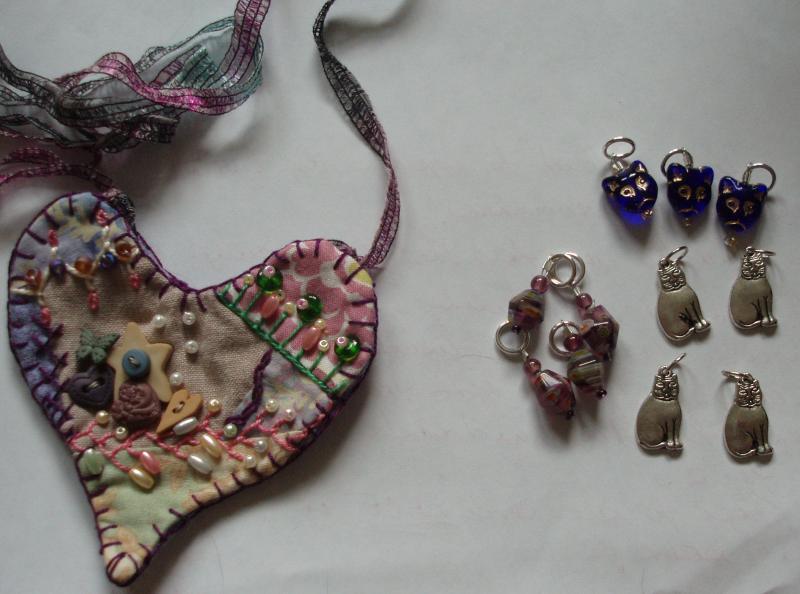 The black cat statuettes are really cool, aren't they? (No, I will not be getting another cat so I have a set that matches the statuettes!) Thank you so much, Laura!