Susan's having a contest in honor of her blogiversary and a comment milestone – guess which yarn her daughter chose for socks and you could win the other yarn plus matching stitchmarkers. Leave your guess by midnight, April 15, CDT.
Jimmy Bean's Wool has a pattern contest every month. Their prize pack is amazing and probably beats what many online knitting magazines would pay you. I know many of you have designing skills, so I hope you give it a shot!
Snow. Blech. Need I say more? Here's a picture from back in the snowy days of March… I liked the "Minnesota Nice" sticker and how it tied in with the "Snow Emergency Route" sign. Plus the balloons were a festive touch to an ugly, dirty snowbank. We better not have enough snow to make snowbanks. I might lose my mind…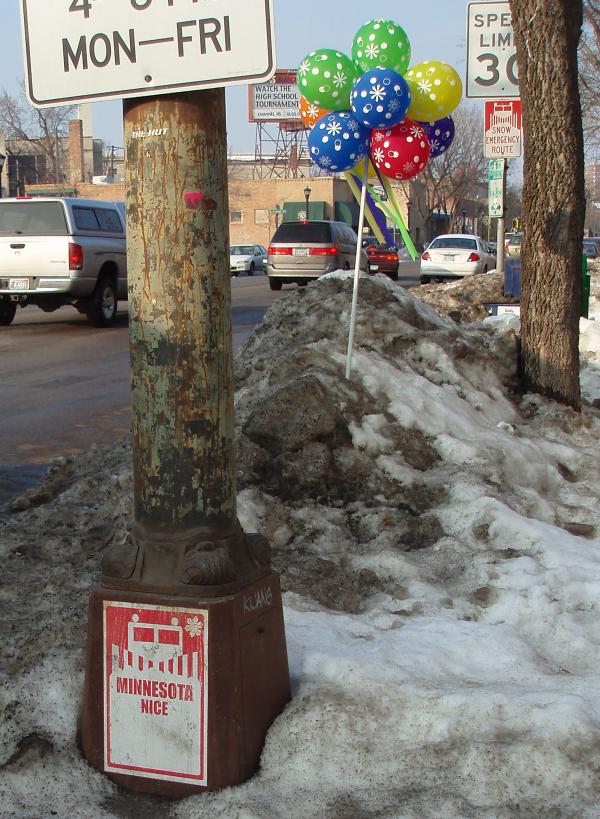 Moving right along to happier things, remember when I swapped Knit a Fantasy Story with chittavrtti? Here are the goodies she sent me – two gorgeous 225 yard skeins of Socks that Rock in a lovely deep green (Beryl, probably the only green I'll see around here for a while) and some espresso roast Peet's coffee beans. Mmmmm… Thanks, CV!

"Smells… green. Mmmm… Greenies." -M
"I can tell from here it isn't tuna yarn! Hmph." -C
(from a distance) "Look out for that coffee, May! Did I ever tell you about the time I ate a coffee bean when I was a kitten? Man, that was a rush." -C
"Yeah, whatever, big kitty, and I bet you had to walk a mile uphill in the snow to get to your food bowl." -M