---
---
Today is a two-contest day! Go enter the contest for Perfection by Clare London!
---
Congrats to Carey and Kate78, who won The Party Boy's Guide to Dating a Geek (Clumsy Cupid Guidebooks #1) by Piper Vaughn and Xara X. Xanakas! The Party Boy's Guide to Dating a Geek is being released today by Less Than Three Press.
Congrats to arzu, who won Say a Little Prayer by Clare London! Say a Little Prayer is also being released today by Less Than Three Press.
---
---
Many thanks to PD Singer for donating an ebook copy of her forthcoming m/m romance, Fall Down the Mountain (The Mountains #3) (2nd ed), for a lucky commenter to win! Fall Down the Mountain will be released by Dreamspinner Press on October 19.
Every night ski patrol Mark McAvoy relives the avalanche that took a life on his watch. Emotionally fragile and single by choice, he's aghast at his friends' taking charge of his social life. Hosting a potluck will at least provide him with a good meal.

Invited to the potluck on a whim, Allan Tengerdie catches Mark's eye – and taste buds. This cuddly chef could be perfect for a lonely, too-thin skier; too bad Allan falls better than he skis. When Allan's injured and frightened he'll lose his catering company, he's afraid to ask too much of a man he barely knows.

Mark wants to help but has his own problems. Was the avalanche a tragic accident or cold-blooded murder? His role in the inquiry leaves Mark in trouble at work, at the mercy of the law, and with too much time on his hands. If he clings tightly to Allan, will they be swept away together?

First edition published by Torquere Press (2010).

Bonus Story: Storm on the Mountain

A blizzard shuts down the ski resort, giving Mark a chance to show Allan he's learned from his mistakes. Does he know Allan well enough now to say what's in his heart?
Excerpt (scroll down and expand)
About PD
PD Singer lives in Colorado with her slightly bemused husband, two rowdy teenage boys, and thirty pounds of cats, all of whom approach carefully when she's in a writing frenzy. She's a big believer in research, first-hand if possible, so the reader can be quite certain PD has skied down a mountain face-first, been stepped on by rodeo horses, acquired a potato burn or two, and will never, ever, write a novel that includes sky-diving.

When not writing, playing her fiddle, or skiing, she can be found with a book in hand. Her husband blesses the advent of ebooks — they're staving off the day the house collapses from the weight of the printed page.
Contest Rules
To enter, leave a comment stating that you are entering the contest. Contest closes 7 pm CDT, Thursday, October 18.
By entering the contest, you're confirming that you are at least 18 years old.
If you haven't commented before, your comment will not be visible until after I moderate it. Please do not leave a second comment because your first doesn't show up! The blog gnomes will decide your comments are spam and then only ritual dust bunny sacrifice will salvage your entry…
If your comment is actually an advertisement or if your CommentLuv link turns it into an advertisement, your comment will be deleted. (Most of you do not need to worry – this refers to some pretty clever comment spam.)
Winners will be selected by random number.
You must leave a valid email address in the "Email" portion of the comment form.
Please make sure that your spam filter allows email from stumblingoverchaos.com!
If a winner doesn't respond to my congratulations email within 48 hours, I will select another winner.
If you win, please respect the author's intellectual property and don't make copies of the ebook for anyone else.
This contest is open worldwide!
---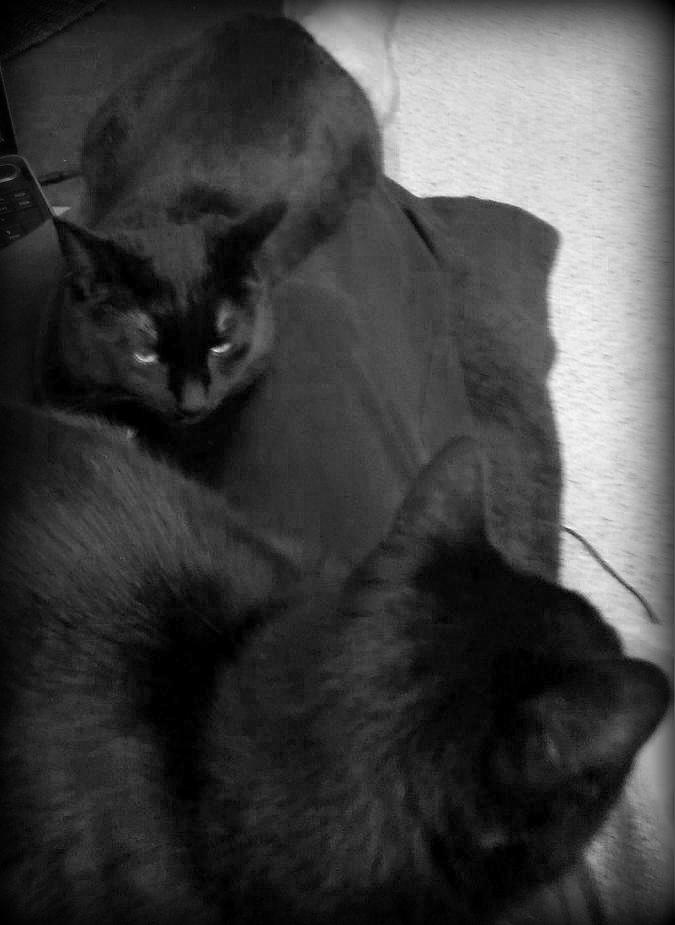 "May!! I'm not going to look at you because this was my lap first!" -Chaos
"Tough." -Mayhem
---
Stop by and enter the contest for Bound for the Forest (The Greenwood #1) by Kay Berrisford! Contest closes 7 pm CDT, October 19.
Then enter the contest for Follow The Sun (Stories from Sapphire Cay #1) by RJ Scott & Meredith Russell! Contest closes 7 pm CDT, October 19.