Hopefully things will get back to what passes for normal around here now, but no promises!
Time to extend much-belated thanks for some lovely birthday gifts gifts I received. A few days before my birthday, Jeanne and Deb came over to celebrate with me. Jeanne brought along an extremely tasty flourless chocolate cake she baked for the festivities.
Chaos menaced my guests.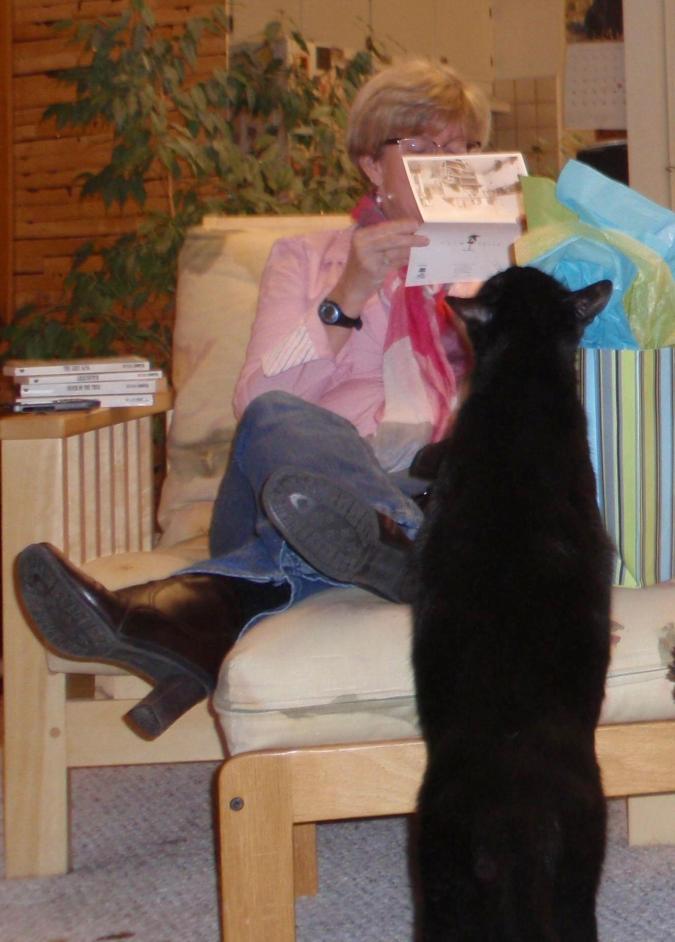 "Hand over that tissue paper, lady, if you know what's good for you!" -Chaos
Mayhem was a bit more subtle.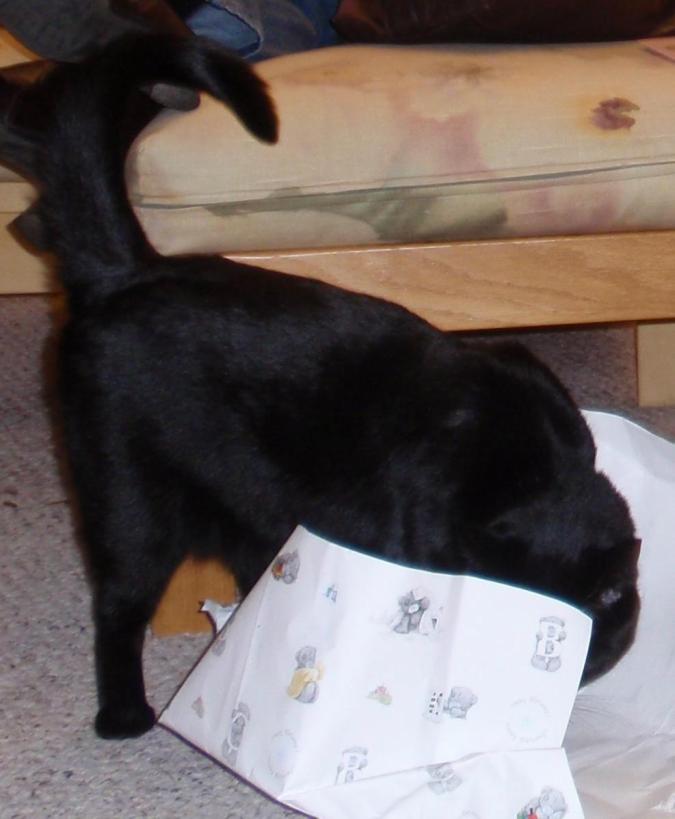 "I wonder how much wrapping paper and tape I can eat before Mom notices?" -Mayhem
(Hmm, no pictures of Jeanne, as she was taking pictures of me. And no pictures of me because I look absolutely demented in every single one of them.)
Deb gave me a toasty, autumnal skein of Misty Alpaca sock yarn, It Itches, adorable non-skid pawprints for the bottom of socks or slippers, and a very fun scissors case (with scissors even!). Thank you, Deb – and no, you aren't going to be re-gifted with the yarn on your birthday. 😛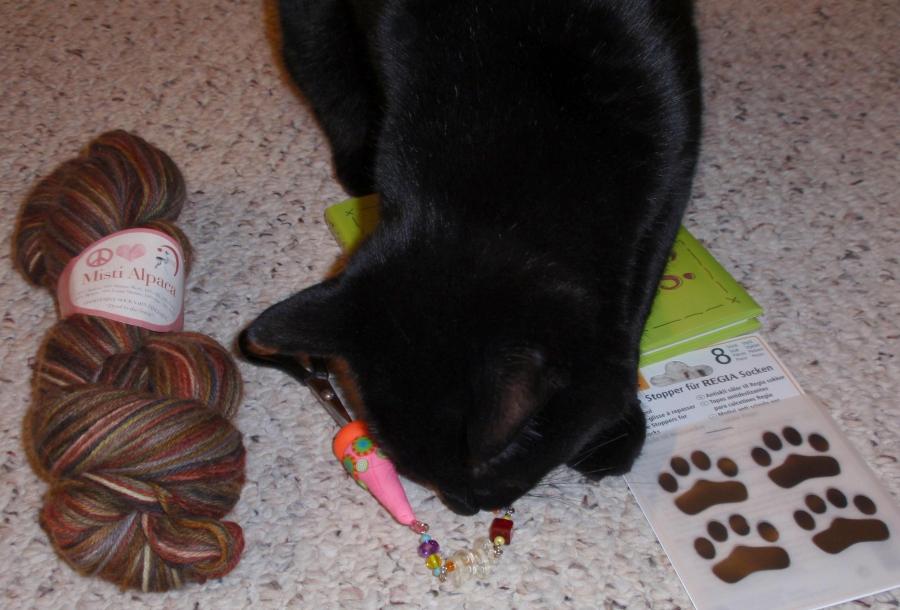 "Excellent! A scissors with a carrying strap. I've been looking for one of these." -Mayhem
From Jeanne, a knitting pinup calendar (hmm, probably not suitable for my cube at work), the Yarn Harlot's page-by-day knitting calendar (hopefully more suitable for work), a cat lady birthday card (inside it says "After a while you stop counting"), and more luscious sock yarn. (Yes, Jeanne, I know there's something else. It was very tempting and harder to photograph. We'll get there.)
Jeanne also gave me an adorable pocket needle gauge, which Mayhem really, really likes. I'll probably have to hide it if I ever want to see it again. Thanks, Jeanne!
"I'll keep a close eye on it, Mom! Nothing will happen to it. I promise! Hee hee hee." -Mayhem
And although they couldn't be here in person, the paos were with us in spirit. They sent my beloved dark chocolate covered rice cakes, a chocolate coffee stirrer, a great card ("Women invented chocolate. Men invented calories."), more gorgeous sock yarn, and a test that I'm supposed to administer to the kitties. Thanks, mrspao and pao!
"I can watch this yarn for you, too, Mom! Hee hee hee." -Mayhem