---
---
Congrats to Juliana, who won Vessel (Cutting Cords #2) by Mickie B. Ashling! Vessel is being released by Dreamspinner Press today.
Congrats to Paula, who won Marked Yours and Together Bound (Sentries 1-2) by Elizabeth Noble! Together Bound will be released October 10 by Dreamspinner Press.
Congrats to SusieQ, who won RSVP (Pushing the Envelope #2) by Kim Dare! RSVP will be released by Amber Allure on October 9.
---
Brace yourselves. This is the last linkity post until October 28, as I'm heading out on vacation in a couple days.
Several contests each week will appear automagically. I'll announce contest winners. I may or may not post some pictures from vacation. You'll just have to stay tuned to see what happens. Or doesn't. 🙂
---
---
Contests
Bookity
Ebookity
Do, Think, Make, Learn
Cookity
So, The Kitchn pretty much went nuts with recipe lists this week. Brace yourselves.
Crafty
Halloweenity
Cool
Cool or Wha…?
Wha…?
LOL
Both Chaos and May love to play fetch. Sadly, May's special gift is always dropping the fetch toy just out of reach…
Teh Cute
Reading Update

Song of Oestend by Marie Sexton. ebook. Excellent kinky scifi m/m romance with cowboys. Weirdly, I'm not a big fan of scifi and even less of a fan of cowboy books, but this just completely worked for me. It's about an artist who takes a job as a bookkeeper for a ranch on the other side of the world so he can get away from his past at the university. He finds himself unprepared for his new life, but he slowly finds his way and makes his place at the ranch as he befriends the reclusive foreman.

Once a Marine by Cat Grant. ebook ARC. Very good m/m romance about a waiter who's always been really attracted to Marines, although it's never turned out well for him. But when an extremely handsome guy (obviously a Marine) sits in his section, he's drawn to the guy despite himself. There's more to both of them than what meets the eye – will either of them be able to overcome their previous bad experiences to find love this time?

Mummy Dearest (The XOXO Files #1) by Josh Lanyon. ebook. Very good m/m romantic suspense about a professor of archeology who visits a dime museum in Wyoming to study its mummy, only to find that there's a reality/documentary show there filming the same mummy. I was a bit disappointed that the main characters felt awfully familiar from other Lanyon books I've read.

Whitetail Rock by Anne Tenino. free ebook short. Very good short kinky m/m romance about a defensively snarky grad student who meets a hunky motorcycle cop when he's home from school for the summer. It features this laugh-out-loud funny quote:
"Sam. I've got news for you. Not every childhood trauma can be healed by finding the right penis."

Sam looked devastated. He opened and closed his mouth, eyes wide, then suddenly slumped back against the railing, unable to support himself anymore. "You mean," his voice was barely a whisper. "All those romance novels lied?"
On This Day… (Stand Alone Short Stories #2) by Kim Dare. ebook short. Sweet and steamy short m/m romance about a dom who arrives home from work to discover his sub has things set up for an anniversary celebration… but he's not sure what anniversary it is they're to be celebrating.

Coming Out Wolf by Julia Talbot. ebook short. Very good short paranormal m/m romance about a werewolf who's decided that he wants his roommate (also a werewolf) as his mate… but his roommate doesn't seem to be aware of him sexually.

Sucks & Blows by Storm Grant. ebook short, ARC. Punny short m/m paranormal story about a perpetually horny dentist who, in order to convey his sense of humor, mentions on his business cards that he does vampires, too. He doesn't expect an actual vampire to show up in his office…

The Little Death by Andrea Speed. ebook. Good noir-styled m/m romantic suspense about a hard-boiled PI who's hired by a "homme fatale" to find his missing twin brother… but nothing's really adding up in the case, except the bodies. I suspect the references to classic noir detective stories will be obvious to those more familiar with the genre – I thought I was doing well to catch a Maltese Falcon reference!

Fixed by Tristram La Roche. ebook. Ok m/m romance about a guy who'd been living in the south of France with his boyfriend until the economy went bad and he lost everything – home, business, money, and boyfriend. He moves back to Yorkshire in reduced circumstances and isn't particularly pleased to run into a guy he recognizes from his school days…
---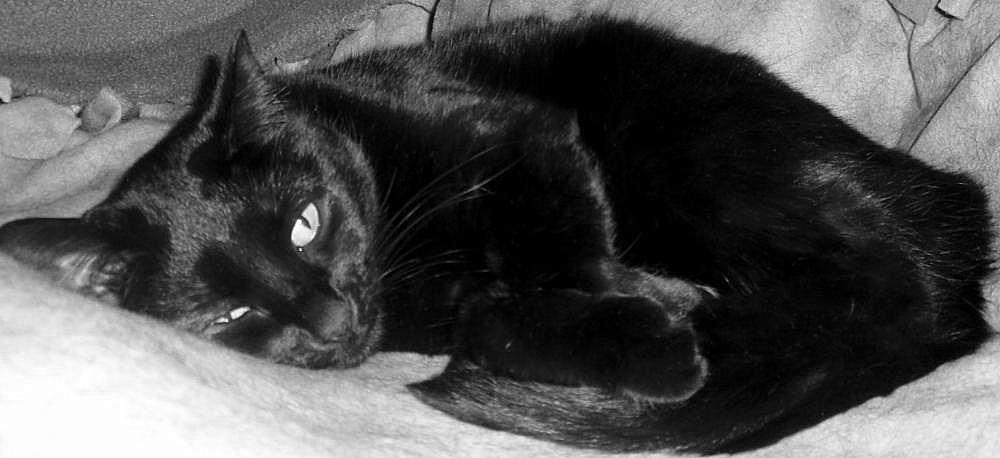 "Must. Not. Fall. Asleep…" -Mayhem