Many thanks to Stevie Carroll for donating a print copy of her forthcoming paperback collection of mostly LGBT-centric fantasy stories (ranging from lightly supernatural through contemporary fantasy to horror), A Series of Ordinary Adventures, along with a signed bookplate for a lucky commenter to win! This is a US-only contest.
A Series of Ordinary Adventures will be released by Candlemark and Gleam on May 22. Also, if you preorder the collection from Kickstarter through the end of today, May 15, you will get not only the paperback but also bonus materials!
A wander down a country pathway, a cruise vacation in the Mediterranean, a school reunion, a sandwich eaten in the park – in the stories of Stevie Carroll, the mundane becomes tantalizingly magical. A footballer's mistress gets more than just an apartment when her lover tries to keep her in style; a rock-and-roll bass player finds out that second chances aren't all they're cracked up to be; something sinister lurks beneath the trappings of a traveling carnival.

Richly peopled with characters you might meet in the shop around the corner, yet haunted by glimpses of something entirely otherworldly, A Series of Ordinary Adventures will transport you from the streets and lanes of England to a place where imagination is only the beginning.

Magical realism mixes with subtle horror and heartfelt romance in a collection of stories that will captivate and transform you long after the final page.
About Stevie
Born in Sheffield, England's Steel City, and raised in a village on the boundary of the White and Dark Peaks, Stevie Carroll was nourished by a diet of drama and science fiction from the BBC and ITV, and a diverse range of books, most notably Diane Wynne-Jones and The Women's Press, from the only library in the valley. After this came a university education in Scotland, while writing mostly non-fiction for underground bisexual publications under various aliases, before creativity was stifled by a decade of day jobs.

Now based in Hampshire, Stevie has rediscovered the joys of writing fiction, managing to combine thoughts of science fiction, fantasy, and mysteries with a day job writing for the pharmaceuticals industry and far too many voluntary posts working with young people, with animals and in local politics. Stevie's short story, 'The Monitors,' in Noble Romance's Echoes of Possibilities, was longlisted by the 2010 Tiptree Awards jury. Other short stories have appeared in the anthologies British Flash and Tea and Crumpet. A Series of Ordinary Adventures is Stevie's first solo collection.

Stevie has a livejournal for writing updates, and really needs to get a website. You can also find out more about Stevie on her GoodReads author page.
Contest Rules
To enter, leave a comment stating that you are entering the contest. Contest closes 7 pm CDT, Monday, May 21.
By entering the contest, you're confirming that you are at least 18 years old.
If you haven't commented before, your comment will not be visible until after I moderate it. Please do not leave a second comment because your first doesn't show up! The blog gnomes will decide your comments are spam and then only ritual dust bunny sacrifice will salvage your entry…
If your comment is actually an advertisement or if your CommentLuv link turns it into an advertisement, your comment will be deleted. (Most of you do not need to worry – this refers to some pretty clever comment spam.)
Winners will be selected by random number.
You must leave a valid email address in the "Email" portion of the comment form.
Please make sure that your spam filter allows email from stumblingoverchaos.com!
I am not able to reliably contact people with aol.com and netscape.com email addresses – please use a different email address if at all possible!
If a winner doesn't respond to my congratulations email within 48 hours, I will select another winner.
This contest is US-only…
---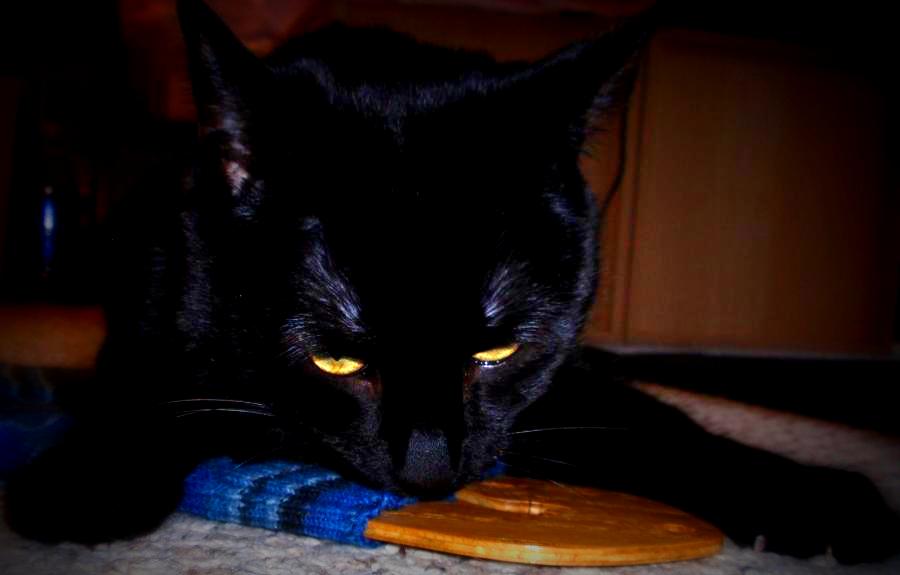 *sniff sniff sniff* "Mmmm… woolly…" -Mayhem