Don't forget to leave a comment on the contest post before 7 pm CDT, Tuesday, October 6, for your chance to win a copy of Marliss Melton's new romantic suspense novel, Show No Fear!
Tracey's friend Dave is going to run a marathon to support the Leukemia and Lymphoma Society. If you make a donation to his team before midnight EDT, October 6, and let Tracey know, you'll be entered in a drawing for a $20 Loopy Ewe gift certificate.
Mel's holding a Raffle for Marriage Equality to help raise money for the No on 1 campaign in Maine. If you donate by November 3 and let Mel know, you'll be entered for a chance to have him knit you a pair of socks.
If you could splurge on anything, what would it be? Leave a comment by midnight CST, October 23, to let RC at Rambling Along know, and you could win a $50 gift card to AJWright.
Romance Reviews Today is giving away a copy of Marjorie M. Liu's latest Dirk & Steele novel, The Fire King. Contest closes October 6.
Cecile continues to celebrate her birthday month by giving away a copy of Vicki Pettersson's City of Souls (The Fourth Sign of the Zodiac). Contest ends October 8.
Largehearted Boy is giving away a copy of Nick Hornby's new novel, Juliet, Naked (plus assorted books and cds). Contest closes midnight, October 9.
To celebrate the upcoming movie release, Donna (Fantasy Dreamer) is giving away five copies of Alice Sebold's novel, The Lovely Bones. Contest closes 8 pm CST, October 11.
If you're a fan of the tv series Blood Ties and would like to win the second season dvds, head over to Suburban Vampire before noon PDT, October 18, or to Vampire Wire before the evening of October 18.
Anna's giving away five signed copies of Sue-Ellen Welfonder's A Highlander's Temptation and one signed copy of the Tails of Love anthology. Leave a comment by October 9 for your chance to win.
The Eclectic Reader is celebrating her blogiversary with a contest – you need to follow her blog in order to be eligible to win one of the pictured books. Contest closes October 31.
Check out all of the October giveaways that J. Kaye has going!
Both Jackie at Literary Escapism and SciFiGuy have great information on contests, interviews, and new releases. Book Reviews by Jess also has a long list of current book contests.
---
I think this one should be on the FAIL Blog – what do you think?
Just because I read a lot of m/m fiction doesn't mean I plan to redo my condo with any of this furniture…
The kid who lost his class notes when Amazon deleted 1984 from all those Kindles just won $150,000 from Amazon. This has led Amazon to clarify when it will remove books from Kindles.
TeleRead has a good article questioning why ebooks are so expensive, when the costs of production and distribution are so much less than for print books, and another good article about ebook piracy.
Aw – how cute is that minion hat?!
Reading Update


Blaze of Memory (Psy-Changelings, Book 7) by Nalini Singh. I had the great good fortune to win an ARC of this book (scheduled to release on November 3, 2009) over at Dear Author a few weeks ago. Blaze of Memory focuses on the Forgotten, those Psy whose ancestors chose not to follow the Silence protocol. It focuses more specifically on the enigmatic Devraj Santos, director of the Shine Foundation, which attempts to find Forgotten children before the Psy Council does. Dev's had to do hard things in order to protect the Forgotten – things which have been eroding his own ability to feel. Will a mysterious Psy woman whose memory has been destroyed turn out to be Dev's salvation? Or his destruction? If you enjoy masterfully written paranormal romance (with nary a vampire in sight), I highly recommend Blaze of Memory and the Psy-Changeling series.


Tall, Dark and Fangsome (Immortality Bites, Book 5) by Michelle Rowen. I read the first two books last year, but I have to admit I'm not sure why I didn't read the third and fourth books in this paranormal series about Sarah Dearly (who was turned into a vampire on a particularly bad blind date). Fortunately, Rowen skillfully wove backstory details into Tall, Dark and Fangsome, so I never felt as if I was lost during this enjoyable final installment of the series. In fact, I think I'll be reading the previous books in the not-too-distant future! As an aside, I definitely got more out of this book after my recent visit to Toronto, where the series is set. (Beware, Lorraine, sounds like there's a demon-possessed wizard living out your way!)


Finger Lickin' Fifteen (Stephanie Plum, Book 15) by Janet Evanovich. Evanovich must be writing these on autopilot now. Predictable. Boring. Past time to end the series.


Instant Gratification (Wilder Adventures, Book 2) by Jill Shalvis. Doctor Emma's staying in Wishful just long enough to take care of her father's patients while he's recuperating from a heart attack, then she's going to return to her life in New York City. Good thing Stone Wilder isn't looking for a serious relationship with her… 😉

Bottled Up by Andrew Grey. ebook. This was a sweet and involving m/m romance with a some editorial problems. Several of these problems were relatively minor, such as occasionally referring to the main character as "Shawn" instead of "Sean" and talking about something that happened yesterday as if it had happened today. More significant were the ongoing unclear pronoun references (particularly problematic in an m/m romance!) and the paragraph formatting that made it hard to determine who was speaking. Perhaps these are only issues in the ebook edition?

By Degrees by J. B. MacDonald. ebook. Very well done and involving m/m romance about a doctor who's been keeping his emotions so tightly under wraps since his parents died when he was eleven that he has trouble feeling anything.

A Matter of Necessity by T. D. McKinney. ebook. Decent m/m romance about two FBI agents who begin a relationship as part of a deep cover operation.

Putting Out Fires by Sienna Black. ebook. Ok m/m romance about a fire djinn and a firefighter.

An Imitation of Life by Karma Eastwick. ebook. I won this at Jessewave's last week. Good m/m romance about two actors in NYC who are hoping for their big breaks. My main complaint about this ebook is that it needed a bit more editorial polish.

Because of the Brave by Laura Baumbach, Z.A. Maxfield, and Josh Lanyon. ebook. This three-story collection about being military and gay was very, very well-written. Sadly, the editing was a bit sloppy on the first two stories. Even with those editorial issues, I'd recommend it.

Arresting Developments by James Buchanan, Josh Lanyon, and L. Picaro. ebook. Collection of m/m romances about cops and the power of the past. While the stories were good, most had editing issues – I'm beginning to see that as a pattern in ebooks from Aspen Mountain Press…

Deadly Nightshade,
Deadly Wrong,
Deadly Dreams, and
Deadly Slumber (Deadly Series, Books 1-4) by Victor J. Banis. Excellent m/m mysteries set in San Francisco. Gay police rookie Stanley must be the perfect guy to work on solving murders committed by a transvestite, right? While the SFPD thinks so, straight cop Tom, who gets stuck with Stanley as a partner, is not at all convinced. Highly recommended, especially if you enjoyed Josh Lanyon's Adrien English series.
---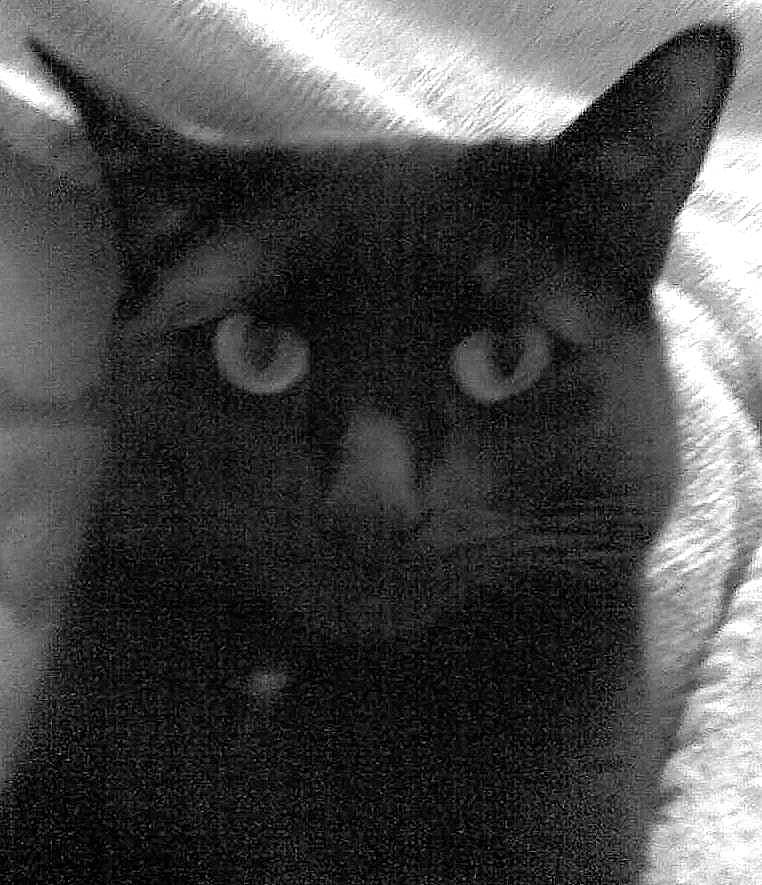 "What do you mean, get off my furry butt and do something cute for the blog because my vacation is over?!" -Mayhem