Many thanks to Guiltless Pleasure Publishing for donating an ebook copy of Rachel Haimowitz's m/m fantasy romance, Counterpoint (Song of the Fallen, Book 1), for a lucky commenter to win!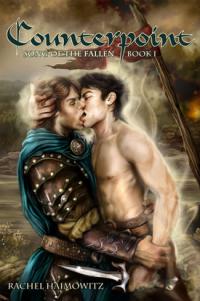 It is the twilight of mankind. Depleted by generations of war with a dark race, the human kingdoms and their ancient alliance stand on the brink of extinction. The outlands are soaked with the blood of the fallen. The midlands are rotting with decadence and despair.

Elfkind, estranged by past crimes, watches and waits for nature to run its course.

And then the two collide.

Ayden's life has long been guided by two emotions: love for his sister, and hatred of all things human. When he's captured in battle, he must for his sister's sake swallow his pride and endure slavery in the service of a human prince. To his dismay, this close-up view of his enemy is nothing like he expected. Now curiosity and contempt make a battlefield of his soul, even as he struggles to pick up the pieces of his shattered worldview.

Freyrik Farr, Crown Prince of Farr Province, finds his new elven prisoner puzzling. He's always known elves to be beautiful and dangerous, but never has one affected him as deeply as Ayden. Can his life of service to his people leave room for this attraction? Dancing on a dagger's edge between duty and high treason, Freyrik discovers that some choices can change a life, and some an entire world.

Between prejudice, politics, pride, and survival, Ayden and Freyrik must carve a new path, no matter how daunting. For nothing less than the fate of both their peoples rests on the power of their perseverance — and their love.
About Rachel
Rachel is a freelance writer and editor who's dipped her toes into cable news and book publishing and now helps would-be authors polish and publish, writes for websites and magazines, and ghostwrites nonfiction. Her professional interests vary widely; she's a Contributing Editor to Construction Source Magazine, a political/media blogger at the Huffington Post, a ghostwriter in the small business and motivational space, and a writer of niche erotica.

Her first foray into slash came at the feet of an amazing array of X-Files fanfic writers, and once she knew the truth (so to speak!) was out there, she never left. Today you can find her on various fake news and Stargate Atlantis communities, and when she's not reading or writing H/C slashfic, she's performing in musicals, hiking, gluing captions to cats, and examining the (often lamentable) intersection of media, politics, and civic engagement.

You can visit Rachel at her GoodReads blog.
Contest Rules
To enter, leave a comment stating that you are entering the contest. Contest closes 7 pm CDT, Thursday, October 7.
If you haven't commented before, your comment will not be visible until after I moderate it. Please do not leave a second comment because your first doesn't show up! The blog gnomes will decide your comments are spam and then only luck and ritual dust bunny sacrifice will salvage your entry…
If your comment is actually an advertisement or if your CommentLuv link turns it into an advertisement, your comment will be deleted. (Most of you do not need to worry – this refers to some pretty clever comment spam.)
Winners will be selected by random number.
You must leave a valid email address in the "Email" portion of the comment form.
Please make sure that your spam filter allows email from stumblingoverchaos.com!
If a winner doesn't respond to my congratulations email within 48 hours, I will select another winner.
If you win, please respect the author's intellectual property and don't make copies of the ebook for anyone else.
This contest is open worldwide!
---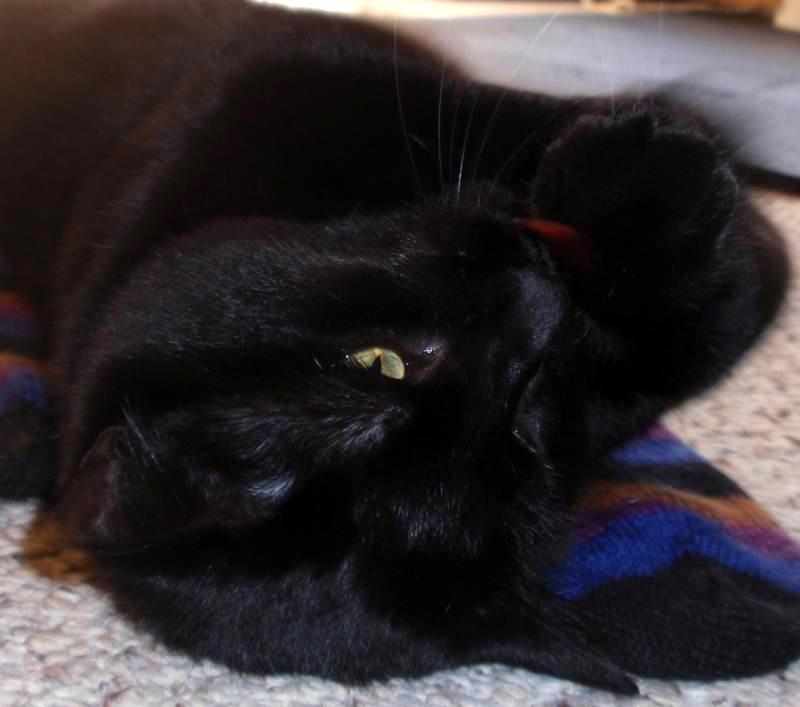 "Clean paw, clean paw, I'm going to have a clean, clean paw!" -Mayhem