Many thanks to Ava March for donating an ebook copy of her recent m/m paranormal Regency romance, From Afar, for one lucky reader to win!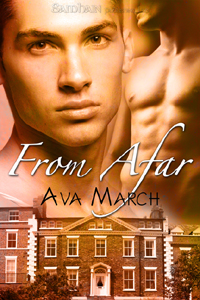 Some rules are destined to be broken.

Loneliness. A concept with which Raphael Laurent is very familiar. He's lived a solitary life for thirty-six years, shunning the excesses of the local vampire clan – until he spots Lord Aleric Vane, the handsome and dissolute third son of a duke. For three years Raphael has watched from a distance, for only when he is near Aleric does the hollow, empty ache in his chest ease.

Cut off from his family for refusing to follow his father's dictates, Aleric's nights are filled with vice. But after three years in London, the city has lost all appeal. Desolate and penniless, his future appears bleak until a mysterious man drops from the shadows to drive off a trio of murderous thieves.

When Aleric awakens, he finds himself forever changed. The itch for more that drove him to London is gone. In its place is the feeling that he's known the beautiful Raphael all his life.

But to save Aleric, Raphael had to break the rules, giving him a chance to love the one man he never thought he could have – a chance that could be ripped away by Aleric himself…

Warning: This book contains hot m/m action with a new vampire with a ramped up sex drive, and a dash of voyeurism of the m/m, m/f, and m/m/m varieties. Definitely not your traditional Regency romance.
Reviews
Other Books
About Ava
Ava March is an author of Regency-set M/M historical erotic romances. She loves writing in the Regency time period, where proper decorum is of the utmost importance, but where anything can happen behind closed doors. You can visit Ava online at her website or at her blog.
Contest Rules
To enter, leave a comment stating that you are entering the contest. Contest closes 7 pm CDT, Monday, May 3.
If you haven't commented before, your comment will not be visible until after I moderate it. Please do not leave a second comment because your first doesn't show up! The blog gnomes will decide your comments are spam and then only luck and ritual dust bunny sacrifice will salvage your entry…
If your comment is actually an advertisement or if your CommentLuv link turns it into an advertisement, your comment will be deleted. (Most of you do not need to worry – this refers to some pretty clever comment spam.)
Winners will be selected by random number.
You must leave a valid email address in the "Email" portion of the comment form.
Please make sure that your spam filter allows email from stumblingoverchaos.com!
If a winner doesn't respond to my congratulations email within 48 hours, I will select another winner.
If you win, please respect the author's intellectual property and don't make copies of the ebook for anyone else.
This contest is open worldwide!
---
"I bet if I lived in the Regency era, I'd have an actual throne instead of this crummy towel-covered ottoman. Hmph." -Mayhem