Cheryl's decided to plan out her gift knitting for the year in order to both use stash yarn and not drive herself crazy with deadline knitting, so she's starting Project Sanity. She's looking for a cool button for Project Sanity – if you create one and email it to her by midnight EST, January 25, your button could win you a yarny prize.
Hey, things weren't so bad for Chaos in his bib yesterday – Jeanne's cats got stuck wearing preemie hats… (Hmm, come to think of it, it was Jeanne's inspiration that led to Chaos's modeling a strawberry hat nearly two years ago.)
Woo-hoo! I won a Golden Spork Award (Crafting/Creative category) for the second year in a row! Thanks, Tink! I am honored indeed.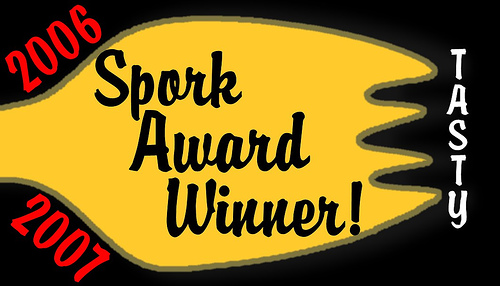 Reading Update
Holidays Are Hell by Kim Harrison, Lynsay Sands, Marjorie M. Liu, and Vicki Pettersson. If you're a fan of Harrison's Rachel Morgan series, this collection contains a story about Rachel as a teenager. If you're a fan of Pettersson's Zodiac series, this collection contains a story about the mysterious Zoe Archer, mother of Joanna Archer.
Creation in Death by J.D. Robb. The latest Eve Dallas and Roarke mystery – same dependable stuff. Mmm… Roarke…
Key of Knowledge and Key of Valor by Nora Roberts. Books two and three in the Key Trilogy were enjoyable, if rather predictable.
Girl's Guide to Witchcraft by Mindy Klasky. What's not to like about a chick lit novel with this opening line: "They don't teach witchcraft in library school."
Spring Break and Wedding Bell Blues by Charlotte Douglas. I'm continuing to read and enjoy this low-key series about Florida ex-cop and PI Maggie Skerritt.
Iron Kissed by Patricia Briggs. I much enjoyed the newest Mercy Thompson novel – and not a vampire to be found, CarrieK! Briggs is a skilled writer of paranormal fiction, and I'm already looking forward to the next book. Now, if only the cover illustrator would read the books and realize that Mercy only has one tattoo…
Viewing Update
The Importance of Being Earnest This exceedingly silly movie based on Oscar Wilde's play has an exceptional cast, including Colin Firth, Judi Dench, and Rupert Everett.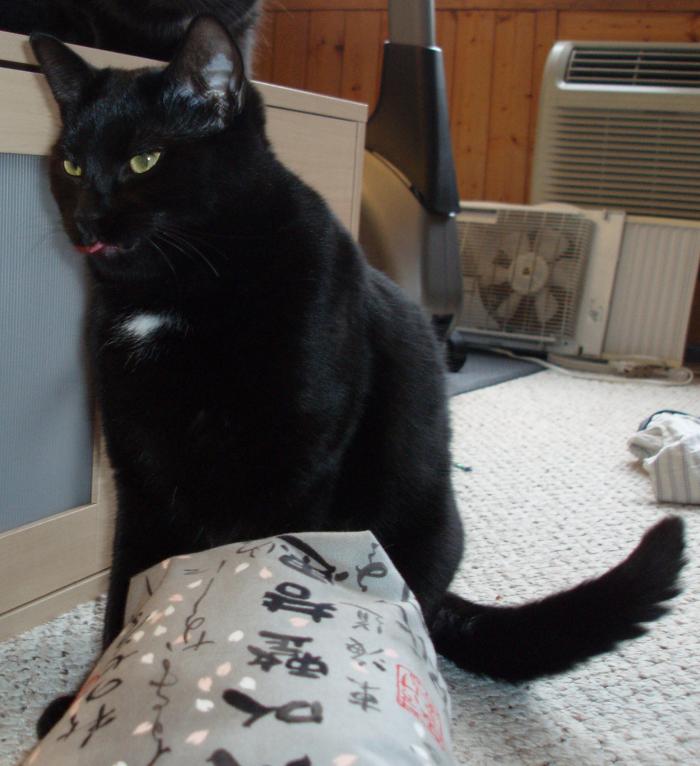 "Neener neener, big kitty! Do I look dumb enough to stick around when the bibs come out?!" -Mayhem