Damn, I didn't realize that Friday was Singles' Awareness Day. For a good read on the subject of singleness, check out "Exploring Relationships with the Single Weirdo" over at lifehack.org.
The new issue of Yarnival, as edited by Miss T, is now available!
Reading Update
The Three Incestuous Sisters and The Adventuress by Audrey Niffenegger. If you're looking for something in the vein of Niffenegger's The Time Traveler's Wife, you won't find it in these visual "novels." Niffenegger writes that when she tries to explain The Three Incestuous Sisters, she tells people "to imagine a silent film made from Japanese prints, a melodrama of sibling rivalry, a silent opera that features women with very long hair and a flying green boy." Of the second non-visual novel she's working on, the biographical blurb in the back of The Adventuress notes that "she's a very slow writer, easily distracted by her cats and the lure of libraries and airplanes."
Howling Moon: A Tale of the Sazi by C. T. Adams and Cathy Clamp. I started out getting very involved in this tale of a werejaguar and a pack of werewolves, but I think the story was drawn out too much for the amount of story there was to tell.
Relative Magic by Tanya Huff. I admit to not reading all of the stories in this collection of Tanya Huff's short fiction. Frankly, her "high fantasy" works don't interest me (no one's "high fantasy" or "sword & sorcery" seems to interest me anymore – I'm all about contemporary fantasy now), so I stuck to the more contemporary tales.
Viewing Update
Into the Wild. I own the Eddie Vedder soundtrack, so when a friend I haven't seen in a while suggested catching the film at the Riverview Theater ($3.00) Friday night (after catching up over a glass of hard cider at the Riverview Cafe and Wine Bar), I decided I should do so. The movie is gorgeous, the story thought-provoking and ultimately, to me, very tragic.
Mayhem Update
Can you see the cat in this picture? (Um, yeah, I might have a few books and cds…)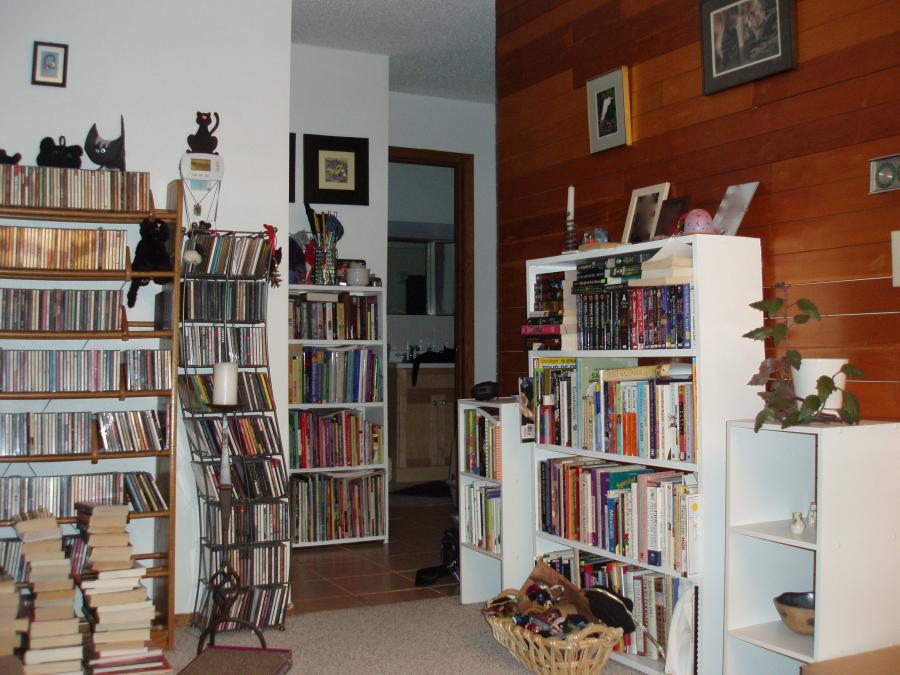 Need some help?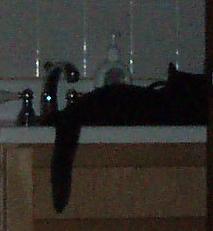 This time, she's lying on about 10 pairs of wet wool socks…