I hope everyone had a good start to the new year!
After several years of second place, Minneapolis has been rated America's Most Literate City! St. Paul jumped from fifth to third.
MissT is editing the February issue of Yarnival and is looking for your submissions.
Ann and Kay are holding The Grandma Mabel Memorial Recipe Box Show and Tell Contest. You have until noon EST, January 4, to flash your recipe boxes and maybe win a prize!
Scout's encouraging people to donate some money to help a dog in Maine who was seriously injured by someone snowmobiling illegally on the owner's property. If you donate by January 4, you'll be entered in a drawing for some goodies from Scout.
Reading Update
The Day Will Come: A Stella Crown Mystery by Judy Clemens. Meh. I read the whole thing, but never got very invested in dairy farmer and Harley rider Stella's story. No interest in reading more of these.
Pelican Bay: A Maggie Skerritt Mystery by Charlotte Douglas. Former debutante Maggie Skerritt is a police detective in a small town on Florida's Gulf Coast. This was a good read and I'll definitely read more in this series.
Dance of the Gods and Valley of Silence (Books 2 and 3 of the Circle Trilogy) by Nora Roberts. More sword'n'sorcery'n'vampires – this was a darn good trilogy.
Drunk, Divorced & Covered in Cat Hair: The True-Life Misadventures of a 30-Something Who Learned to Knit After He Split by Laurie Perry, aka Crazy Aunt Purl. Just like reading her blog, only more serious and with no funny cat pictures. I might have to knit that cat tube…
The Yarn Lover's Guide to Hand Dyeing: Beautiful Color and Simple Knits by Linda LaBelle. Overall, this is probably the best dyeing book I have; however, it definitely has its limitations. I think more interviews, and giving those interviews more substance, would have significantly strengthened the book. So would spending much more time and space on the techniques and much less time and space on the simple patterns.
Thank You Updates
I won two contests! On the left below are goodies from Ali – two yummy skeins of alpaca, a box of chocolate-covered popcorn "coal," and some gluten-free snack bars (well, ok, the snack bars are at work – I won't even pretend that they're under Chaos). On the left is a lovely skein of yarn from Jen. Thanks to both of you!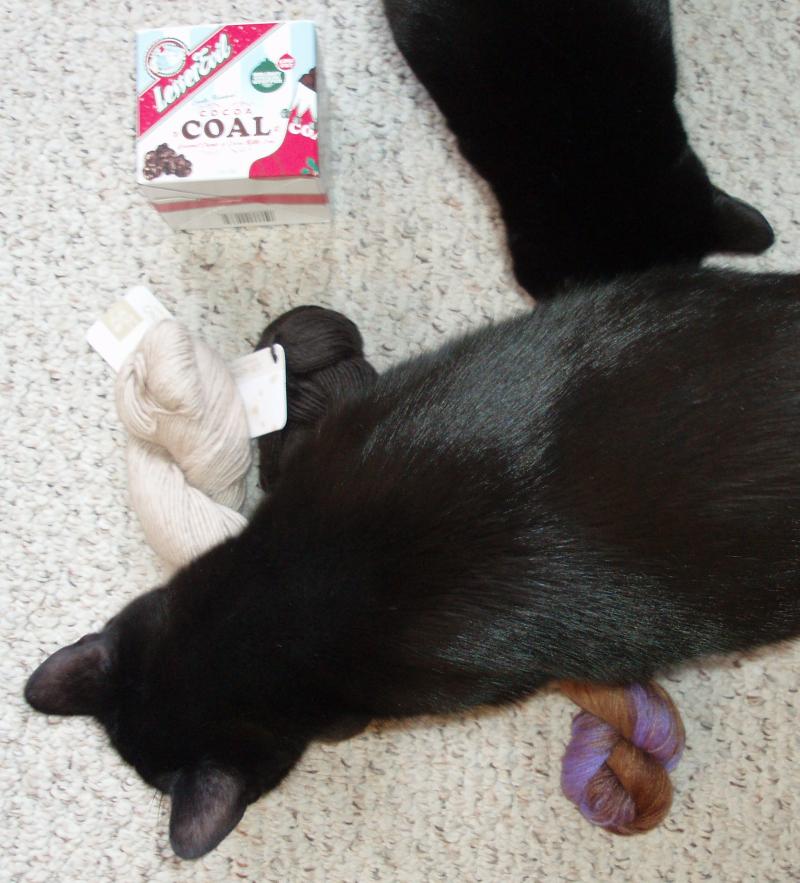 *sniff sniff sniff* -Chaos and Mayhem
MamaTulip sent me a very fun box of goodies – a lovely purple mug with black cats on it, candles, metal cat and glass ball ornaments, an excellent cd, and a nice wooden cat sculpture. Thank you, MamaT!
*sniff sniff sniff* -Mayhem and Chaos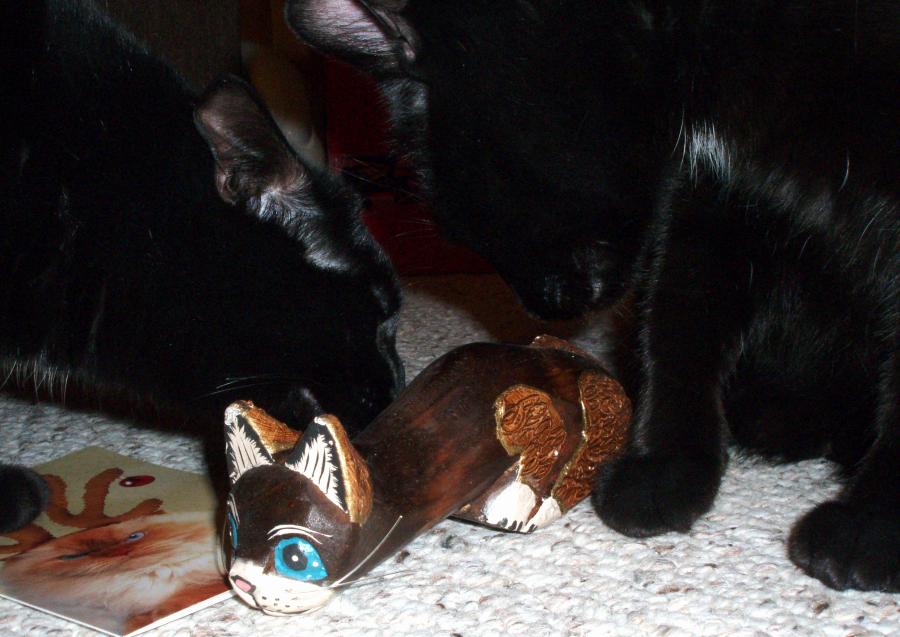 "Hey, big kitty – I think we got a new kitty in the house! Now I'm not the smallest kitty anymore!" -Mayhem
"I hate to break it to you, May, but that kitty isn't exactly alive…" -Chaos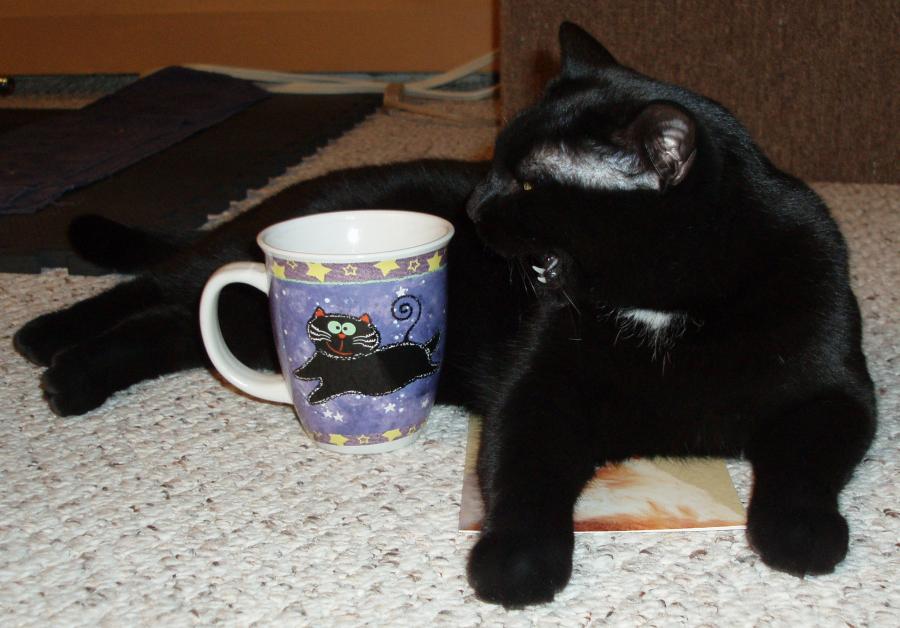 "Hmph. I knew that, big kitty. I was just kidding. Moving right along… Mom, why am I lying by an empty mug? This is boring." -Mayhem