Stop over and welcome Deb's new black kitty, Sammy!
There's a pretty cool contest over at Kathryn Ivy right now – you can win a complete Easter Egg Yarn Dyeing Kit. The drawing for the kit is limited to residents of the continenal US, but there's a separate drawing for patterns that's open to folks outside the US48. To enter, leave a comment (by noon PST, December 27) letting them know what you're wishing for most this holiday season.
Scout's looking for knitting inspiration – leave her a comment with your project idea by 8 pm MST, December 24, and you could win some goodies.
The present gnawer is definitely Mayhem. I watched her remove chunks from the poor thing last night. I wonder how picky my brother's going to be about his present? It's no longer even close to pristine. In fact, it sort of looks as if a furry, demented kitty girl has been going to town on it…
Some of you (*cough* Marina *cough*) may have noticed a certain lack of knitting around these here parts of late. I really haven't felt all that inspired knittingwise. However, that hasn't stopped me from having a plain old sock on the needles. The yarn is Wisdom Yarns, Marathon Socks – Boston (color 212).

"My goodness, Mom, I didn't realize you still did this stuff." -Mayhem
"Don't move, Mom, or the sock is history." -Chaos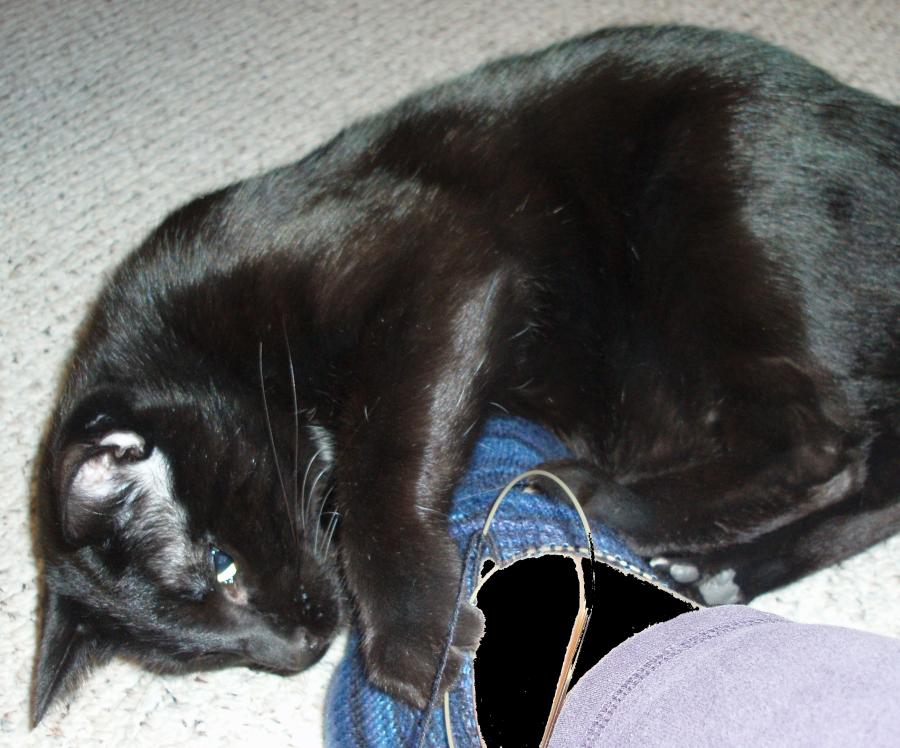 "Told you not to move, Mom!" -Chaos
In the above picture, my pale wintery leg has been blacked out to spare all of you. It's better this way. Trust me.
I may or may not post on Monday; I hope everyone has a good weekend and a wonderful holiday!