Don't forget to play along in my personals ad contest – there are some very funny entries! Deadline is 6 pm CST on Thursday, December 13.
Reading Update
Knitting Under the Influence by Claire LaZebnik. Pure unadulterated chick lit that integrates knitting into the story better than most of the other knitting novels I've read.
Soon I Will Be Invincible by Austin Grossman. At its most basic, this is a novel about superheroes and supervillains, told alternately from the perspective of each. On another level, it's a novel about identity, relationships, and alienation. I really enjoyed it, but I know several of you read it and felt more "meh" about it – I'm curious to hear why.
Agnes and the Hitman by Jennifer Crusie and Bob Mayer. The most recent Jennifer Crusie novel is as light and fun as her others.
Hot Mama by Jennifer Estep. Another superhero book! This is the sequel to Karma Girl, which I haven't read yet – but will be reading soon.
Thank You Update
I won a contest, and Karen from Denmark sent me 400m of gorgeous Kauni yarn, plus some decadently dark chocolate, a holiday ornament with Danish assembly instructions (that should be an exciting project!), and a lovely letter. Thank you so much, Karen! (Tangent: Once upon a time, I wrote many letters and sent many cards. I guess email made that all less necessary? I miss it sometimes and will write the occasional letter. Recipients still seem able to identify these non-screen artifacts.)
"*sniff sniff* Yum! This smells like sheep (what are sheep anyway?) and pine needles (ditto on the pine needles)!" -Mayhem
"Dum dee dum dee dum…" -Chaos
Jane sent me another of her lovely photo calendars! Thanks, Jane – it's already at work, waiting for January. And Susan saw these purple "Black Cats Rule!" socks and thought of me… Thanks!
"*sniff sniff* Mmmm… real pictures!" -Mayhem
Fortunately, the calendar was rescued before any kitties licked the pictures!
I've been threatening promising to show some outtakes to prove that for every decent cat picture I take, I also take many, many crappy cat pictures. I've restricted today's outtakes to pictures that actually have identifiable cat parts in them.
Exhibit 1, in which there was no Chaos wandering through the planned shot, as I supposed him to be stationary. This shot could be rescued with a bit of cropping and captioning.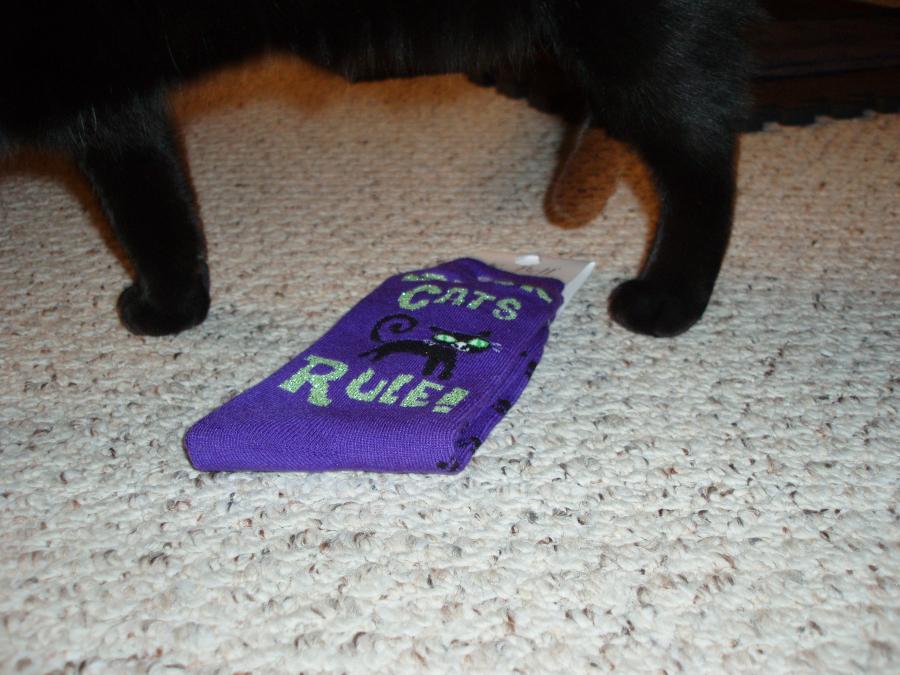 Exhibit 2, same thing – May was stationary when I started the shot. Maybe this could be rescued with cropping and captioning, too – something about that ghost paw, probably!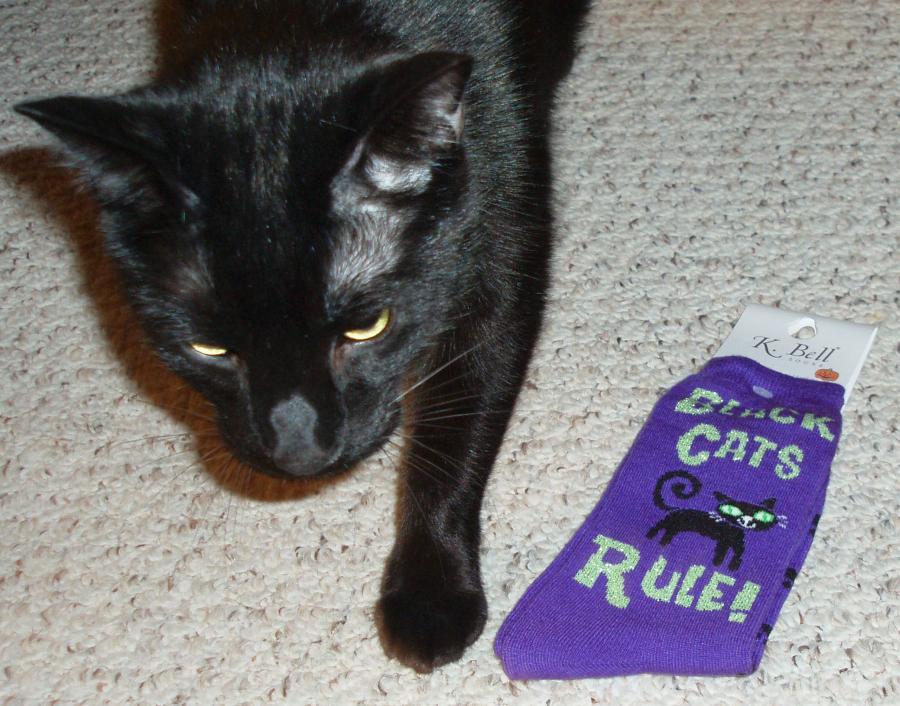 "Whatever, Mom. And just to be clear – I rule. Mayhem so doesn't rule." -Chaos