My second blogiversary was November 22. It's very hard to believe I've been at this for two years – especially when I look back at those first painful posts. I continue to be amazed by the myriad ways blogging has enriched my life; when I started blogging, it never occurred to me that the impacts of blogging would extend beyond the blogosphere into "reality." Many thanks to all of you who read Stumbling Over Chaos and who have become such an integral part of my life.
To celebrate all of that, leave me a comment telling me what your superpower would be if you suddenly had one. Your superpower can be grandiose or mundane, simple or complicated, subject to change or immutable. To play, leave your superpower comments on this post by Tuesday, December 4, 6 pm CST. Somewhere between one and three winners will be chosen by random number – knitterly persons will receive knitterly prizes and non-knitterly persons will receive… non-knitterly prizes. 🙂
Over the weekend, while walking around Lake of the Isles, I decided that my superpower would be to have an invisible bubble surrounding me. Within that bubble, I would be able to control the weather. Think how fabulous that would be! I wouldn't need to be alternately frozen and sweltering walking around Lake of the Isles at this time of year. I could go biking in shorts and a tank top in January! Humidity control. Permanent umbrella. Windbreak. Ahhhh…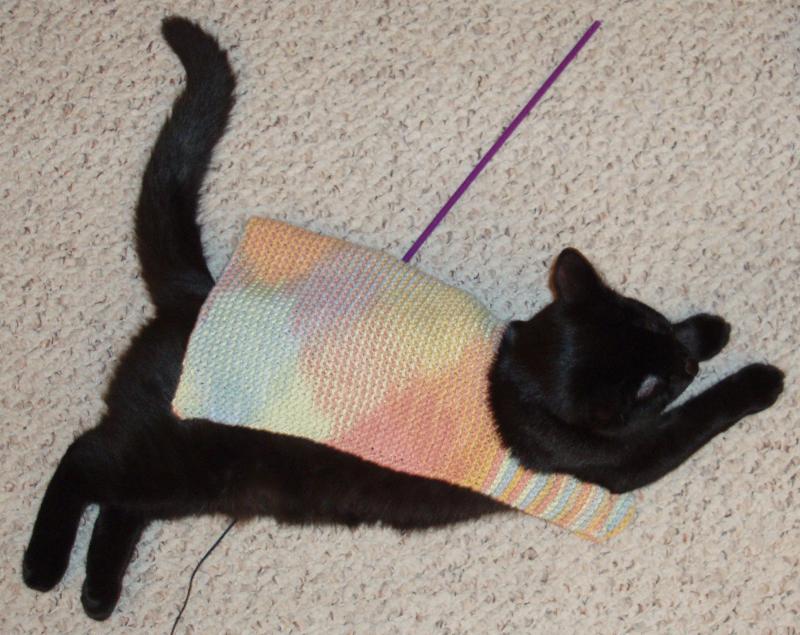 "Do you like my superhero look? My superpower would totally be to open the closet and get the MGWT out." -Mayhem
P.S. Comcast folks – I am unable to reply to your comments because of some sort of spam blocking… Sorry!