TGIF… *yawn* If you suffer through this epic post, there's a special treat at the end – one of the funniest birthday cards I've ever received (and it features a kitty and yarn)!
It amazes me how long it takes a package to travel between Minnesota and Ontario… and it isn't just anticipation. But this package from Brigitte and friends was definitely worth the wait. 🙂 From the top, a cute wooden black kitty and Crazy Cat Lady Magnetic Sculpture from Lorraine – thank you! That sculpture is already on my desk at work. Below that is a lovely skein of Colinette Jitterbug (Velvet Bilberry) and a Knit Happens magnet from Rachel H – many, many thanks, Rachel!
The rest of the package was from Brigitte, who is possibly my long lost sibling. We need to talk to our parents some more about the possible details. 😉 From the upper left, a gorgeous skein of Lisa Souza sock yarn in Black Purple, a black kitty Webkinz (with a kinked tail, even!), three books I haven't read before, a black cat "snow" globe, some very tasty "Kick Ass" coffee from Kicking Horse, Halloween pencils, catnip toys, two tiny black kitty beads, and a book of ChocoCat stickers. Thank you, Brigitte!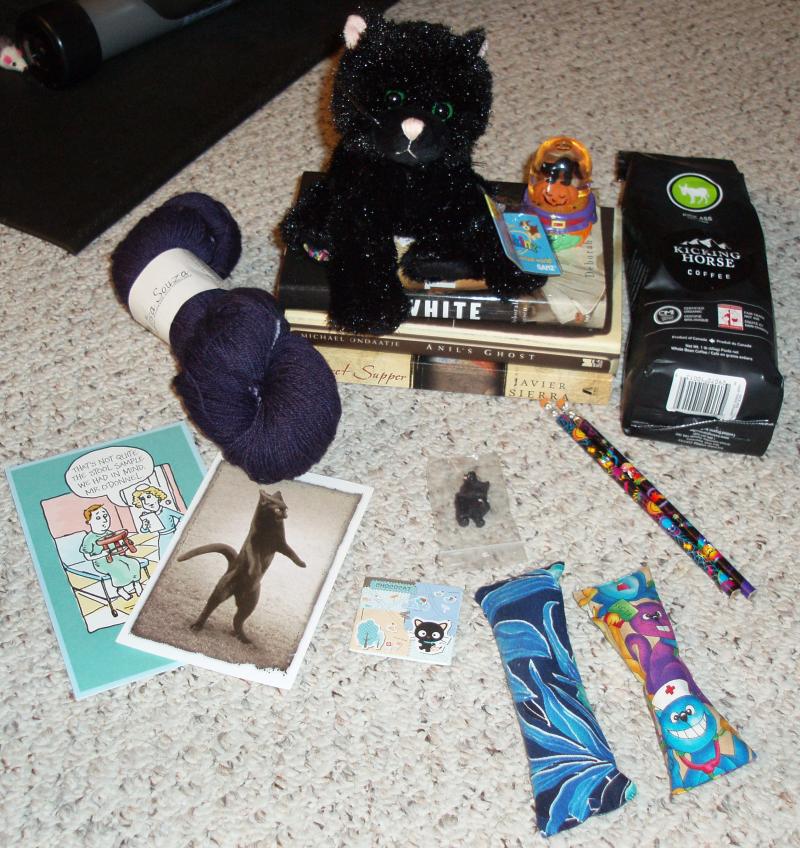 Actually, the catnip toys were from Atticus, Mae, and Gandalf for Chaos and May:
The kitties had to check out the nip right away.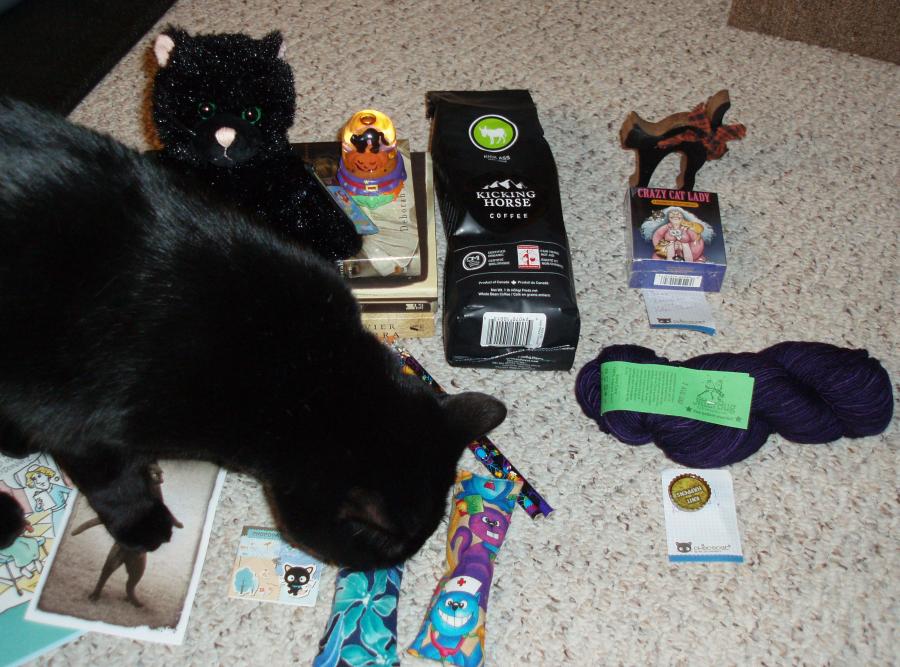 "Big kitty! These are from that hottie, Gandalf! Oh! This is too cool!" -Mayhem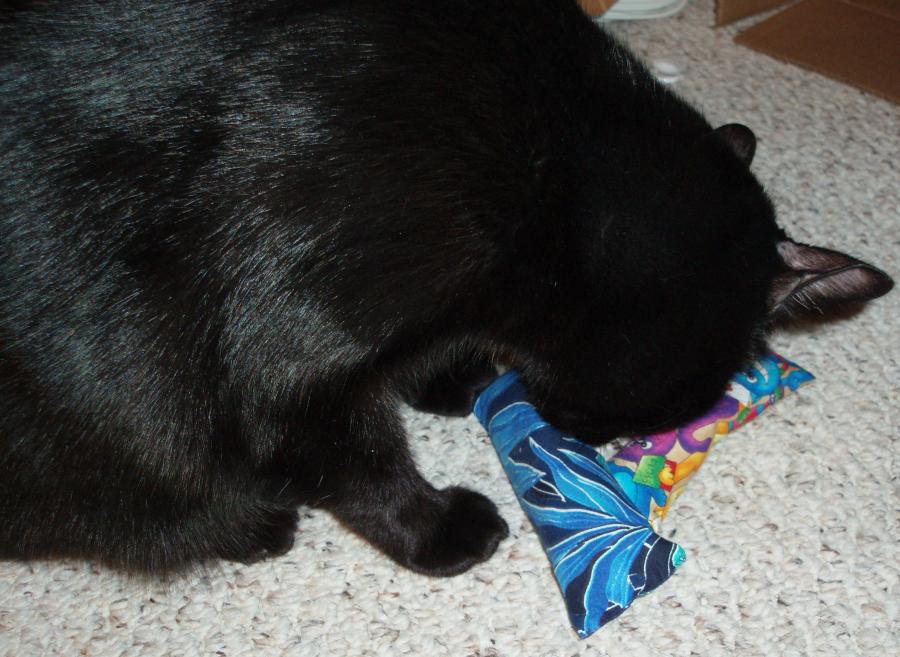 "Now, now, Mayhem, these are also from Atticus and the other Mae, not just from Gandalf." -Chaos
"Whatever. Mmmm… Gandalf…." -Mayhem
Marsha was my Coffee Swap III partner and she sent some great goodies. Gluten-free snickerdoodles, a coffee mug with coffee beans all over the side and coffee-colored yarn in it, Regia Strato (you know how I love stripes), a funny magnet (not pictured, whoops), and enough espresso roast coffee from Porto Rico in NYC to keep me awake for quite a while. Thanks, Marsh!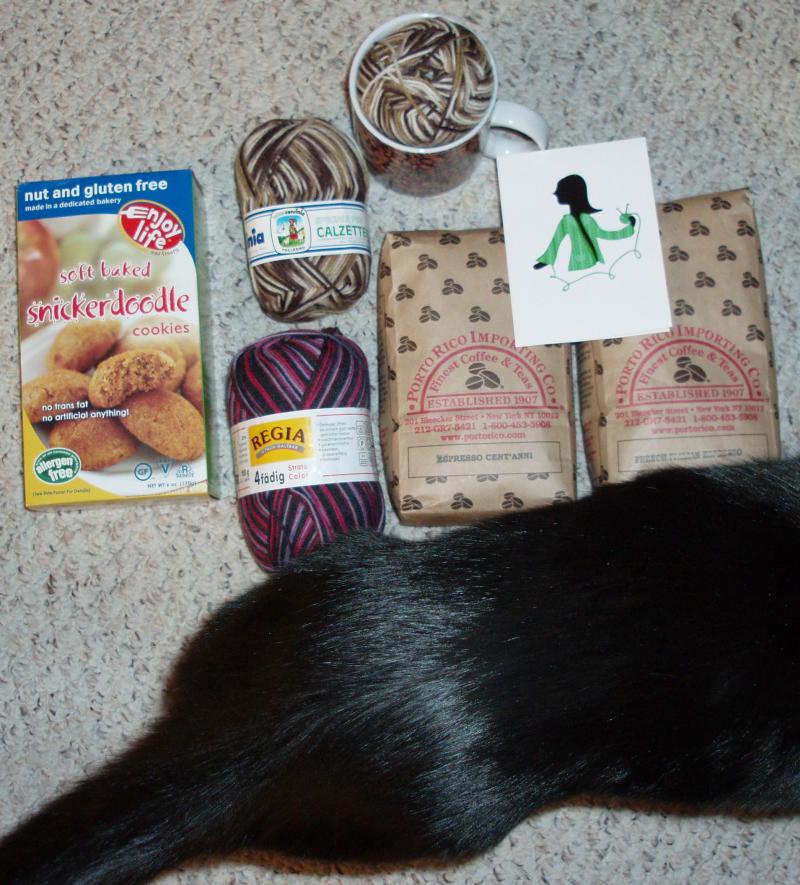 "I don't care what anyone says – I have a waist, dammit!" -Chaos
Wednesday night, Jeanne and Deb had a little knitterly birthday party for me (I turn 41 tomorrow – eeep!). Jeanne made our favorite extraordinarily simple flourless chocolate cake and there were presents! New Pathways for Sock Knitters and the 2008 SnB calendar from Jeanne, and The Knitter's Book of Yarn and two skeins of Lorna's Laces Shepherd Sock in my beloved Black Purl colorway (please use your imagination to picture some black, purple, and grey yarn in the picture) from Deb. Aw, you guys. *sniff* Thank you! (Jeanne has a very, um, interesting picture of me from Wednesday night…)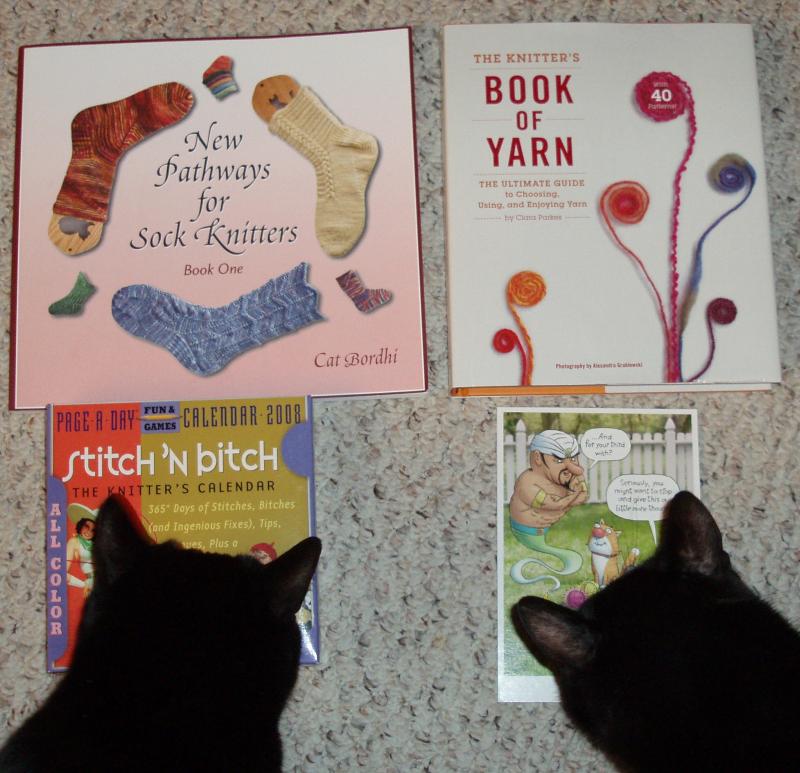 "Hmm, I detect essence of Pudd, Kreature, Bugman, and Greta." -Mayhem
"Wait, that can't be right – I'm sure I smell Tig and Holly. How can this be?!" -Chaos
Mayhem apparently can't resist napping on everything I put on the floor.
"A cat nappin' on a Cat. Zzzzz…" -Mayhem
And if you've made it this far, here's the wonderful card Deb gave me – you definitely want to embiggen this one! I can picture Mayhem in the role of the cat and Chaos in the role of the dog…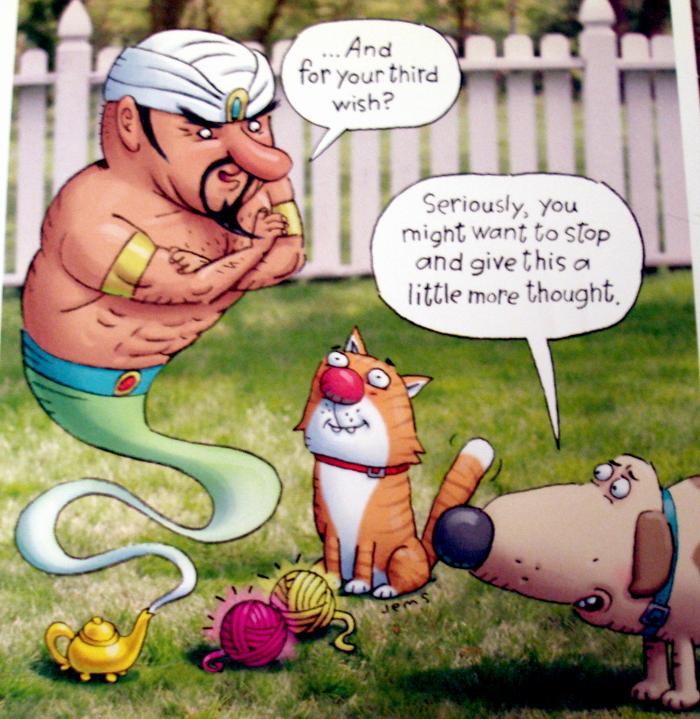 On the inside, it says "Hope you get all that you wish for" and has this very cute picture: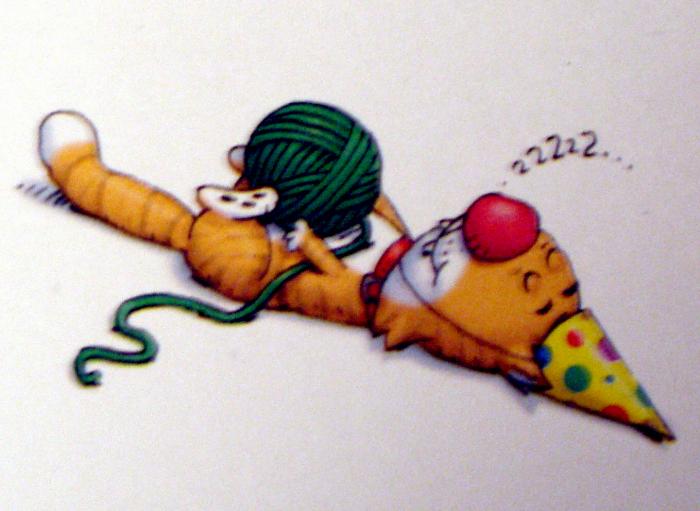 Thanks again to everyone! Have a great weekend, all.