Check out the Summer Stash Swap (but hurry – you have to leave a sign-up comment by June 30!) – besides the swap and the blog, there will be prizes.
Julie's having a blogiversary contest – leave her a comment with a name suggestion for her new bag pattern before midnight 6/30 and you could win some sock-related goodies!
Deb has some bonus pictures of Chaos and May!
Ok, due to overwhelming pressure (*cough*Marina*cough*), I shall not continue with my tale of reaching Estes (stay tuned for that next week). Instead, I present… the purchases.
From Estes, clockwise from May's nose, a big ol' hank of Interlacements rayon-linen in some very unChrislike colors (should be enough for a tank top – they print you a customized pattern right in the booth), a skein of variegated wool from Plain & Fancy Wool, a ball of amazingly soft black 5% cashmere/95% merino laceweight, two skeins of cormo/alpaca that I'm going to dye sometime when I am feeling very brave, two skeins of Brooks Farm Four Play (50% silk/50% wool) (they may become a contest prize someday!), two skeins of the Brooks Farm Acero sock yarn, and a pair of cute sheep socks. Whew!
"Is it safe?! That hank of yarn is bigger than me!" -Mayhem
Chaos was quite taken with the cormo/alpaca.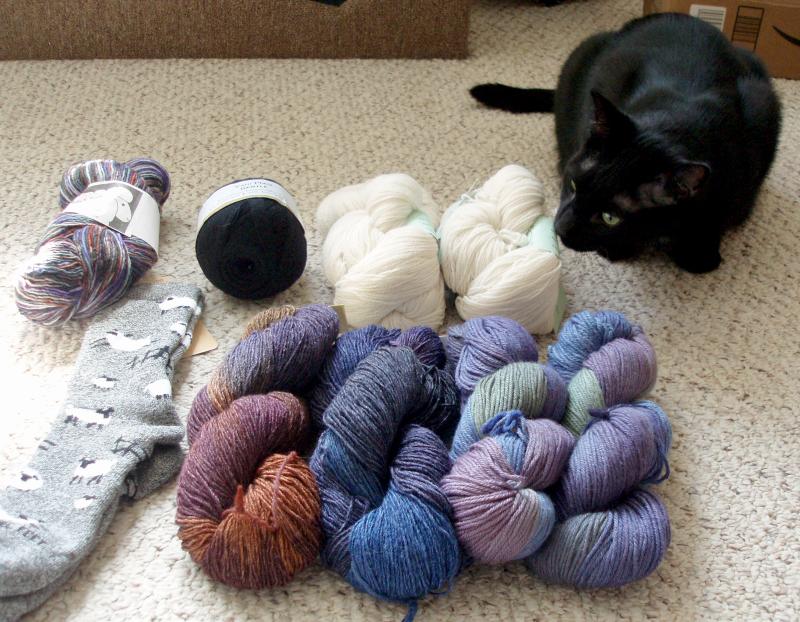 "Mmmm… smells sheepy and alpaca-y!" -Chaos
Some yarns from my yarn crawling with Kristi (who has great pictures of some of our adventures) – black Berroco Suede (half off!), Panda cotton, and Panda wool. (The Panda yarns make really yummy socks – stretchy, but nowhere near as thick as Fixation.)
"Hmm, where to start, where to start…" -Mayhem
A bit more yarn – top row (Opal) from My Sister Knits in Ft. Collins (Opal without a label is half off) and the bottom two skeins are Jojoland Melody Superwash from Colorful Yarns in Centennial.
"I think the pink suits me best, don't you? Plus it looks especially tasty." -Mayhem
I also stopped at the Brown Sheep outlet near Scottsbluff, Nebraska, during my travels. I bought a few pounds of Cotton Fleece and Serendipity Tweed, a few skeins of Wildfoote, and a bit of Lamb's Pride.
"Yowza! The other stuff must've been the appetizers – this sure looks like a main course." -Mayhem
I also have a small weakness for bags and picked up a few of those along the way… Hmm, just realized that the laptop sleeve I purchased at the Sierra Trading Post outlet in Wyoming isn't in that picture – well, it's brown with black trim and light purple corduroy lining. (Edit: The bag on the far left is a Kavu Reversible Bag in black/lilac, now on clearance!)
No cats were interested in the bags.
You might have noticed that I'm a bit of a reader – here are the books that I purchased over vacation at various locations, including the Boulder Bookstore, High Crimes Mystery Bookshop, and Anthology Book Company.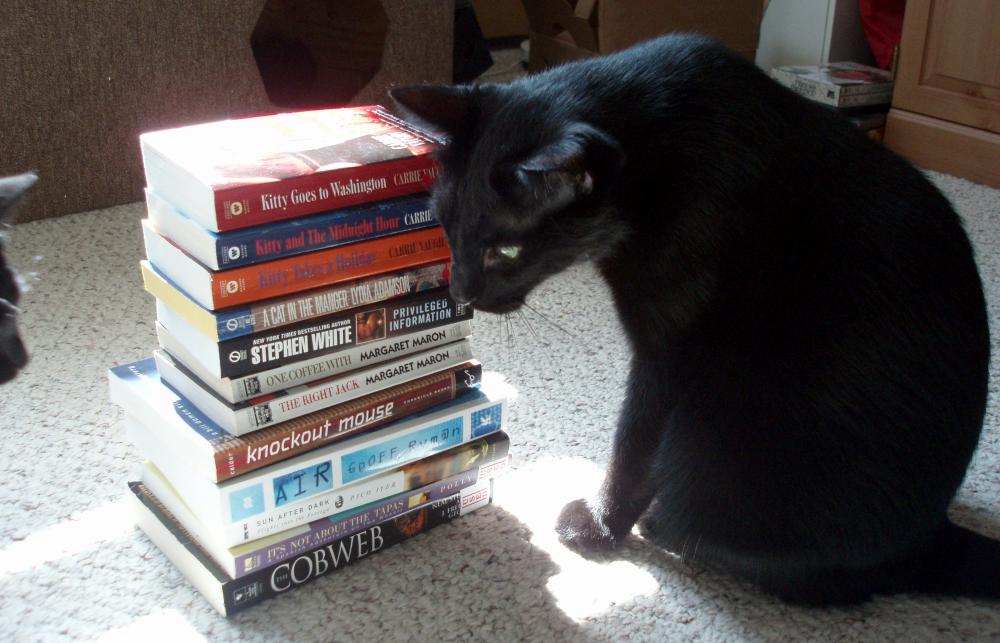 "Good grief! Aren't there already enough books stacked up around this place?!" -Chaos
"No kidding, big kitty. Pretty soon, between the books and the yarn, there won't be room for us." -Mayhem
"Hmph." -Chaos and Mayhem