Tracy tagged me me for this meme, originally propagated by Kris. Please note that there are photos of scantily clad nekkid menz in this post and skip this 'un if that's a problem! There are absolutely no kitty pictures at the end of this post, if that helps you decide. You have been warned.
Answer all the questions below in either the comments at Kris' place or post it on your own site. If you post it on your own site you have to let Kris know so she can can mosey on over and see if you answered correctly.
You have to tag two other people once you're done and pester them relentlessly until they do the meme, too.
Instead of a meme image thing you have to post a cookie, preferably a twofer. It is an m/m meme after all.
I'll start with the cookies. Because, really, who doesn't love to eat dessert first? 😉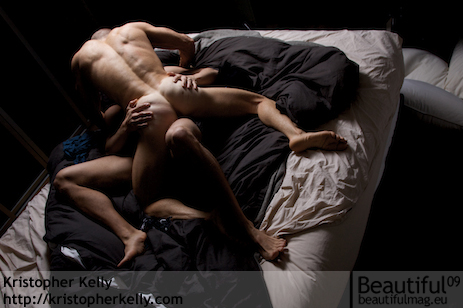 *zoom!*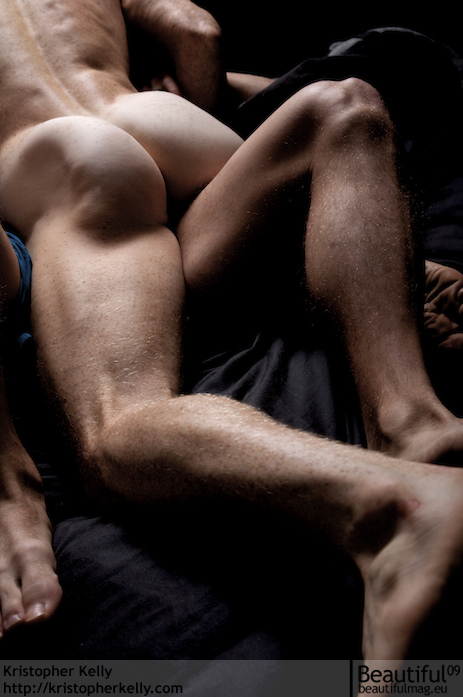 1. How long have you been reading GLBTQ fiction?
A long, long time ago I read Rita Mae Brown's Rubyfruit Jungle (1989 maybe?). A few years later, I read Anne Rice's Beauty series, which definitely has some manlove moments. The serious manlove kick I've been on in 2009 started in mid-May, when I received a copy of the collection Queer Wolf to review for Fang-tastic Books. I think the next few books I read were all Evangeline Anderson: Pledge Slave, The Assignment, and St8te Boys.
2. What was the first book you read in this genre?
3. Are you 'out' as a reader?
Well… Yes and no.

This meme is on a sub-page of my blog.

(Until I realized that no one could comment, so now it's in a regular old post.) My m/m books are listed in my librarything (I'm going back right now to add the ones from earlier in the year that I was too shy to include) and I post reviewettes on my blog of many (but not all) of the m/m books I read.
4. Ebooks, print or both?
Both, but more ebooks. However, I just ordered some James Lear print books (not available in ebooks, are they?).
5. Do you buy direct from publishers or from secondary sellers?
Both, but probably more from publishers lately. Hello, Amber Allure Daily Deal!
6. Prove you're a Book Slut. How many books would you say you buy a week?
7. Are you a cover, blurb or excerpt buyer?
Mostly recommendations from bloggers I trust, then going a little crazy when I find an author I like.
8. Yeah, you read reviews, but do you actually take notice of them?
Hell, I don't even pretend to read them. I'm afeared of spoilers something awful. I just want to know whether the trusted reviewer thought the book was good and roughly what the book is about.
9. Who's your fave publisher?
I really can't pick just one. Loose Id has great titles, but I can't resist the great values from Amber Allure…
10. What about authors? Your top two only!!
Um. James Buchanan and Josh Lanyon. And Jet Mykles. And Jordan Castillo Price. And Tere Michaels. And Ally Blue… Ouch! I'll stop now! Ouch. Quit hitting, Kris.
11. Is there a sub-genre you particularly dis/like?
12. Short or long?? *rolls eyes* And, no, I'm not talking about cocks.
They serve different purposes. 🙂
13. Anything turn you off about m/m or is all just glorious smut to you?
No twincest! And no infidelity, please. And I'm not a fan of menage, whatever the configuration.
14. Finish this sentence. You know it's m/m twu wuv when…
Really, it's gotta be that top willing to bottom for the first time evah.
15. What trope or theme are you heartily sick of in m/m romance?
16. If you could choose any 3 characters for an m/m/m who would they be?
Um, see #13 and me not being a fan of any menage configuration.
17. What new GLBTQ release are you most hanging out for right now?
I heard rumors of a third Nicky & Brandon book from James Buchanan…
18. What GLBTQ book has completely blown you away this year?
Cheating Chance by James Buchanan
19. What do you think we'll see more of in m/m romance in 2010?
Please more GFY. Why do I love this so? And you'd think there'd be enough cop stories out there to make me happy, but I want more more more.
20. Don't you agree that author Josh Lanyon should kill off arsehole character Jake Riordan?
21. Tag two people.