Diane is having a rant contest. Share a good rant with her before May 31, and you could win some sock yarn!
An Aquarium Drunkard is giving away copies of the forthcoming Soul Sides Vol 2: The Covers cd. To win, answer the trivia question in an email before midnight PDT, May 19.
Anyone in the Twin Cities interested in going to see the National at the 400 Bar on Friday, June 8? Let me know!!
Reading Update
Setting up a new computer has really cut into my knitting and reading time! Hopefully things are mostly set up by now so life can go back to normal around here.
A Finer End and And Justice, There Is None by Deborah Crombie. Continuing on with the Kincaid and James mysteries – only a few more left!
High Profile by Robert B. Parker. Another combined Jesse Stone and Sunny Randall mystery. I'm actually getting frustrated with both characters at this point! Why bother continuing either series if these characters are just going to stay stuck??
The Accidental Florist by Jill Churchill. This most recent Jane Jeffrey mystery didn't feel very mysterious at all. Actually, I'm really not sure why I kept reading the book. Not a series I plan to continue reading anymore…
Today's Shepherd's Harvest Cute Animal Photo
The sign on the cage reads "For your safety, no fingers in cages!" Oh no! Run away! Break out the Holy Hand Grenade of Antioch! 😉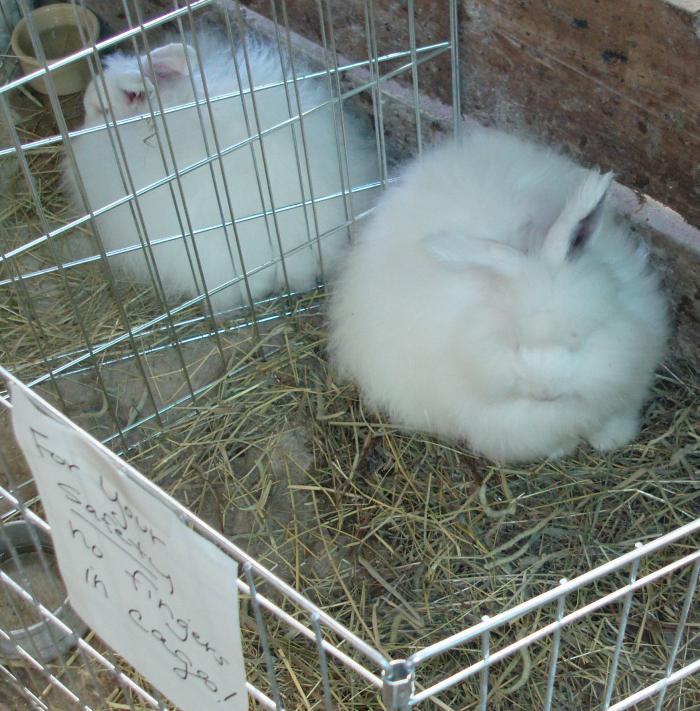 "If you think that bunny is fierce, check this out! Rawrrrrgh! Are you running away yet? It's hard to see with my eyes all squished up like this." -Mayhem