One thing about blogging – it allows us to document and share all sorts of ephemera that would otherwise slip away unnoticed by anyone else. Sometimes that might be for the best, but usually, it's those fleeting glimpses into your lives that really help me feel close to all of you. Hopefully that isn't just me!
Allow me to present the Stumbling Over Chaos "But since I wasn't blogging then…" contest. Think of something that happened before you started blogging, something that, had you been blogging, you would have shared with us. Describe that event in a comment to this post before 5 pm CDT (ack!), Monday, March 19. (If you don't blog, this contest will be particularly easy!)
What? You want me to start? Ok. Back when the Chaos Kitty was a wee kitten (only about 8 pounds or so, instead of the strapping 16 pounds he is now), he started to climb my long summer weight bathrobe (made from a nice textured t-shirt material), which was hanging on the back of my bedroom door. It was winter or early spring, so I wasn't wearing that bathrobe and didn't pay any attention to it. After the weather started to warm up, I pulled the bathrobe from its hook to discover that it was now a swiss cheese style bathrobe! Apparently, when an 8-pound kitten repeatedly climbs stretchy, lightweight fabric, there are dire consequences for said fabric. My poor bathrobe suddenly wasn't good for covering much of anything and I had to throw it away. Now, if I had been blogging back then, I would've thoroughly documented this (although I would've been dressed underneath the robe, sheesh), as I have documented other tales of Chaotic naughtiness, but since I wasn't blogging then…
And since I wasn't blogging back during the memorable summer that I went on over 30 coffee dates (oh, the magic of internet dating… heh), you'll all just have to wonder what the blow by blow on that would've been like. A hint – I went on maybe two second dates and no third dates. The tagline for my blog? Not joking!
Anyway. Winners will be selected by random number and there will be an assortment of prizes. No non-knitters will be forced to take yarn, unless, of course, they're interested in learning to knit.
A bag of Briggs & Little Atlantic in mulberry (10 skeins, 1350 yards total):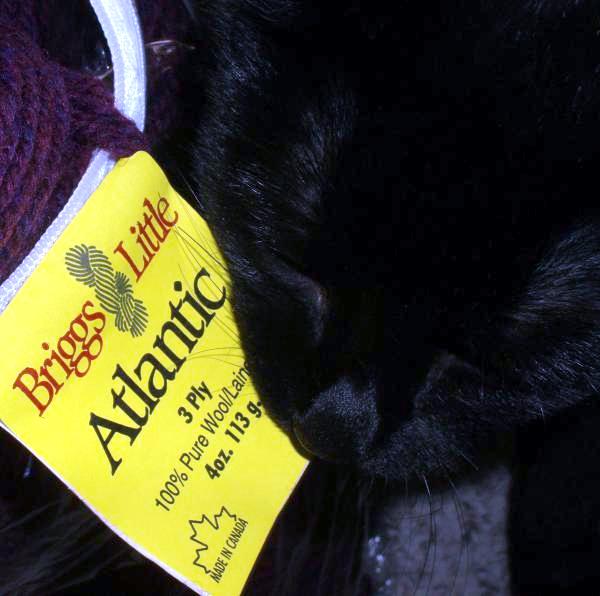 "The tags make excellent snacks!" -M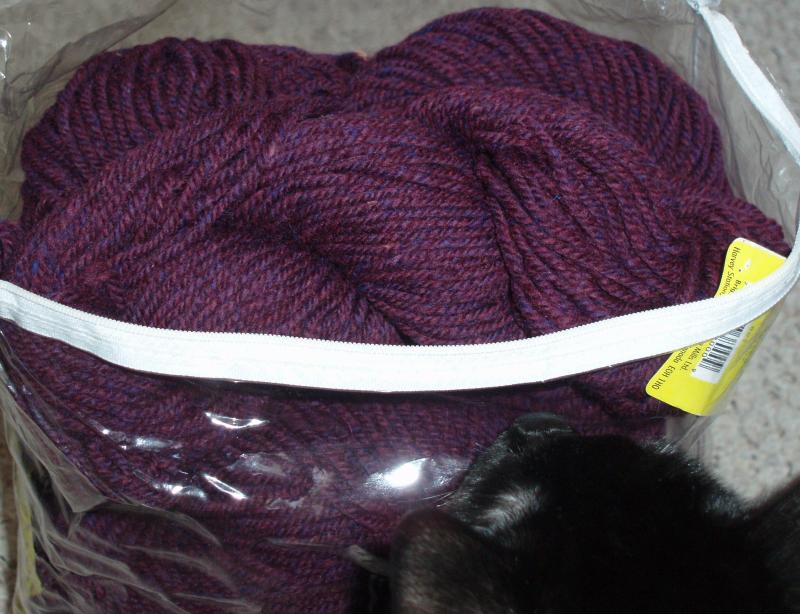 "But what I really want is to get into that bag!" -M
A skein of Sunshine Yarns sock yarn in Denim: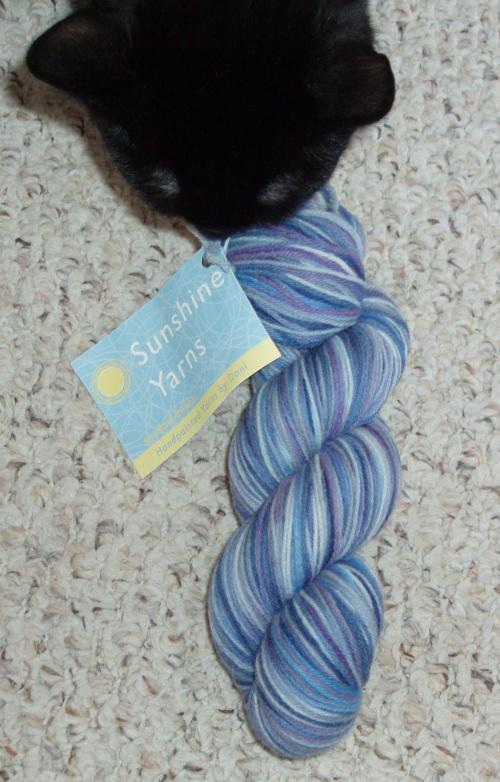 "This looks like a fun toy, too…" -M
A skein of Trekking XXL, color 144:
"…or this…" -M
A skein of Dicentra Designs superwash sock yarn in Kingsfoil:
"You are so mean, not letting me play with these, Mom!" -M
A copy of Knitting Rules!, autographed by the Yarn Harlot herself to "Friend of Chaos":
"Stay away from this one, May, because it's all about me." -C