Many thanks to Mickie B Ashling for donating an ebook copy of her freshly released m/m sports romance, Enforcing Emory, for a lucky commenter to win!
Olympic figure skater Emory Lowe falls in lust the moment he lays eyes on his new neighbor, hockey player Nikolai Vetrov. On the surface, Nik is a typical badass enforcer, intimidating and dangerous, on and off the ice. The only son of Ukrainian immigrants, Nik has been groomed from childhood to fulfill his father's dreams of seeing him in the Hockey Hall of Fame. Igor guides his son toward that goal with a controlling – and abusive – hand, steering him clear of anyone who might ruin his chances.

Although Emory is the US National Figure Skating champion, he's in-your-face gay, and his audacious persona rubs Nik and his family the wrong way. Raised by supportive and loving parents, Emory is Nik's polar opposite in every way but one – his desire to succeed. Underneath the fluff and glitter beats the heart of a fierce competitor, and this side of Emory's personality begins to close the distance between the two athletes.

While the attraction is one-sided in the beginning, Nik finds himself responding to Emory's flirting. But before the incongruous pair have a chance at any sort of relationship, they must survive the pressures of career, separation, and most importantly, Igor's ruthless homophobia.
Other Books
About Mickie
Mickie B. Ashling is the alter-ego of a multifaceted woman raised by a single mother who preferred reading over other forms of entertainment. She found a kindred spirit in her oldest child and encouraged her with a steady supply of dog-eared paperbacks. Romance was the preferred genre, and historical romances topped her favorites list.

By the time Mickie discovered her own talent for writing, real life had intruded, and the business of earning a living and raising four sons took priority. With the advent of e-publishing and the inevitable emptying nest, dreams were resurrected, and the storyteller was reborn.

She stumbled into the world of men who love men in 2002 and continues to draw inspiration from their ongoing struggle to find equality and happiness in this oftentimes skewed and intolerant world. Her award-winning novels have been called "gut wrenching, daring, and thought provoking." She admits to being an angst queen and making her men work damn hard for their happy endings.

Mickie loves to travel and has lived in the Philippines, Spain, and the Middle East but currently resides in a suburb outside Chicago. You can find out more about Mickie at her website.
Contest Rules
To enter, leave a comment stating that you are entering the contest. Contest closes 7 pm CDT, Friday, June 5.
By entering the contest, you're confirming that you are at least 18 years old.
If you haven't commented before, your comment will not be visible until after I moderate it. Please do not leave a second comment because your first doesn't show up! The blog gnomes will decide your comments are spam and then only ritual dust bunny sacrifice will salvage your entry…
If your comment is actually an advertisement or if your CommentLuv link turns it into an advertisement, your comment will be deleted. (Most of you do not need to worry – this refers to some pretty clever comment spam.)
Winners will be selected by random number.
You must leave a valid email address in the "Email" portion of the comment form.
Please make sure that your spam filter allows email from stumblingoverchaos.com!
If a winner doesn't respond to my congratulations email within 48 hours, I will select another winner.
If you win, please respect the author's intellectual property and don't make copies of the ebook for anyone else.
This contest is open worldwide!
---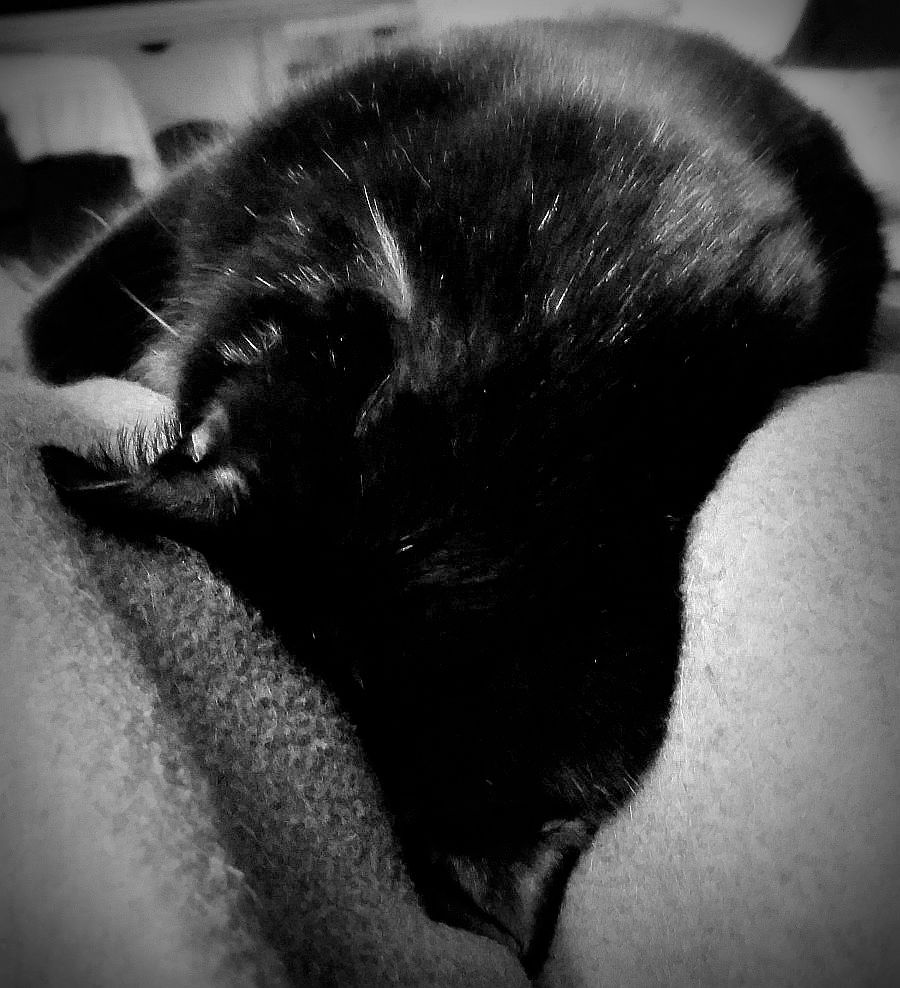 "…zzzzzzzzzzzzzzzzzzzzzzzzzzzz…" -Mayhem