Many thanks to Lou Harper for donating an ebook copy of her forthcoming paranormal m/m romance, Temper Sanguine (Sanguine #2), for a lucky commenter to win! Temper Sanguine will be released by Samhain Publishing on June 3.
One bite won't kill you. Unless it does.

Gabe Vadas's slayer ancestors would be spinning in their graves if they knew that not only is his boss a vampire, so is his lover. But that lover, Harvey Feng, is cooking something up in his lab that he seems reluctant to disclose.

The secrets they keep from each other and the nightmares they share are driving a wedge between them.

Harvey fell off the vegetarian wagon with one taste of his lover's blood. Except recently it's been having some unusual – and disturbing – side effects. And he fears their connection has awakened something dark and dangerous.

Sent to New York City to help the new top vamp clean up the mess the old one left behind, Gabe finds more than a few stray feral vampires. A doctor with a dubious history is hell-bent on creating a new race of unkillable bloodsuckers.

The investigation takes Gabe and Harvey across an ocean, and deep into the past. Where they discover demons that have the power to reach across the centuries to destroy them both.

Warning: Contains a tasty Hungarian goulash of dirty boys doing dirty things, bilingual dirty talk, evil scientists, shifty-eyed lab assistants, fun with lab rats, and smexy times in romantic Old Europe. Jo etvagyat!
Excerpt (scroll down and select tab)
Other Books
About Lou
Under a prickly, cynical surface Lou Harper is an incorrigible romantic. Her love affair with the written word started at a tender age. There was never a time when stories weren't romping around in her head. She is currently embroiled in a ruinous romance with adjectives. In her free time Lou stalks deviant words and feral narratives.

Lou's favorite animal is the hedgehog. She likes nature, books, movies, photography, and good food. She has a temper and mood swings.

Lou has misspent most of her life in parts of Europe and the US, but is now firmly settled in Los Angeles and worships the sun. However, she thinks the ocean smells funny. Lou is a loner, a misfit, and a happy drunk. You can find out more about Lou and her books at her website, her blog, and Goodreads.
Contest Rules
To enter, leave a comment stating that you are entering the contest. Contest closes 7 pm CDT, Monday, June 2.
By entering the contest, you're confirming that you are at least 18 years old.
If you haven't commented before, your comment will not be visible until after I moderate it. Please do not leave a second comment because your first doesn't show up! The blog gnomes will decide your comments are spam and then only ritual dust bunny sacrifice will salvage your entry…
If your comment is actually an advertisement or if your CommentLuv link turns it into an advertisement, your comment will be deleted. (Most of you do not need to worry – this refers to some pretty clever comment spam.)
Winners will be selected by random number.
You must leave a valid email address in the "Email" portion of the comment form.
Please make sure that your spam filter allows email from stumblingoverchaos.com!
If a winner doesn't respond to my congratulations email within 48 hours, I will select another winner.
If you win, please respect the author's intellectual property and don't make copies of the ebook for anyone else.
This contest is open worldwide!
---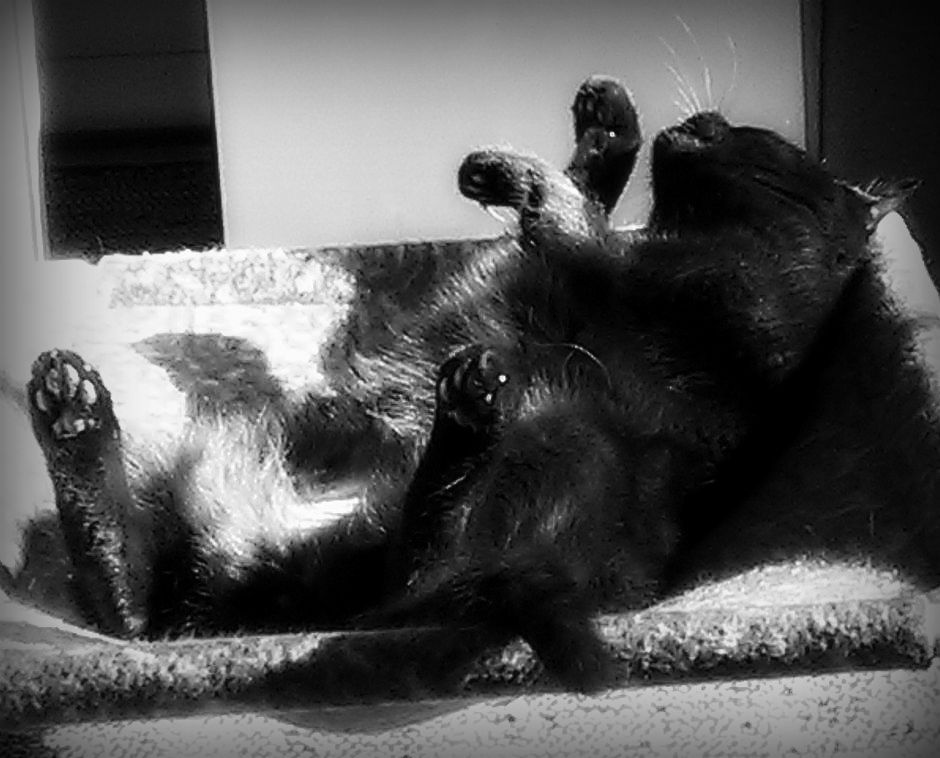 "Sunshine on my tummy makes me happy!" -Chaos