Many thanks to Amy Lane for donating an ebook copy one of three ebook copies of her forthcoming m/m romance, The Bolt Hole, for a lucky commenter to win! The Bolt Hole will be released by Dreamspinner Press on March 27. Thanks to Amy for donating a second copy after we hit 100 comments! …and a third after we hit 125!

Terrell Washington's childhood was a trifecta of suck: being black, gay, and poor in America has no upside. Terrell climbed his way out of the hood only to hit a glass ceiling and stop, frozen, a chain restaurant bartender with a journalism degree. His one bright spot is Colby Meyers, a coworker who has no fear, no inhibitions, and sees no boundaries. Terrell and Colby spend their summers at the river and their breaks on the back dock of Papiano's. As terrified as Terrell is of coming out, he's helpless to stay away from Colby's magnetic smile and contagious laughter.

But Colby is out of college now, and he has grand plans for the future – plans Terrell is sure will leave his scrawny black ass in the Sacramento dust until a breathless moment stolen from the chaos of the restaurant tells Terrell he might be wrong. When the moment is shattered by a mystery and an act of violence, Terrell and Colby are left with two puzzles: who killed their scumbag manager, and how to fit their own lives – the black and the white of them – into a single shining tomorrow.
About Amy
Amy Lane knits, mothers four children, and writes like she's got a slave-driver with a whip and a cattle-prod standing behind her chair. She, her brood, and her beloved mate, Mack, live in a crumbling mortgage in Citrus Heights, California, which is riddled with spiders, cats, a really gassy dog, and more than its share of fancy and weirdness. Feel free to visit her at her blog and her website, where she will ride the buzz of receiving your e-mail until her head swells and she can no longer leave the house.
Contest Rules
To enter, leave a comment stating that you are entering the contest. Contest closes 7 pm CDT, Tuesday, March 26.
By entering the contest, you're confirming that you are at least 18 years old.
If you haven't commented before, your comment will not be visible until after I moderate it. Please do not leave a second comment because your first doesn't show up! The blog gnomes will decide your comments are spam and then only ritual dust bunny sacrifice will salvage your entry…
If your comment is actually an advertisement or if your CommentLuv link turns it into an advertisement, your comment will be deleted. (Most of you do not need to worry – this refers to some pretty clever comment spam.)
Winners will be selected by random number.
You must leave a valid email address in the "Email" portion of the comment form.
Please make sure that your spam filter allows email from stumblingoverchaos.com!
If a winner doesn't respond to my congratulations email within 48 hours, I will select another winner.
If you win, please respect the author's intellectual property and don't make copies of the ebook for anyone else.
This contest is open worldwide!
---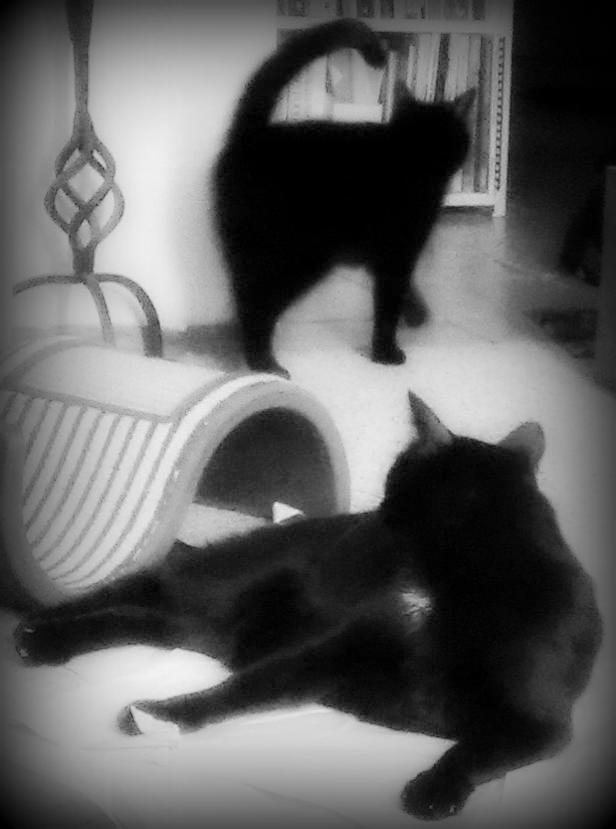 "Hey! Where are you going, May?! -Chaos
"None of your beeswax, big kitty." -Mayhem