Many thanks to Andrew Grey for donating an ebook copy of his forthcoming m/m romance, Love Comes Silently, for a lucky commenter to win! Love Comes Silently will be released on October 1 by Dreamspinner Press.
Caring for a loved one with cancer is tough. Doing it alone is overwhelming – especially when that loved one is a child. But ever since Ken Brighton's partner left him, Ken has spent his days at the hospital with his daughter, Hanna, hoping for a miracle. Maybe the mysterious care packages that appear for Hanna don't qualify, but they bring a spark of hope into his and Hanna's tired life – and so does Ken's neighbor, former singer Patrick Flaherty.

For two years Patrick hasn't been able to focus on anything but the life he should have had. An injury robbed him of his voice, and the idea of introducing himself to new people intimidates him. But over the past months, he's watched as his neighbor nursed his sick child, and once he meets Ken, Patrick starts to crave a life with him – a life he isn't sure he can have.

Ken doesn't realize he's fallen in love until the doctors send Hanna home, saying there's nothing more they can do: Hanna will either recover or succumb. Ken's heart is set on a new beginning – with both Patrick and Hanna. But Patrick's silence leaves Ken wondering what Patrick wants.
Other Books
About Andrew
Andrew grew up in western Michigan with a father who loved to tell stories and a mother who loved to read them. Since then he has lived throughout the country and traveled throughout the world. He has a master's degree from the University of Wisconsin-Milwaukee and works in information systems for a large corporation. Andrew's hobbies include collecting antiques, gardening, and leaving his dirty dishes anywhere but in the sink (particularly when writing). He considers himself blessed with an accepting family, fantastic friends, and the world's most supportive and loving partner. Andrew currently lives in beautiful, historic Carlisle, Pennsylvania. You can find out more about Andrew and his books at his website and his blog.
Contest Rules
To enter, leave a comment stating that you are entering the contest. Contest closes 7 pm CDT, Friday, September 28.
By entering the contest, you're confirming that you are at least 18 years old.
If you haven't commented before, your comment will not be visible until after I moderate it. Please do not leave a second comment because your first doesn't show up! The blog gnomes will decide your comments are spam and then only ritual dust bunny sacrifice will salvage your entry…
If your comment is actually an advertisement or if your CommentLuv link turns it into an advertisement, your comment will be deleted. (Most of you do not need to worry – this refers to some pretty clever comment spam.)
Winners will be selected by random number.
You must leave a valid email address in the "Email" portion of the comment form.
Please make sure that your spam filter allows email from stumblingoverchaos.com!
If a winner doesn't respond to my congratulations email within 48 hours, I will select another winner.
If you win, please respect the author's intellectual property and don't make copies of the ebook for anyone else.
This contest is open worldwide!
---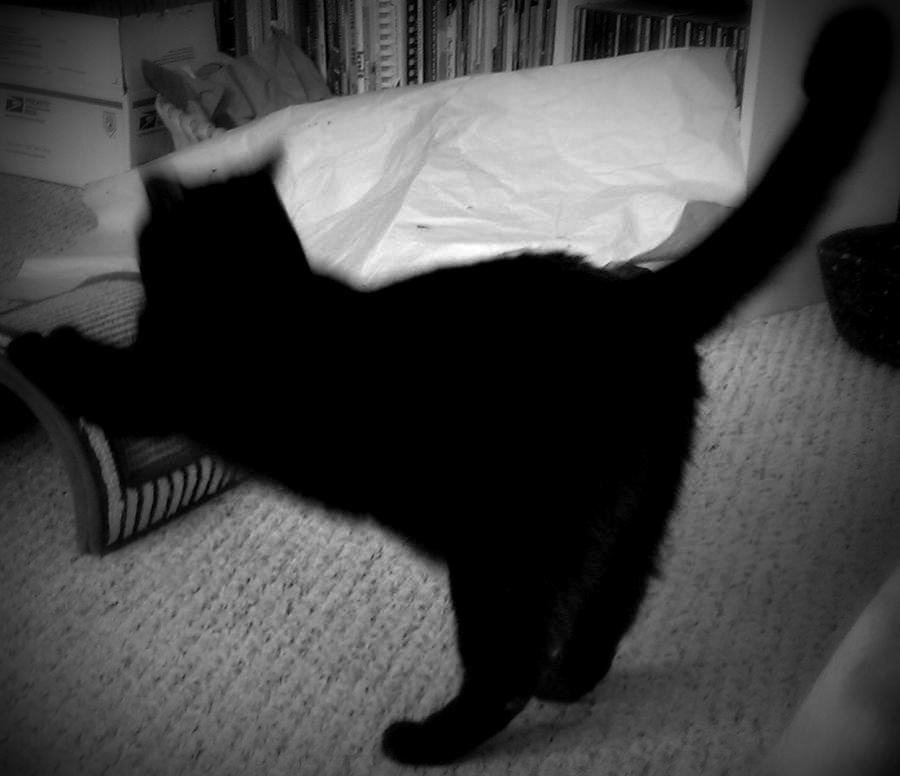 "A Panther Princess must keep her claws deadly sharp!" *scratch scratch scratch* -Mayhem