Many thanks to Shawn Lane for donating an ebook copy of her forthcoming m/m romance, One More Time, for a lucky commenter to win! One More Time will be released by Loose Id on August 28. However, the winner won't get the book until September 2 when Shawn returns from vacation, so the extremely impatient should think about that before entering the contest. 😉
Vermont is the last place Dane Westerfield has any desire to go. He left a decade ago and has no desire to go back. California is now home. Or rather, his partner of six years was home. Yet when the unexpected death of his partner and the revelation of secrets kept send Dane reeling, he returns to the Vermont town he grew up in to help deal with his grief.

Before he even reaches his sister's home, he runs into Theo Mason, his first love and his well…first. Theo had been one of the reasons Dane had been eager to leave Vermont a decade ago, and Dane's definitely not eager to see him again. Yet the rugged police officer makes it clear he wants another chance with Dane. Theo's patience and understanding catch Dane off guard, and Dane finds himself unable to resist the once familiar heat that generates between them. But is his time with Theo just a rebound fling or can Dane move past his grief for a new chance at love?
More of Shawn's Books
About Shawn
Shawn Lane writes erotic gay romances and believes love and passion know no boundaries. Happily Ever After is for everyone.

Shawn lives in California and holds down a boring day job in a legal department of a giant corporation dreaming of the nights and weekends when she can create new stories.

Shawn loves to hear from readers, is happy to answer any questions, and has been known to send free books to fans just because.
Contest Rules
To enter, leave a comment stating that you are entering the contest. Contest closes 7 pm CDT, Monday, August 27.
By entering the contest, you're confirming that you are at least 18 years old.
If you haven't commented before, your comment will not be visible until after I moderate it. Please do not leave a second comment because your first doesn't show up! The blog gnomes will decide your comments are spam and then only ritual dust bunny sacrifice will salvage your entry…
If your comment is actually an advertisement or if your CommentLuv link turns it into an advertisement, your comment will be deleted. (Most of you do not need to worry – this refers to some pretty clever comment spam.)
Winners will be selected by random number.
You must leave a valid email address in the "Email" portion of the comment form.
Please make sure that your spam filter allows email from stumblingoverchaos.com!
I am not able to reliably contact people with aol.com and netscape.com email addresses – please use a different email address if at all possible!
If a winner doesn't respond to my congratulations email within 48 hours, I will select another winner.
If you win, please respect the author's intellectual property and don't make copies of the ebook for anyone else.
This contest is open worldwide!
---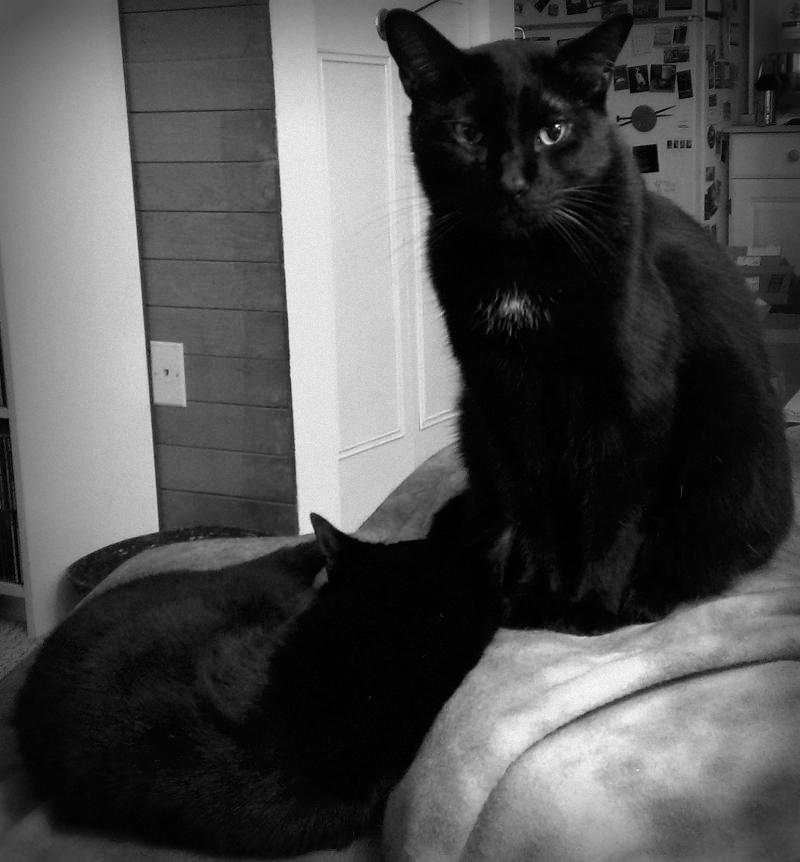 *glaring* -Chaos
"Give it a rest, big kitty. You're not going to will Mom to feed us two hours early." -Mayhem