Mixes. (Heh, did you think it would be my beloved Minneapolis?! Or mammal for Chaos?)
Got your tape and it changed my mind
Heard your voice in between the lines
….
Now I'm falling in love too fast
With you or the songs you chose
….
I can hear you singing to me in my sleep
I can hear you singing to me in my sleep

I've been living in your cassette
It's the modern equivalent
Singing up to a Capulet
On a balcony in your mind

– Semisonic, Singing in My Sleep
I love making and receiving mixes. It used to be mix tapes, but these days it's mix cds. For me, mixes are incredibly evocative – they can instantly transport me back in time. I'm not alone in that. In the book Liner Notes, author Emily Franklin says of protagonist Laney that "each mix tape brings her back to a specific time in her life" and that she herself "use[s] music as a kind of time-travel device whereby I choose songs sometimes just to think about the times that go with them."
Here are some mix tapes from 10 years ago. I made the the top one so I had something fun to listen to in the car. Probably the most memorable song on it is "I'm Ugly and I Don't Know Why" by Butt Trumpet. 🙂 The next two tapes were from a guy I dated. The first one was named after two of his fish, while the second one was named after his musical influences during that later part of the mix tape making process! The final tape was a friend for my birthday in (I think) 1992. I remember two songs particularly from this tape – "Pretty as You Feel" by Jefferson Airplane and "I Wanna Be an Engineer" by Pete Seeger.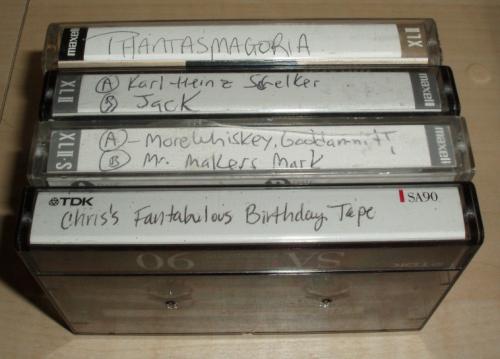 Onto mix cds. The most interesting thing about mix cds is that, although I had made mix cds for people, until I started blogging I had never received a mix cd from anyone! Boy, has that ever changed and I am very happy about it because mixes also serve as musical cross-pollination for me – not only can I share what I'm listening to with others, I get to hear music new to me.
From the top left, the Project Spectrum May Mix from the Crafty Modster, the Soul Gardening Mix from soul gardener TB, the Meow Mix from MrsPao, and Cats in the Garden from TB.

Again from the top left, the B-List Compilation Mix: Songs to Blog By (compiled by TB, but featuring favorites from an assortment of bloggers), Needle Tunes from Just a Knit Wit, and Eileen's Mix/Just Silly Stuff from Eileen.

Notice anything missing from these pictures? No Chaos! He was completely disinterested in the mixes and chose to lie on top of his litterbox instead. He had this message for y'all:

"Yeah, baby, you look look totally scrumptious."