The sartorial elegance bit? It ran through my head when I was taking out the trash yesterday, wearing my Ruby Sheep PJ bottoms, a black sweatshirt, and a dark red and black plaid wool coat. Hmm. Maybe I've been working at home too much… speaking of which, Monday and Tuesday were 17-hour days, so all you get for this post is a contest link, some of my wee book reviews, and a cat picture or two.
Shannah's having a contest. Let her know what your favorite handcrafted gift was this year, and you could win some sock yarn and a surprise. Contest closes at midnight, January 6.
---
Reading Update
Casting Spells by Barbara Bretton. This was absolutely delightful. Recommended for knitters who enjoy a bit of fantastical romance. Plus it has a black cat on the cover. How could you go wrong?
Just Desserts by Barbara Bretton. Nothing paranormal or knitting related in this romance, but it was a decent read.
Hex Appeal by Linda Wisdom. The sequel to 50 Ways To Hex Your Lover is another enjoyable read, although there were a number of major inconsistencies that kept jolting me out of the story.
It Itches: A Stash of Knitting Cartoons by Franklin Habit. Delightful. This was a birthday present from Deb, but I've just been reading a cartoon here and there for the past five weeks, anticipating.
Dark Lover, Lover Eternal, Lover Awakened, Lover Revealed, and Lover Unbound (The Black Dagger Brotherhood, Books 1-5) by J.R. Ward. Very good vampire romance – I really am not able to put these down. Bits of it seemed reminiscent of the Dark-Hunters. Ward does this sort of cruel but effective bit where she starts gearing up the next book before the end of the current book. She ties up the current story, but you definitely know what the next book's going to be about and are eager to get your hands on it. Much more effective than a complete cliffhanger, which drives me nuts. Oh, and some of the books (Lover Awakened, Lover Unbound) had me sobbing. Just so you know to have the tissues handy… Also please note that these are very, very steamy and a bit dark.
Sex and the Single Witch by Theresa Alan, Holly Chamberlain, and Carly Alexander. Very light'n'fluffy short stories that were actually a nice break from the intensity of the Black Dagger Brotherhood. However, not particularly recommended.
The Cursed One (The Wild Wulfs of London) by Ronda Thompson. One of the later books in this series about werewolves in England in the early 1800s. I enjoyed it, even though historicals tend not to be a favorite.
Wolf at the Door (The Others, Book 1) by Christine Warren. Can an Irish werewolf and a NYC foxwoman find happiness together? Kelley Armstrong's Otherworld might have been a bit of the inspiration behind this series, but this is much lighter and more chick lit feeling.
---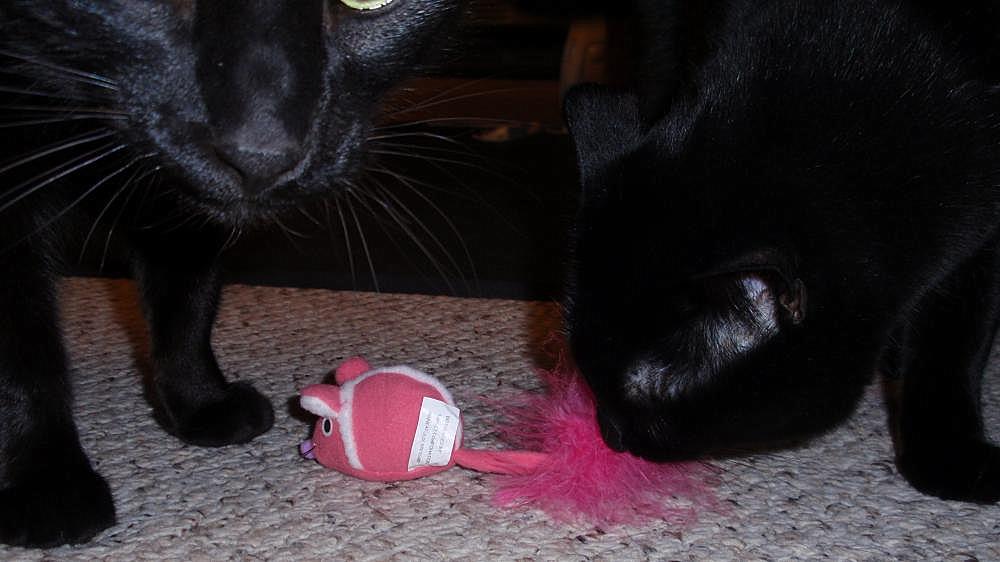 "Oh, for fur's sake, the last thing she needs is more pink feathers." -Chaos
"Silly big kitty. You can never have too many pink feathers!" -Mayhem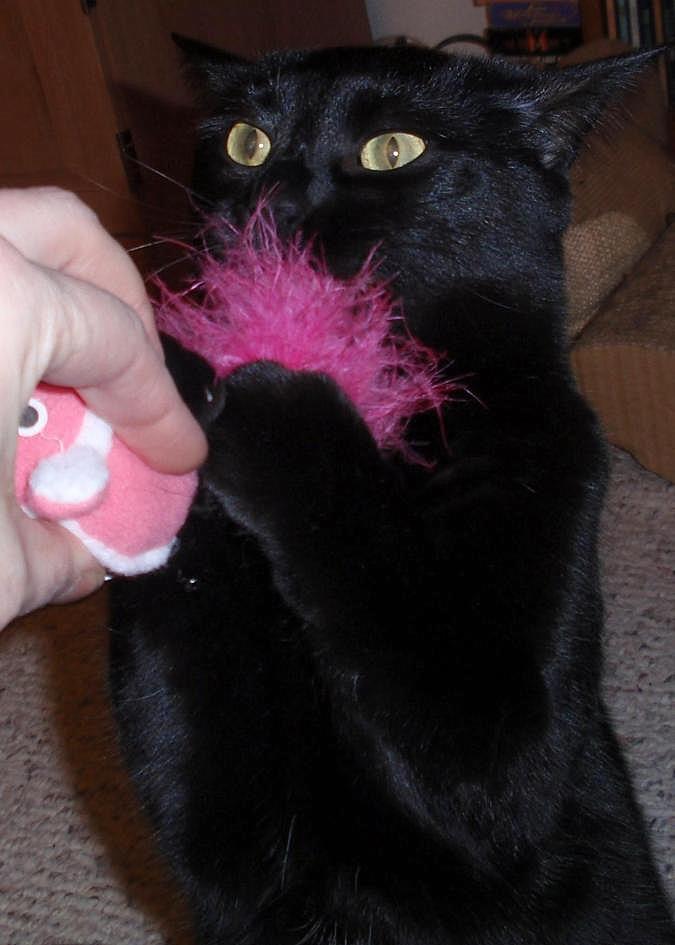 "Unhand my feathers, Mom! Mine! Mine! Mine!!" -Mayhem
Happy New Year! I may or may not post on Friday, January 2. It'll be a surprise to all of us.