Many thanks to Clare London for donating an ebook copy of her recently rereleased paranormal m/m romance, His Gift, for a lucky commenter to win!
Steven Macklin wakes up in a ditch one morning in foul, wet weather with no idea where he is or how he came to be there. Seriously injured, he struggles across bleak heathland to find shelter. The only house he finds is weather-beaten and deserted, although he's too sensible a guy to fall for the cliche of a haunted mansion.

Isn't he?

When he collapses and is taken in by the handsome Eliot, Steven finds himself in a very disturbing situation — and in the bed of this strange, possessive man.

This title was previously released by Aspen Mountain Press in 2008.
About Clare
Clare took the pen name London from the city where she lives, loves, and writes. A lone, brave female in a frenetic, testosterone-fueled family home, she juggles her writing with the weekly wash, waiting for the far distant day when she can afford to give up her day job as an accountant. She's written in many genres and across many settings, with novels and short stories published both online and in print. She says she likes variety in her writing while friends say she's just fickle, but as long as both theories spawn good fiction, she's happy. Most of her work features male/male romance and drama with a healthy serving of physical passion, as she enjoys both reading and writing about strong, sympathetic and sexy characters.

Clare currently has several novels sulking at that tricky chapter 3 stage and plenty of other projects in mind… she just has to find out where she left them in that frenetic, testosterone-fueled family home.

All the details and free fiction are available at her website. Visit her today and say hello!

You can also visit Clare at her blog, on Facebook, MySpace, Twitter, GoodReads, and the GLBT Wiki.
Contest Rules
To enter, leave a comment stating that you are entering the contest. Contest closes 7 pm CDT, Friday, August 3.
By entering the contest, you're confirming that you are at least 18 years old.
If you haven't commented before, your comment will not be visible until after I moderate it. Please do not leave a second comment because your first doesn't show up! The blog gnomes will decide your comments are spam and then only ritual dust bunny sacrifice will salvage your entry…
If your comment is actually an advertisement or if your CommentLuv link turns it into an advertisement, your comment will be deleted. (Most of you do not need to worry – this refers to some pretty clever comment spam.)
Winners will be selected by random number.
You must leave a valid email address in the "Email" portion of the comment form.
Please make sure that your spam filter allows email from stumblingoverchaos.com!
I am not able to reliably contact people with aol.com and netscape.com email addresses – please use a different email address if at all possible!
If a winner doesn't respond to my congratulations email within 48 hours, I will select another winner.
If you win, please respect the author's intellectual property and don't make copies of the ebook for anyone else.
This contest is open worldwide!
---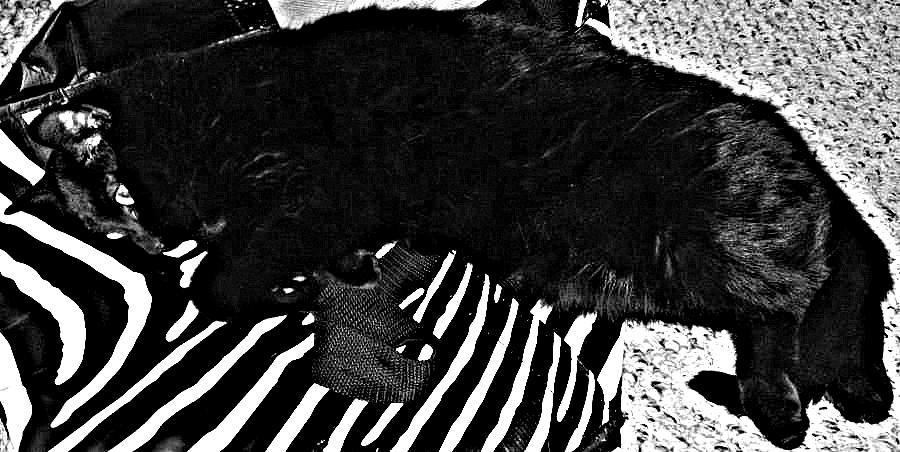 "Just hanging out on my shopping bag kitty bed, messing with your eyes!" -Mayhem