This was the 40th year of TCPride. Hundreds of thousands of people turn out every year to support GLTBTQ Minnesotans and it usually restores my faith in humanity for a while. 🙂 The big issue this year is the Anti-Marriage Amendment that will be on the ballot in November. Voting "No" means that you oppose defining, in the Minnesota State Constitution, marriage as being between one man and one woman. (One of my memorable Pride moments was trying to explain the Anti-Marriage Amendment to two Japanese tourists whilst having an asthma attack sans inhaler. Oy.)
First the pictures, then the contest. Onward!
From the Pride Parade comes this fascinating melange – the Chipotle float in the upper left, Obama reelection supporters in the upper right, and the "Mayor Rybak Says Just Vote No" crowd in front. Kudos to all the politicians who are taking a stand on this! (Remember, you can click on the pictures to embiggen them.)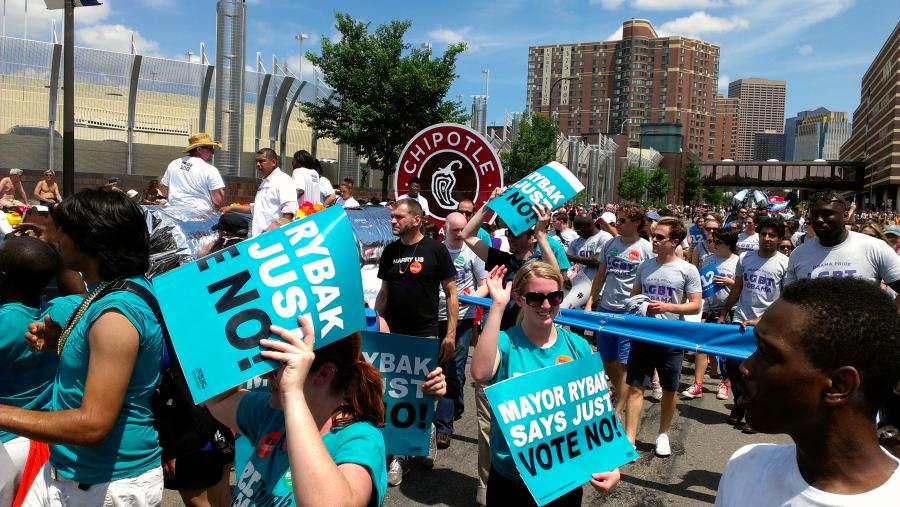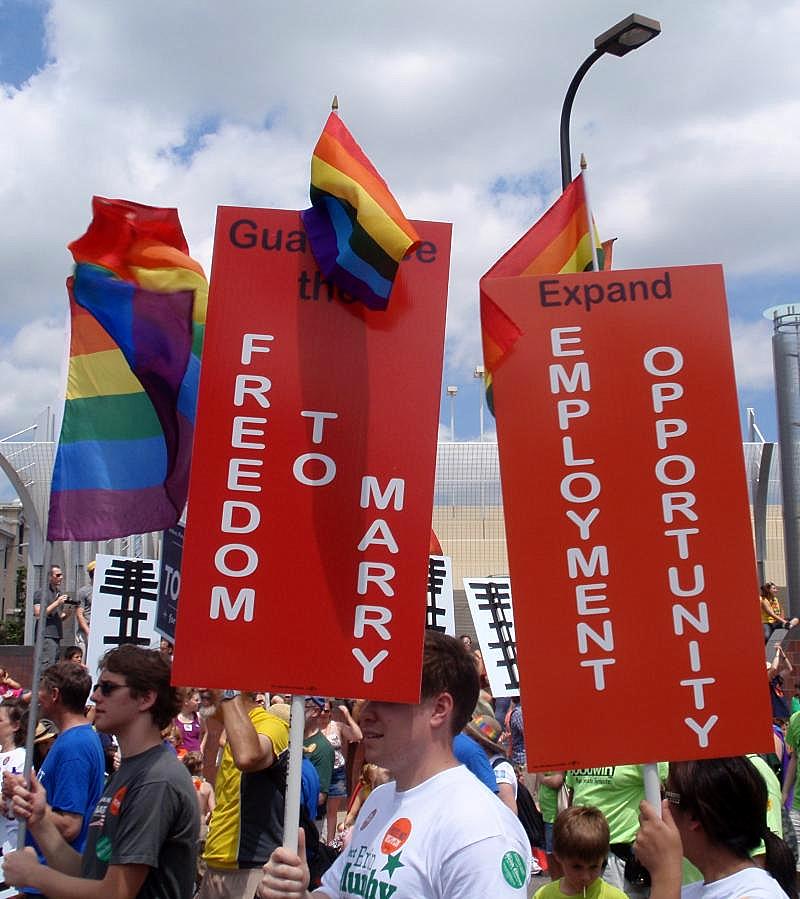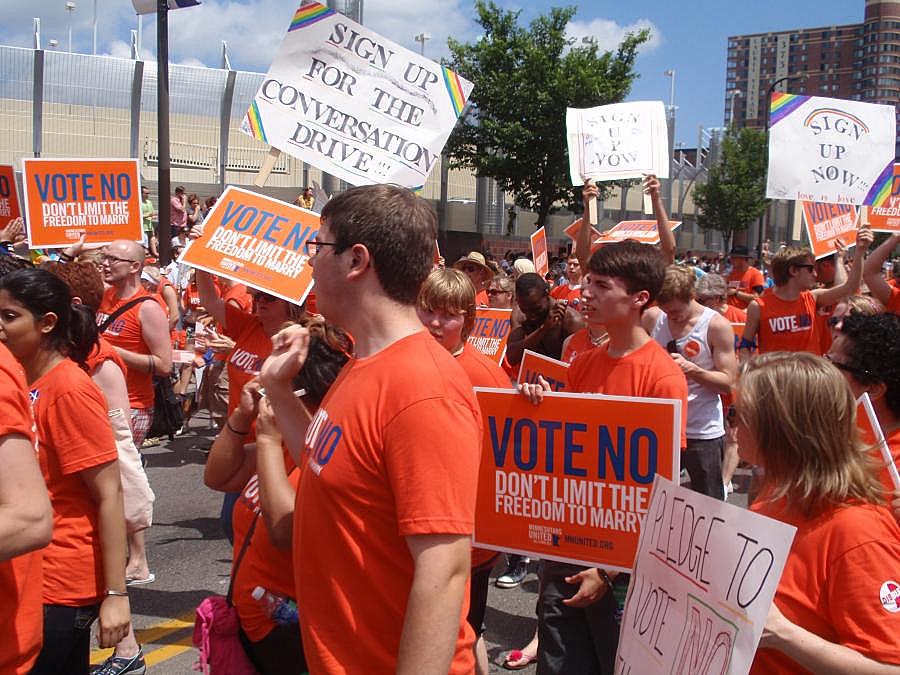 Marriage was a theme throughout the Parade.
Why, yes, those are guys dressed as slices of cake riding on Segways.
And it wouldn't be Pride without a little skin…
Here's the drag queen who hugged me after I took her picture.
I was very impressed by all the churches and religious organizations showing their support and inclusiveness.
An idyllic scene from Loring Park after the Parade: statue, drag queen, same-sex couple.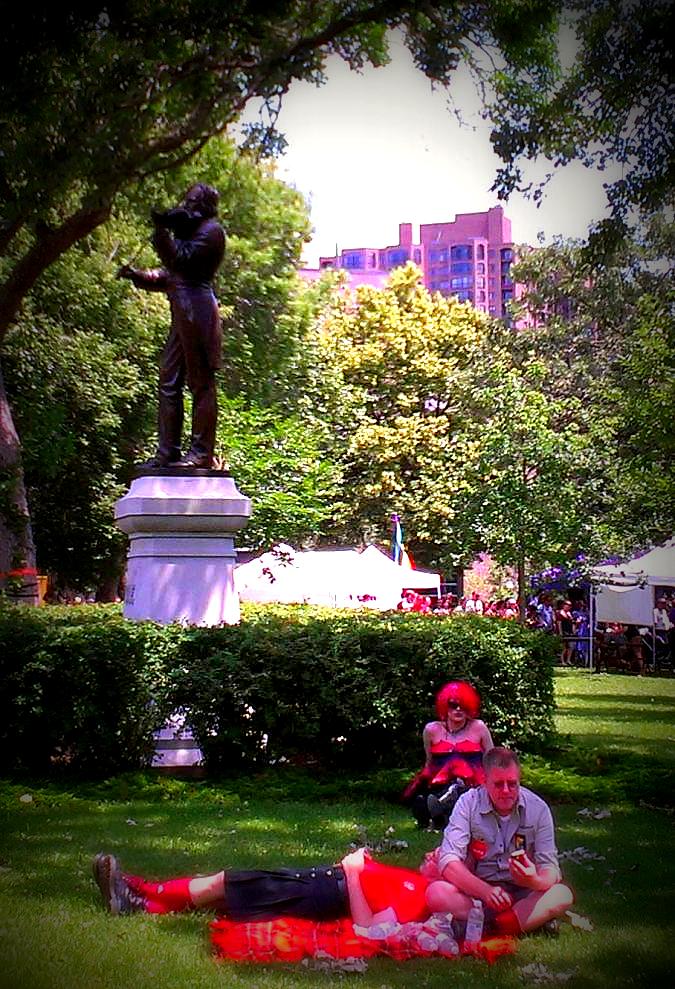 One of my favorite parts of Pride is the QLibrary tent, where used books are sold. (This is not a picture of the tent. This is a picture of the QLibraryMobile from the Pride Parade. In case you were confused.)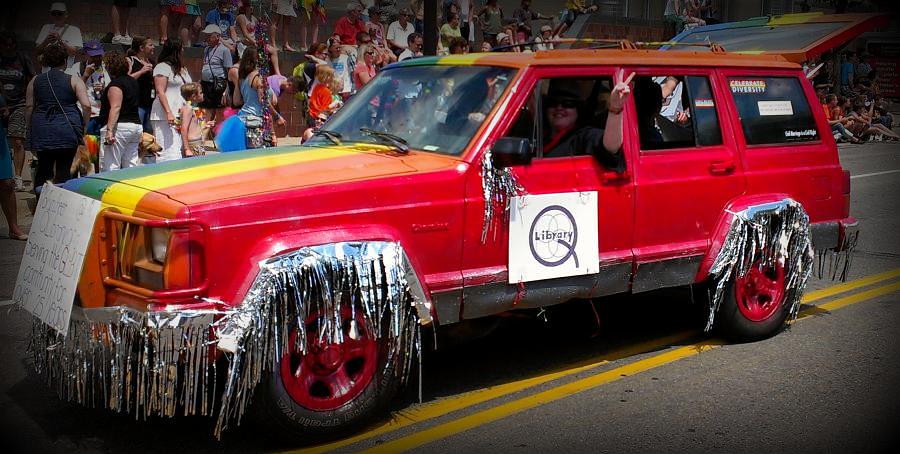 ---
And guess what? The QLibrary tent is where I got the paperback books that I'm going to give away. 🙂 (Please note that in some cases, I have listed an ebook edition in my Goodreads link. That's just so you can see what the correct cover looks like!)
Contest Rules
To enter, leave a comment listing the books in which you are interested. (This is what is known as a Very Important Step.)
Contest closes 7 pm CDT, Monday, July 9.
By entering the contest, you're confirming that you are at least 18 years old.
If you haven't commented before, your comment will not be visible until after I moderate it. Please do not leave a second comment because your first doesn't show up! The blog gnomes will decide your comments are spam and then only ritual dust bunny sacrifice will salvage your entry…
If your comment is actually an advertisement or if your CommentLuv link turns it into an advertisement, your comment will be deleted. (Most of you do not need to worry – this refers to some pretty clever comment spam.)
Winners will be selected by random number.
You must leave a valid email address in the "Email" portion of the comment form.
Please make sure that your spam filter allows email from stumblingoverchaos.com!
I am not able to reliably contact people with aol.com and netscape.com email addresses – please use a different email address if at all possible!
If a winner doesn't respond to my congratulations email within 48 hours, I will select another winner.
This contest is open worldwide!
---
"I know you're all jealous of my fabulously furry abs." -Chaos