Let Eryka know whether or not you attend craft shows and you could win a $25 KnitPicks gift card on December 31.
Thanks (?!??) to Van for alerting me to these fugly holiday sweaters… Swallow all coffee and cereal and brace yourselves before you click, ok?
Office a little quiet before the holiday? Make an origami reindeer from a box to keep yourself entertained.
You can blame all shopping malls on Minnesota. Sorry 'bout that.
Ever wondered what happens to those socks that vanish in the washing machine? Wonder no longer.
Here's a clever trick to keep that poor right index finger from getting maimed by sharp needle tips.
Smart Bitches, Trashy Books is having eight days of giveaways. The first giveaway (not romances!) will probably be over by the time you read this, but there are still seven more on the way.
Apparently "business is booming" at Minnesota's public libraries due to the recession.
Reading Update
Ghost Moon (The Moon Series, Book 7) by Rebecca York. Enough with the excursions to the parallel universe, please. Thank you.
How To Knit a Wild Bikini by Christie Ridgway. This is the first book in a chick lit knitting series set in Malibu. I'm looking forward to reading the next book!
Backup: A Story of the Dresden Files by Jim Butcher. Although published as a small hardcover, this is really a short story told by Thomas, not Harry.
"A Jaguar's Kiss" by Lora Leigh, from Shifter. Yes, there were three other stories in this collection of paranormal romance, but I couldn't get into them. Leigh's story was ok, but definitely not one of her best.
Playing Easy To Get by Sherrilyn Kenyon, Jaid Black, and Kresley Cole. Steamy. Very steamy. I liked the Kresley Cole vampire'n'Valkyrie story the best. The Sherrilyn Kenyon story wasn't a Dark-Hunter story – it was from her B.A.D. series.
50 Ways To Hex Your Lover by Linda Wisdom. Vampires and witches and evil bunny slippers, oh my! This was a fun'n'fluffy paranormal romance – the next book is already in my to-read pile. (But please note – it's really cheating to name a book based on a throwaway line in said book…)
I Want You To Want Me by Kathy Love. Apparently this is the most recent book in a series. Or it might just be the second book in a series. Not exactly easy to figure out. Anyway, this is a story about a sculptor and a lhampir (somehow derived from dhampir?!), set in New Orleans.
---
Still completely loving MaryLou's sock pattern and am surviving my first top-down sock experience… mostly.
"But Mom, that's my favorite bit because it matches me! I don't understand why you're cursing at it. And really, I'm not sure I'm old enough to hear language like that." -Mayhem
And for a little color/preview of coming attractions… (I told May to watch out so MamaTulip doesn't steal her toy!)Â  😉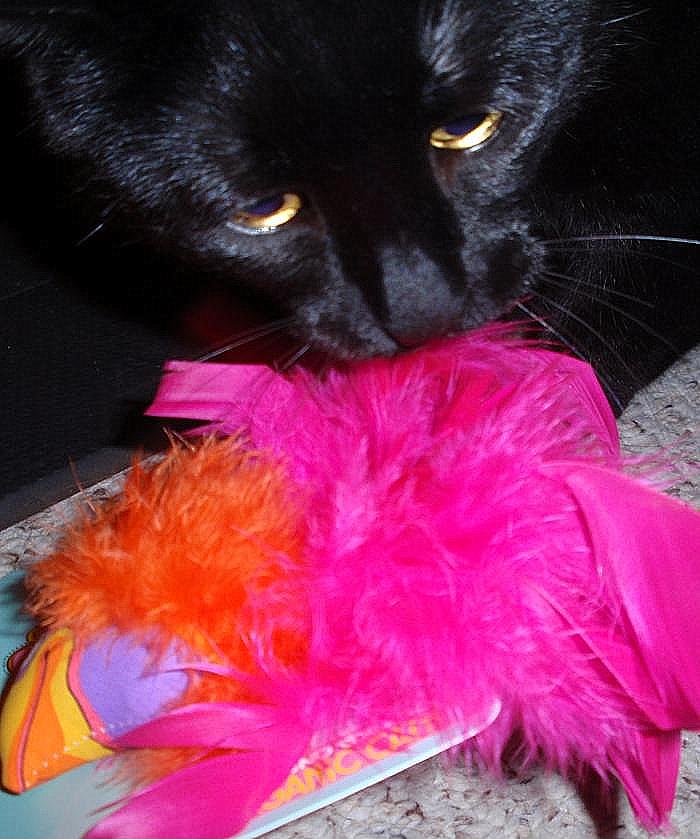 *my toy my toy my toy my toy MY toy MINE MINE MINE* -Mayhem