Many thanks to Kim Dare for donating an ebook copy of her freshly released kinky m/m romance, Indulging Ivan, for a lucky commenter to win!
Langdon knows that there are certain men that are, and always will be, off limits to him. At the top of that list is Ivan, his best friend's younger brother. Still, when Ivan edges toward coming out of the closet, Langdon quickly finds himself getting roped into indulging the younger man's curiosity.

Cute and smart in equal measure, Ivan's used to getting his own way. When he sets his sights on Langdon, he's not above being sneaky when it comes to getting his attention or overcoming any resistance the other man might have to the idea of doing whatever he wants.

Ivan's been indulged by almost everyone in his life for as long as he can remember. Will Langdon be just another name on that list of people who rush to do his bidding? More to the point, is that what Ivan really wants, or would he much prefer to be the one subject to another man's whims?
Kim's Other Books
About Kim
Kim Dare is a twenty-eight year old full time writer from Wales (UK).

First published in December 2008, Kim has since released 75 BDSM erotic romances. That means that well over one hundred characters have chattered away inside her head during that time – and that's not even taking into account the fact that there are over three times that number of people clamouring in the wings for a chance to tell their stories. It's no wonder she loses track of what's happening in the "real" world at times…

While Kim's stories range over male/male, male/female and all kinds of menage relationships and have included vampires, time travellers, shape-shifters and fairytale re-tellings, they all have three things in common – kink, love and a happy ending.

You can visit Kim at her website and her blog.
Contest Rules
To enter, leave a comment stating that you are entering the contest. Contest closes 7 pm CDT, Friday August 3.
By entering the contest, you're confirming that you are at least 18 years old.
If you haven't commented before, your comment will not be visible until after I moderate it. Please do not leave a second comment because your first doesn't show up! The blog gnomes will decide your comments are spam and then only ritual dust bunny sacrifice will salvage your entry…
If your comment is actually an advertisement or if your CommentLuv link turns it into an advertisement, your comment will be deleted. (Most of you do not need to worry – this refers to some pretty clever comment spam.)
Winners will be selected by random number.
You must leave a valid email address in the "Email" portion of the comment form.
Please make sure that your spam filter allows email from stumblingoverchaos.com!
I am not able to reliably contact people with aol.com and netscape.com email addresses – please use a different email address if at all possible!
If a winner doesn't respond to my congratulations email within 48 hours, I will select another winner.
If you win, please respect the author's intellectual property and don't make copies of the ebook for anyone else.
This contest is open worldwide!
---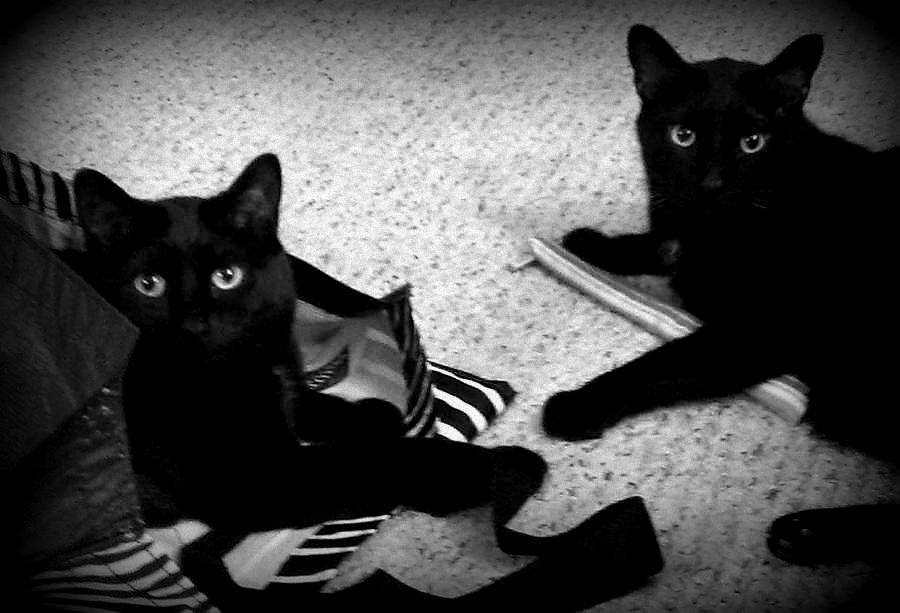 "What?" -Mayhem
"Nothing to be suspicious of here, Mom. Why don't you go back to reading your book?" -Chaos