Knit'n'Lit is having a contest – suggest a pattern for one of the listed sock yarns and you could win a mysterious prize. Contest closes midnight CST, December 5.
O noes! Itty bitty kitty vampires! Run away!
I'm pretty sure this isn't Mayhem. I think things would be a lot messier if she was involved… This lol gave me a flashback to when Mayhem arrived.
What an odd usb hub!
Aquarium Drunkard asked an interesting question yesterday – which sentence from their lyrics would best summarizes a particular band's entire output? My contribution was for the Mountain Goats – although I'm still thinking about a few other artists. The comments are definitely worth a read!
How to stay in shape while you use your laptop?
Just in case you've missed the spiders. 😉
Isn't this an intriguing bookcase concept?
Remember the very amusing Romance Apologia Scale on the Dear Author blog that I mentioned last week? Yesterday, Dear Author had an excellent (albeit lengthy) post that went further into the attitudes and beliefs behind Romance Apologia.
SciFiGuy.ca lists the forthcoming fantasy, urban fantasy, and paranormal releases for December.
Reading Update
Succubus in the City by Nina Harper. All about a fashionista succubus living in NYC and hanging out with her demon gal pals. Started out well, stretched on a bit too long, and lost it at the end as it lurched to an abrupt stop with a sequel obviously in mind.
Living with the Dead (Women of the Otherworld, Book 9) by Kelley Armstrong. Initially, I was disappointed that this was another book about Hope and Karl, but the story sucked me in and got me completely involved.
Valentine's Day Is Killing Me by MaryJanice Davidson, Leslie Esdaile, and Susanna Carr. Three utterly unparanormal short stories about Valentine's Day.
Don't Look Down by Suzanne Enoch. The sequel to Flirting with Danger might not be quite as good as the first book, but it was still darn good romantic suspense. I've already started Billionaires Prefer Blondes and A Touch of Minx is on its way to my library as I type. (I just realized that Samantha and Rick remind me a bit of Eve Dallas and Roarke, with dash of Stephanie Plum and Morelli/Ranger tossed in to lighten things up a bit.)
Sweet Love by Sarah Strohmeyer. I've read a few of Strohmeyer's mysteries featuring Bubbles, but stopped reading them partway through one of the books (can't remember exactly why anymore). This novel was a pleasant surprise.
Beyond Fearless (Beyond, Book 2) by Rebecca York. Paranormal romance featuring psychics – no vampires or werewolves or other things that go bump in the night.
Watchers in the Night (Guardians of the Night, Book 1) by Jenna Black. Not the greatest vampire series I've read, but I did get involved in the story and I'm curious to see what happens next.
The Magical Christmas Cat by Lora Leigh, Erin McCarthy, Nalini Singh, and Linda Winstead Jones. Other than the extremely dorky title, this was a fun collection of cat-related paranormal romance. Mmmm… hunky were-leopards.
---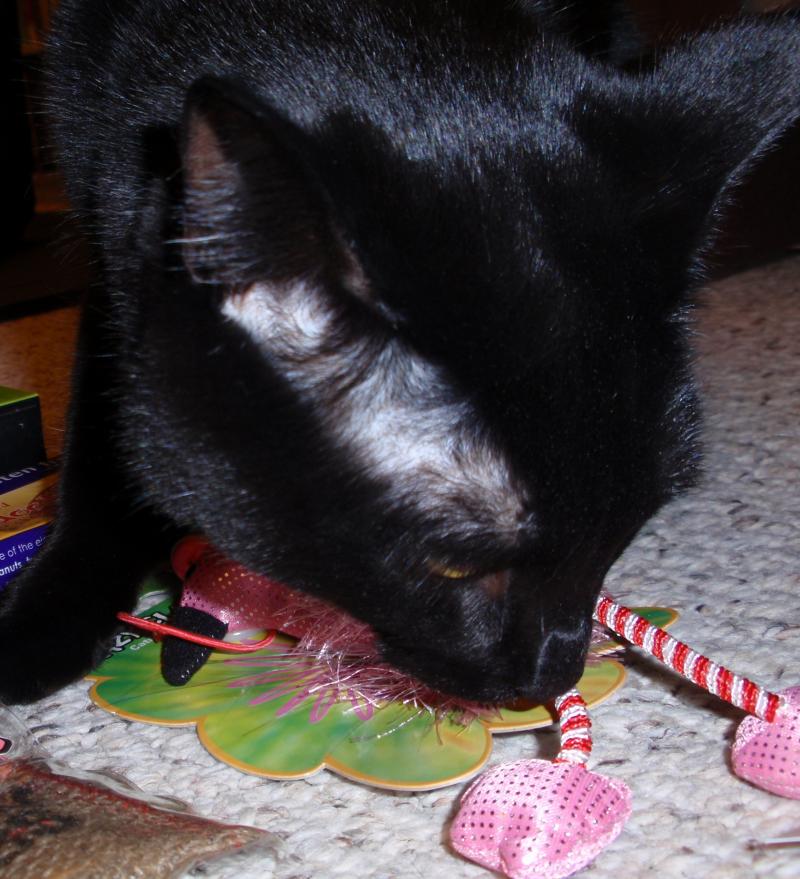 "Mom!!! I can't get this most super cool toy free of the packaging! Help me!" -Mayhem
Ok, sweetie. *rustling and ripping sounds* Hmm, I wonder what Chaos is doing? (Yup, more of that foreshadowing stuff.)