Through Friday, December 23, Keira Andrews is hosting Make the Yuletide Gay, which is a holiday extravaganza featuring giveaways, recipes, and plenty of hot man-on-man action! The following guest authors will be blogging, sharing their holiday books, and more:
| | | | |
| --- | --- | --- | --- |
| | | Berengaria Brown | December 6 |
| | | Samantha Kane | December 8 |
| | | GR Richards | December 9 |
| | | Kayelle Allen | December 10 |
| | | Silvia Violet | December 12 |
| | | Matthew Lang | December 14 |
| | | Tam Ames | December 17 |
| | | Tory Temple | December 18 |
| | | Sloan Parker | December 19 |
| | | Z.A. Maxfield | December 21 |
| | | Jaxx Steele | December 22 |
| | | JM Cartwright | December 23 |
Come on over and join in the fun! You can win some great books, learn yummy recipes, and discover some steamy new romances this holiday.
---
---
Keira has also donated an ebook copy of her delightful m/m Hanukkah romance, Eight Nights, for a lucky commenter to win!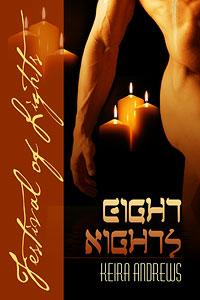 Lucas McKenzie figures spending the holidays with his annoying roommate's family is better than being alone on campus. The last thing he expects is to lust over Sam's brother – or for Nate to actually want him back.

They hide their attraction during Hanukkah celebrations, but behind closed doors, Lucas and Nate can't keep their hands (or mouths) off each other. Nate's only looking for a bit of holiday fun, and amazing sex with a hot virgin definitely fits the bill.

Yet as the candles burn, Nate and Lucas begin to realize eight nights will never be enough.
About Keira
After writing for years yet never really finding the right inspiration, Keira discovered her voice in gay romance, which has become a passion. She writes both contemporary and historical fiction and – although she loves delicious angst along the way – Keira firmly believes in happy endings. For as Oscar Wilde once said, "The good ended happily, and the bad unhappily. That is what fiction means." You can find out more about Keira and her books at her website, Twitter, and Facebook.
Contest Rules
To enter, leave a comment stating that you are entering the contest. Contest closes 7 pm CST, Thursday, December 22.
By entering the contest, you're confirming that you are at least 18 years old.
If you haven't commented before, your comment will not be visible until after I moderate it. Please do not leave a second comment because your first doesn't show up! The blog gnomes will decide your comments are spam and then only ritual dust bunny sacrifice will salvage your entry…
If your comment is actually an advertisement or if your CommentLuv link turns it into an advertisement, your comment will be deleted. (Most of you do not need to worry – this refers to some pretty clever comment spam.)
Winners will be selected by random number.
You must leave a valid email address in the "Email" portion of the comment form.
Please make sure that your spam filter allows email from stumblingoverchaos.com!
If a winner doesn't respond to my congratulations email within 48 hours, I will select another winner.
If you win, please respect the author's intellectual property and don't make copies of the ebook for anyone else.
This contest is open worldwide!
---