---
---
Congrats to Mandy, who won A Lie I Can Live With (The Match Before Christmas #3) by Eden Winters! A Lie I Can Live With is being released today by Torquere Press.
---
Because tomorrow's Thanksgiving here in the US, I won't be posting. However, I will have some form of linkity on Friday. 🙂
---
---
Many thanks to Stephani Hecht for donating an ebook copy of her forthcoming paranormal m/m romance, Coffin Dodger (Night Wardens #2), for a lucky commenter to win! Coffin Dodger will be released by eXtasy Books on December 1.
As a Warden destined to protect humanity from supernatural threats, Ari knows that he has to be strong, brave and, most of of all, mentally stable. Try telling that to his brain, though. Ever since he was held as an unwilling blood slave by a band of feral vampires, Ari has been everything a Warden shouldn't be: scared, angry, and unstable. While he tries to maintain a brave front for his fellow Wardens, cracks in his facade are starting to show, especially when feral vampires attack the city and the Wardens must eliminate the threat.

Adam hasn't felt whole since his fellow Warden, Ari, was kidnapped. Even though they got Ari back, he hasn't been the same. Gone is the happy, teasing man Adam fell in love with, replaced by a brooding, angry stranger. When Ari must face his past, both good and bad, his instability only increases. Will Adam's love be enough to heal Ari's emotional wounds, or will Ari be lost to the darkness… this time for good?
Also by Stephani
About Stephani
Stephani Hecht is a happily married mother of two. Born and raised in Michigan, she loves all things about the state, from the frigid winters to the Detroit Red Wings hockey team. Go Wings! You can usually find her snuggled up to her laptop, creating her next book or gorging on caffeine at her favorite coffee shop.

When she's not running around like crazy, trying to get her kids to their various activities, she's working on numerous projects.

You can visit Stephani at her blog or her website.
Contest Rules
To enter, leave a comment stating that you are entering the contest. Contest closes 7 pm CST, Wednesday, November 30.
By entering the contest, you're confirming that you are at least 18 years old.
If you haven't commented before, your comment will not be visible until after I moderate it. Please do not leave a second comment because your first doesn't show up! The blog gnomes will decide your comments are spam and then only ritual dust bunny sacrifice will salvage your entry…
If your comment is actually an advertisement or if your CommentLuv link turns it into an advertisement, your comment will be deleted. (Most of you do not need to worry – this refers to some pretty clever comment spam.)
Winners will be selected by random number.
You must leave a valid email address in the "Email" portion of the comment form.
Please make sure that your spam filter allows email from stumblingoverchaos.com!
If a winner doesn't respond to my congratulations email within 48 hours, I will select another winner.
If you win, please respect the author's intellectual property and don't make copies of the ebook for anyone else.
This contest is open worldwide!
---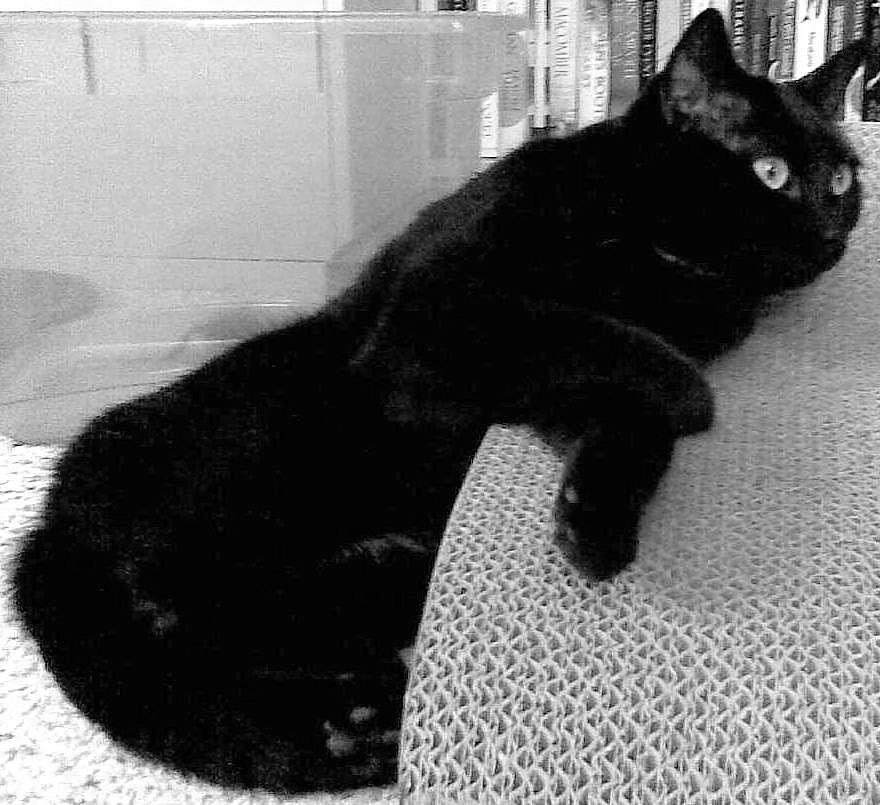 "Maybe I should go over there and bother the big kitty. He looks bored." -Mayhem